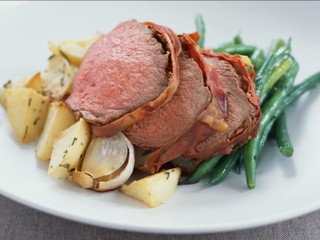 A new campaign designed to re-introduce Australian consumers to the Meat Standards Australia tenderness guarantee scheme is likely to kick-off through retail butchers Australia-wide on or around November 1.
The move comes following a campaign by peak council groups designed to re-establish the connection between consumers and MSA, which has been gradually diluted since the campaign's launch 11 years ago in a blaze of mass media publicity.
After initially being seen as 'almost a brand in itself', focus then shifted to promoting commercial beef brands to consumers, with MSA simply used in a lower-key role to underpin the performance of those brands.
The new campaign will include all-new MSA point-of-sale material for use in retail butcheries, including signage and simple-to-read brochures describing MSA and the principles behind the program. Also involved will be a series of briefing seminars with licensed butchers.
"The simple message is that MSA is the science that underpins the grading of the product," MLA domestic market manager Glen Feist said.
"The consumer does not need to know the science behind it (although those who wish to could access that information from the MSA website), but that a certain piece of MSA striploin bought today would eat the same next week, and the week after that," Mr Feist said.
"In simple terms, MSA is like the 'Intel inside' sticker on a new laptop computer – it's not the brand of the computer, but it's what helps make it a good product."
He said butchers now understood that MSA was equally valuable underpinning a commercial beef brand sold through their business, or simply reinforcing their own store identity, where commercial brands were not promoted.
The early November promotional activity will be something of a soft re-launch for MSA, leading up to a much bigger campaign early next year.
The familiar MSA logo will also get a 'tweak' following extensive consumer research, including the addition of the word 'graded' to reference the use of independently monitored grading. It had not yet been decided whether to differentiate MSA Three, Four or Five product with star symbols or colours, Mr Feist said.
"The longer-term goal is for a consumer promotion based around three, four and five star MSA segments, but we have to ensure there is a level of critical mass of each of those three segments in the market before that can happen. A year ago we thought that was still some way off, but today, it looks a lot closer," he said.
Speaking during the grainfed beef sector's annual conference and general meeting in Toowoomba yesterday, Australian Lot Feeders Association president Jim Cudmore said lotfeeders strongly supported the move to promote MSA among domestic consumers – particularly the distinctions between Three, Four and Five Star quality segments.
"ALFA feels very strongly about the need to differentiate within the MSA product range, and obviously with grainfed product there are advantages around promotion of higher-quality product. Up to now, MSA has been pretty much an in-or-out process," he said.
"After a decade or more in operation, we have missed some opportunities with the consumer through MSA. That's happened through nobody's fault, in particular – it has been probably driven by drought, cost pressures and other issues."
"But we think the time is right for more differentiation. The consumer has a greater understanding now of the range of beef products produced in Australia. That has been driven by the brand owners, supermarket chains and the producers themselves," Mr Cudmore said.
"We now think the time is right to segment the MSA market into the three quality categories."
Mr Cudmore said beef brands had had to continually differentiate themselves from each other.
"Some of that effort to find points of difference is drifting into dangerous territory, where the industry does not need to go," he said.
"That extends into production techniques and inputs, and the continual debate about Natural, Grassfed, Free-range and similar terms. We are starting to get away from the real core of what MSA was all about: describing a product to produce consistent eating quality."
"Describing a product under MSA leaves the consumer to make the differentiation and the decision about what they want to purchase, and where they want to be on the scale of beef product quality. Brands have done that to a certain degree, but what ALFA is arguing is that promoting Three, Four and Five Star to the consumer also allows brands to differentiate their product lines without having to go down some of the other more 'dangerous' paths to differentiation."
In other MSA news, independent butchers, through the Australian Meat Industry Council, are taking exception to reports that major supermarket chain Woolworths may adopt MSA grading and identity through its stores, possibly as a counter-point to major rival Coles.
Butchers have argued that they have been the 'loyal foot-soldiers' of the MSA campaign since its launch in 1998, and allowing the program to now be used by Woolworths would rob them of an important competitive advantage.