THE strong run by independent butchers in winning-back retail market share from major supermarkets has continued in the most recent national monthly retail survey published by Nielsen Homescan.*
For the fourth consecutive month, butchers have taken beef retail trade away from supermarket giants Woolworths, and to a lesser extent, Coles.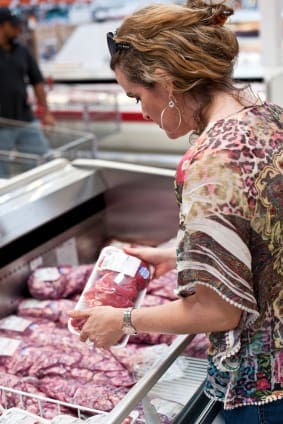 This recent trend follows a tough 18 months for independents, who have lost share to the big two, in part due to supermarket price wars involving popular beef cuts, but also to the growing number of major supermarket outlets being built Australia.
For the rolling quarter ended December 27, butchers accounted for 21.7 percent of national retail beef sales, their best result since January last year. Butchers have picked up 1.5pc of all beef sales since August.
Biggest domestic retailer, Woolworths registered a beef share of 32.5pc for the December 27 rolling quarter, down 0.7pc on the previous month and a concerning slide of 1.9pc since the recent high-point in July last year. It's Woolworths worst result in 21 months, according to the Nielsen data.
Second largest retail Coles also eased a little for the month, accounting for 24.8pc of retail beef market share at the end of December. That's down 0.1pc on the previous month, but comes on top of four-months of steady improvement during the latter stages of 2014.
Among smaller beef retailers monitored in the report, the independently-owned IGA supermarket group rose a little to 8.8pc share, but still well short of the figures closer to 10pc seen a year or more ago.
Another emerging supermarket player, Aldi, continues its strong growth run, accounting for 8.2pc of national retail beef sales in the latest Nielsen survey. This time a year ago the figure was just 6.8pc. Aldi continues to open more outlets, and has steadily increased its position over the past 11 months, largely at the expense of IGA, it appears.
The 'other' retail category reported in the Nielsen survey (mostly independent supermarkets, but including players like Costco) remained unchanged for the fifth consecutive month at 4.1pc share in the latest survey.
Overall fresh meat sales value up
For the latest rolling quarter ended December 27, including Christmas trading, the Australian fresh meat category (beef, chicken, lamb, pork, seafood) recorded a large increase in value of 6.1pc compared to the same period last year. That was driven by an increase in spend per buyer (+5.3pc) and also an increase in average spend per occasion (+4.7pc), year-on-year.
Beef's value share of that overall expenditure on fresh meat protein increased by 5.8pc compared with last year, driven mainly by increased spend per buyer (+6pc), and also spend per visit (+5.4pc).
Lamb's value share over the latest rolling quarter decreased compared with a year ago (-0.24pc) driven mostly by decreased spend per buyer (-2.6pc). Chicken's value share was up slightly (+0.12pc) when compared with the same quarter last year, while pork's share grew dramatically over the quarter by 15.5pc, influenced by spend per buyer (up 10.3pc) and spend per visit (+7.8pc).
It's important to note, however, that the prices reported by Nielsen are measured as the average $/kg value of the items in the surveyed consumers' shopping baskets. It does not attempt to represent the overall average value of beef and other proteins being sold in the retail marketplace.
Under these terms, beef recorded an average price of $10.40/kg for the December 27 rolling quarter (+$1.10c/kg on this time last year); chicken $8.26c/kg (+23c/kg); lamb $11.41c/kg (+$1.19c); and pork $10.98/kg (up 91c/kg on a year ago).
Retail fresh meat category share
In other information of value in the latest Nielsen survey, beef easily retained the highest percentage share of all meat sales against competing proteins, responsible for 34.8pc by value of all meat sales for the rolling quarter ended December, down 0.7pc on a month earlier, but still 0.4pc better than this time last year.
Extreme high rates of cattle slaughter and lower cattle prices during the drought helped moderate meat prices and lift consumption last year. But that trend now appears to have ended, with higher asking prices pushing beef's percentage of fresh meat consumed lower.
Chicken filled second place with 25.8pc of all meat protein sales, easing 1pc on the previous month, and the lowest figure in at least two years. Chicken consumption appears to be the most inelastic of all major proteins recorded.
Pork was fourth with 11.8pc of total meat protein sales, up about 1pc on the previous reporting period, due to the Christmas factor. Similarly, turkeys ales showed their customary once a year jump, rising from 0.8pc to 1.7pc of meat protein sales in December.
* What is Nielsen Homescan?
A consumer panel of 10,000 households
Demographically and geographically representative of all Australian households
Electronically record their household purchases of all grocery foods (fresh and packaged)
How are panel participants recruited?
Households are recruited on-line via a random sampling method
The Homescan panel is stratified by life stage, region and household size
Households are screened to assess suitability and to ensure they do not work in marketing, market research or FMCG.