Successful retail butchers are responding to the challenge of a flat domestic economy by offering greater convenience, value and service to their customer base, but are not interested in compromising on product quality as a means of defending margins during tight times.
That was the general impression among about 400 independent butchers from across Australia who descended on the Gold Coast on the weekend to attend the National Retail Innovation Expo, organised by Meat and Livestock Australia and the Red Meat Networking Club.
Some of the key signals to emerge from the Expo included the fact that well-developed, clearly-identifiable commercial beef brands now dominate the wholesale/retail landscape at the better end of the retail trade. Many retailers were prepared to align their businesses with a brand they knew they could rely on, in terms of consistency of product, year-round supply, and price.
Some, who had originally been wary of promoting beef brands from other parts of Australia due to 'regional loyalty' among their consumers, were now unashamedly promoting brands from other parts of the country.
Beef Central approached a sample of retailers attending the Expo, asking them two key questions: how were they responding to the current tight consumer market; and what impact the Indonesian animal cruelty episode had had on their businesses and consumers generally.
Here's what they had to say…
Craig Bauer, Bauer's Butchery, Bundaberg, Qld:
"It's tough enough out there in the retail marketplace at present, but as a butcher if you have a good product and don't try to take shortcuts, customers will recognise that and support you. But those attempting to use cheaper product and not doing the right thing are getting penalised for it. The market and economy in Bundaberg itself is possibly holding up a little better than some other parts of Australia.
"Our business suffered no direct penalty in terms of buying patterns or turnover from the animal cruelty evidence in Indonesian abattoirs. But we saw a lot of customers asking direct questions about what our thoughts were on it. Some even thought the beef in the footage was then being consumed in Australia. We explained that we grow all our own cattle and get them processed at a high standard, modern, closely regulated abattoir at Biggenden, and have control over the entire process."
Steve Farrell, Noranda Meats, Perth, WA: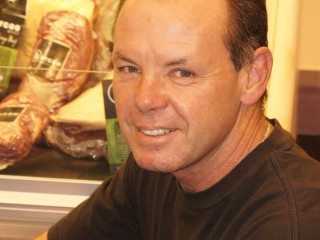 "The last couple of months trading have been OK, it has lifted a little, but we had a really bad spot earlier. While the mining-driven WA economy is perhaps a little more insulated from the broader Australian economy, consumers are still very careful in their household spending at present. Prices for beef and lamb aren't helping – they're pretty high at the moment in WA. In our business, we're trying to value-add a lot of raw material in different ways, to make it more attractive to the time-poor consumer. WA butchers in general are well-attuned to the positive impact that value-adding can have on their business, and you only have to spend time in the market to see evidence of that. The traditional meat buyer is still there, but increasingly, younger customers are looking for something where the hard preparation work has been done, and they can simply put it in the oven."
"To be honest, we saw nil impact on our business from the live export cruelty episode, despite the industry's high importance in WA. We were asked by customers about it a few times, but they clearly understood it was not connected with circumstances in Australia in any way. Regular customers have a close relationship with their butcher, and they trust what we tell them."

Gavin Marsh, Marsh's Butchery, Cairns, Qld: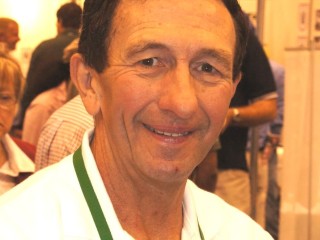 "Commerce is slow right across the board in Cairns, where the tourism sector is suffering due to the high dollar (international tourism) and the economic uncertainty (domestic tourism). But in the upper end of the market, where we position ourselves, consumers are still prepared to pay a good price for good meat. Trade has slowed a little, and customers are looking more for cheaper cuts. That's partly due to winter, but also more defensive buying patterns to save some money. We've been at the same shop for 40 years, so we rely heavily on personal reputation and the performance of our product.
"The live export episode did not impact on our business at all, in a turnover sense. But my regular customers became very aware of what had gone on. They were asking lots of questions in the days after the program aired. They wanted to know how and where we get our beef killed. But really, the reaction was mild, by any standard.
Justin Tassone, Justin Tassone's Butchery, Mildura, Victoria.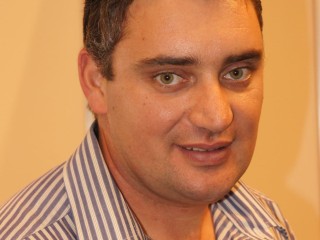 "We have seen very little setback in trade, despite the state of the economy. Meat has become more expensive over the past 12 months, but we have maintained a high product quality standard. Consumers are paying not much less for rubbish, and as a result our business has actually got busier compared with this time last year. We buy our own livestock and carcase beef, supplemented with some boxed beef, but fundamentally we manage our own supply chain, and we think we can maintain quality control a little better by doing that. The general economy around Mildura is pretty tough, as it is everywhere, because we are a big wine and fruit producing region, and wine is doing it tough at present. But people still have to eat, so we really have not taken a hit in terms of downturn."
"Nor have we taken any sort of hit as a result of the live export episode. But certainly consumers are scrutinising the product more, and asking more questions. They want to know how our own processes are applied, and whether animals suffer in any meaningful way. Obviously Australia has the highest processing standards in the world, so we have no issues there, but people want to know. Our main response is that we can carefully control the humane slaughter process here in Australia, but perhaps we, as a country and an industry, need to do more to help Indonesia do the same. We tell them to go to their Federal politicians and ask why industry bodies had not done more, given the amount of levies and fees at their disposal. They're the ones that have been caught-out, and as a cattle transaction levy payer myself, I want to know why more was not done."
Artie Vella, Nambour Plaza Meats, Sunshine Coast, Qld:
"The economy is definitely pretty flat at present, and we're seeing evidence of that in turnover. We're still serving the same number of customers, but their average spend has come down considerably. A lot of it has to do with the accumulated effects of this year's flooding events and cyclones, and it has taken a bit of a toll on consumer spending. The Australian dollar hasn't helped, particularly in my region, which relies pretty heavily on tourism. Mining has also sucked a lot of people away from this area. The overall effect is weakening on the retail economy, but we are trying to stay on top of it, through creative value-adding solutions and strong customer service.
"I would say the Four Corners live export report has had little if any effect on our business. The occasional person has come through and asked some questions. There is some underlying concern, and a few thought it meant they were going to get cheap meat as a result. But that's not going to happen, as we know, as those northern cattle exposed to the live trade are very young and light. Certainly nobody among my customer base is not eating meat as a result of the program. Because I am currently spending more time at the counter, more customers have wanted to talk to me about the issue, rather than the boys (junior employees). They seek me out to get a more comprehensive answer to their questions, and I'm happy to provide it. But I could count those questions on one hand. I was in Perth at the time the issue broke, and I was ringing the shop daily to determine the impact, but it was very light."
• More reports from the National Retail Innovation Expo in coming uploads, including an in-depth interview with Rod Slater, chief executive officer with Beef & Lamb New Zealand; JBS unveils its new premium brand; and new 'Smart Shape' packaging offers exciting potential in food service applications.