THE domestic wholesale beef market is in a world of pain at present, pressured by mounting volumes of product backing-up out of a lacklustre export market hit even harder by recent currency movements.
On top of that, a vast price gap that's emerged between beef and competing proteins, is making it even harder to shift large volumes of chilled beef currently sitting in cold storage.
Typifying the current conditions in the wholesale market, southern Queensland warehouse-style meat retailer Super Butcher this week took TV air-time, advertising whole AA Co 1824 100-day grainfed rumps for just $10.99/kg through its network of six outlets.
It's been a long time since quality product like that was available to the public so cheaply.
A contact from a large wholesale business with operations in multiple Australian states said there was a 'heap' of chilled product currently sitting in cold storage, some of it with March and April pack dates on it, due mostly to lacklustre trading conditions in export beef markets. Any chilled product packed in March, today has 16 weeks age on it – at very least – pushing it to the absolute limit of its chilled shelf-life.
One large domestic beef supply chain which is yet to complete a newly-constructed cold storage facility is already receiving inquiries from others desperately chasing some chiller space, Beef Central was told yesterday.
"Anybody who has a position on rumps, cubes, or strips in storage – it's time to go," one veteran wholesale trader told us yesterday.
"People held, held, held product hoping things might change, but this market's just kept coming back. Some held stock in the expectation that processors might be short of cattle. But that hasn't happened, yet, because dry weather is pushing more cattle to market than expected."
"For wholesalers, it's not the time to be holding out for an asking price, when they're not going to get it. All it does is put more pressure on next week, and the week after."
"If there is going to be a real cattle shortage, it's not looking like happening now until later in September or October."
Compounding the very difficult export beef trading conditions, which is pushing more beef back into domestic channels, has been the sharp rise in the value of the A$ – up US5c in the last three weeks.
A 5c rise in currency was worth the equivalent of A17c/kg across the carcase, a wholesaler said.
"All these factors are putting an awful lot of pressure on the wholesale trade. Wholesalers are having to try to keep volume up, to roll-through their meat – otherwise they get stuck with product bought at earlier high prices that looks very expensive today.
One of the nation's largest wholesale networks has apparently told its distribution centres the business needs to shift an additional 5000 tonnes of carton meat this month.
"The people who are not staying current, and copping the medicine, will struggle to get into cheaper meat. Meat being sold today in some cases represents livestock sold four, six, eight, ten weeks ago," one trader said.
"Wholesalers just have to grit their teeth, drop their price, and move on."
There are stories doing the rounds this week of wholesalers sending out their product list to prospective customers with no price attached, but simply asking for offers, in order to clear product with age on it. That is almost unprecedented, certainly for years and years, one source said.
Alarming price falls being seen
While some wholesalers were hesitant to discuss the extent of price falls since volumes started to accumulate – for fear of losing their bargaining power with retail and food service customers – it's evident that some of the price movements have been dramatic.
Prices on certain cuts have 'absolutely collapsed', with virtually no demand, one wholesaler said.
"While the cattle markets were good, it was terrific, but eventually, there was a day of reckoning coming," he said.
"Making it even harder, competing proteins like chicken and pork are very cheap, in comparison with beef and lamb. Pork prices on livestock have dropped from 380c/kg liveweight last Christmas to 260c/kg today. That's one third less. Chicken remains cheap. It's great to get 550c to 600c/kg for carcase beef, but in retrospect, we are pushing ourselves out of the consumer market, because beef is simply too dear for the average consumer," he said.
Loin cuts are worst hit; some halving in value
Worst hit in the current wholesale market conditions have been loins, but all cuts from butt cuts, chucks and blades to trimmings have all come back substantially. Some loin cuts on better quality meat have come back $3-$5/kg, and in places much more. Prices on some 100-day grainfed cube rolls have fallen close to 50 percent, from $24-$25/kg wholesale to $13-$14/kg since April. Other are still selling for $18-$19/kg, with strips $14 to $14.50/kg, and grainfed rumps holding up a little better, still around $9 to $10.20/kg.
Another wholesaler said good cube rolls he was writing $28/kg on a couple of months ago, were now making $18-$19/kg, and other 'reasonable' cubes were selling a lot lower than that.
Price collapses like that suggest somebody along the supply chain is going to cop an absolute pasting, profit wise.
Better quality, and heavier meat is being affected most. That's partly because numbers on feed are at record highs, and grain prices have lifted substantially in the past month or two. In grassfed categories, heavy meat from export type animals, again, has been worst-affected.
Export type cube rolls the size of a hubcap are inevitably difficult to sell on the domestic market, for portion size reasons.
Market participants spoken too were unsure where the price movement was going to end up, so many simply stopped buying, preferring to go 'hand to mouth' for the timebeing.
While loin cuts for barbecues are always harder to shift over winter months, this year the issue is much, much more acute, for the reasons outlined above.
Will the current trend be reflected in lower retail prices?
Examples like the Super Butcher offer highlighted above are only just now starting to appear, but expect to see a lot more of it at retail, a prominent domestic processor and wholesaler says.
Supermarket price war 'specials' on beef to this point remain mostly in the mince category, where $7/kg regular three-stat mince is now common. But expect to see those bargain priced 'specials' shift to steaks and other muscle meats soon, given the wholesale market conditions, he suggested.
"Cheap beef specials in supermarkets and independent butchers are inevitably going to pop-up in the next month or two," he said.
Kills may be "too high" for market demand
As strange as it may seem, given the low level of beef kills in Australia this year compared with earlier years, there is arguably too many cattle being killed in Australia each week at present, one large meat supply chain spokesman said.
"Dry weather is forcing that, but it's impacting on the clearance of current high beef stocks, while exports are so flat," he said.
"It might be a good thing if some of these cattle are pushed back into October or November – but that's not going to change what's happening right now," he said.
A slowdown in kills in plants in southern states, which often close for maintenance breaks during winter, would help offset some of the supply overload, one source said.
Beef versus competing proteins
Meat & Livestock Australia highlighted the large disparity between beef and competing proteins this week.
"A range of retail price trends can be teased out of the June quarter Consumer Price Index data," an MLA report said.
They highlight the ongoing supply-side price pressure on red meat during the first half of 2017 and the current competitiveness of chicken and pork. After easing for the first time in two years in the first quarter, indicative retail beef prices picked up marginally during the second, to $19.26/kg retail weight. Meanwhile, indicative lamb prices jumped to surpass the previous peak in 2011, to $15.01/kg rwt.
However, given the timing of the series and stickiness of retail prices, what is not reflected in the aforementioned indicators is the subsequent fall in cattle and lamb saleyard prices over the past six weeks, MLA said.
The figure below illustrates indicative retail meat prices in Australia.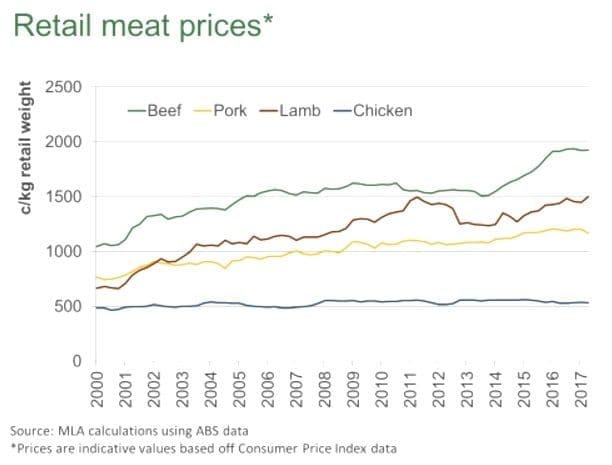 What is also clear is that chicken retail prices have failed to budge while pork has not increased at the same rate as beef and lamb. In fact, under the weight of growing pig supplies, retail pork prices have eased for the last two quarters.
June quarter meat production (across all species) will be published in the next two weeks and will be very telling of shifts in competing protein levels over the last financial year.