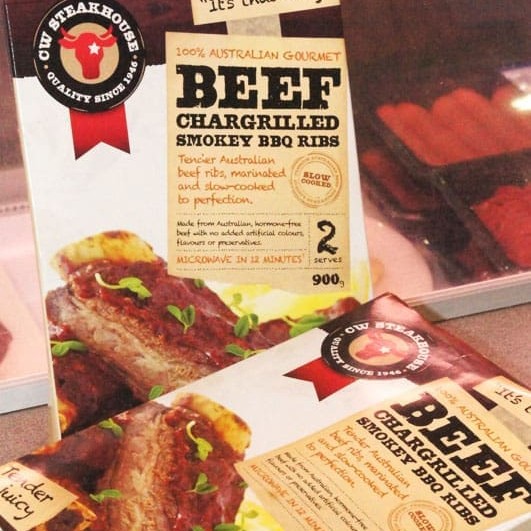 While currency movements have made it harder to compete on the international stage since the business was formed five years ago, Teys Australia's value-added products division continues to find opportunities on the domestic market.
Specialising in value-added beef lines, Teys' Food Service was launched at a time when the A$ was floating between the mid-60s to 90c, in US$ terms – a long way from where it sits in 2012.
While the early intention was that much of the value-added product would be sold offshore, that focus has changed as the currency value has shifted.
Simon Dwyer, one of the domestic sales and marketing team-members for Teys Food Services, said another trend had been an extension out of products targeting only the food service sector (restaurants, hotels, catering) into retail-ready products suitable for sale in supermarkets and other retail settings.
Many of these were on show at the company's recent commercial display at Brisbane's Fine Foods Queensland Trade Expo.
Teys' VA products take a wide variety of forms – pre-packaged, fresh as well as cooked and chilled ready-to-heat centre-of-plate meals.
They include items like pre-cooked meals in gravy, presented in thermo-pouch packaging for easy re-heat in a hot water bath, allowing the customer to simply snip the bag and serve; and microwaveable pre-cooked marinated beef ribs, sold under the CW steakhouse range (pictured above, and accessible in larger format at the bottom of this page). Both offer extended shelf-life.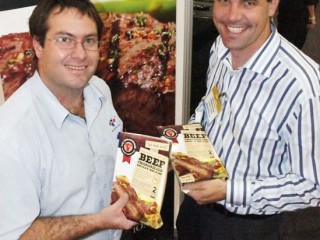 Further processed deli-meat like pastrami and corned beef is another growth area, targeting the higher-end of the segment by not over-injecting and emphasising quality.
There is also an emerging emphasis on a Certified Organic offer, since Teys Australia launched its first organic kill at Biloela in September last year (see earlier story "Pent-up global demand for Organics, says beef program manager.")
One of the largest outlets for this is a national supermarket chain offering a Certified Organic beef range – all portioned and pre-packaged using MAP at the division's Hemmant facility in Brisbane's meat precinct.
"We have seen a consumer trend where Certified Organic beef has slowly become more mainstream, and retail prices are likely to slowly come down as a result," Simon Dwyer said.
Some of the Certified Organic raw material may also find its way into the value-added stream, and Teys is already looking at entry-level products for this like corned beef.
SmartShape provides consistency in cuts size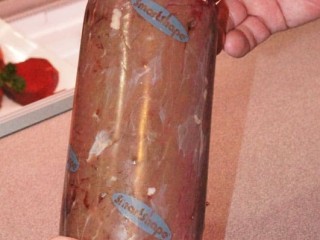 Items based on new technologies on display by Teys included beef processed and packed using the innovative SmartShape technology (see Beef Central's explanatory story from July last year, "New process adds value to secondary cuts.")
SmartShape is used for primal and sub-primal shaping, particular in areas like improving the consistency of shape of beef used in portion-control work.
The equipment itself acts like a 'boa-constrictor' pulling the raw material down and forcing it to adopt the sleeve profile. Sleeve diameters can be changed to suit different raw material.
It solves one of the big problems when providing portions for large-scale food service work, where there can be inconsistency in size and shape of portion serves from one end of a given muscle to the other.
Teys Australia is exploring the use of the new technology, using a prototype machine on cap-off rumps, splitting the rostbiff in two, and running them through the SmartShape machine to deliver a highly consistent shape, dimension and thickness that allows food service operators to cook to a pre-set time.
It is also being successfully applied at the company's Wagga facility to reduce the size of larger rib-eyes above 3.1kg, which can be harder to sell on the domestic market.
Some visitors to Brisbane's Fine Foods Expo mistook the bagged material for eye fillet, such was the shape and dimension of the finished, bagged item. Another selling point is that no binders are used in the process, as the meat naturally adopts and retains the shape of the bag.
While it was currently tough-going in the export of value-added products with an A$ persistently above parity with the US currency, Teys continues to market some value-added lines into the US market, because underlying demand remains, despite the competitive difficulties caused by exchange rates.
Some of that former US export product is being diverted into alternate export markets, particularly Asia, and especially for Certified Organic lines.
"The big attraction in value-adding is in better utilising each carcase – extracting more value from certain secondary cuts that lend themselves to further processing in some way," Mr Dwyer said.
That extended from items like rump tri-tip to flat meats, intercostal rib meat, silversides and other items.
The Teys Food Service division currently handles about 120 tonnes of material each week, and is continuing to grow despite the export trade environment.
"Knock another 10 or 20c off the value of the dollar and we would be back in business in the US in a big way," he said.