BURGER giant McDonald's is remaining tight-lipped about the success, or otherwise, of its recent grassfed burger limited-time offer across the company's Australian restaurants.
Launched with little real fanfare or marketing support back in late March, McDonald's only response to a series of questions posed about the program by Beef Central was to acknowledge that its Grassfed Burger was a limited-time-only addition to the menu – it was available for only seven weeks – and the product was no longer available.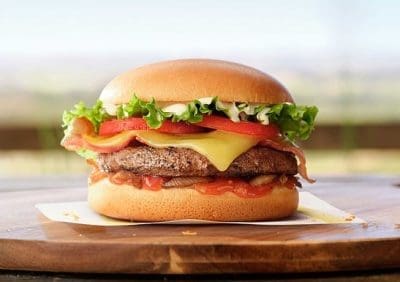 Offered under the company's premium burger line-up, the McDonald's Grassfed Burger offering was made from 100 percent Australian grassfed beef, the company said in a statement.
For some years McDonald's has been asked during beef industry gatherings attended by McDonald's management personnel about prospects for the launch of a certified grassfed burger in Australia. The consistent response has always been that the company was prepared to explore such options, but only after it was confident that the supply chain is large enough and reliable enough to service it.
"The Grassfed Beef Burger is a delicious addition to our menu that really celebrates terrific, locally-sourced products," McDonald's said during the March launch.
McDonald's said it needed an additional 160 tonnes of certified grassfed beef from Australian producers for the limited-time offer. That suggests it turned over around 1.6 million grassfed burgers during the seven-week trial.
Beef Central understands the raw material was sourced only from audited, certified grassfed supply chains.
Customer reaction
The company would not provide details on customer reaction to the offer, or whether it was likely to return to Australian menus.
Youtube video consumer reviews were generally favourable, but several suggested the $9.70 purchase price was expensive, and higher than the equivalent Angus burger range.
"It doesn't taste hugely different from the Angus pattie – maybe a bit more of a meaty flavour to it," one reviewer said. "It's an 'OK' taste – probably a 7.5 out of 10," he said. "For the price, I probably would not buy it again."
"Juicy, but not a lot of flavour happening for the price," was another Youtube reviewer's reaction.
"A really tasty burger – but it would want to be for its price," a third reviewer said.
Back in 2009, McDonald's was forced to add its limited-offer Grand Angus and Mighty Angus burgers to the regular menu, due to overwhelming customer demand. The Angus program was supported by a $10 million advertising blitz at the time, and Angus burgers remain a McDonald's staple to this day. In 2018, the company also trialled a Wagyu beef burger option, but the offering did not continue.
In the absence of any engagement from McDonald's, we asked a range of red meat traders and wholesalers for their thoughts on the program.
Several questioned the wisdom of mounting the seven-week trial in the middle of the COVID-19 shut-down period. Others suggested McDonald's reluctance to promote the grassfed burger more vigorously reflected wariness about continuity of supply of raw material.
Still others were surprised that Australia was chosen for the pilot trial at all.
"Unlike the United States, for example, most Australians perceive everyday beef as basically grassfed, already," one large wholesaler said.
"I doubt the word grassfed has as much impact here with burger customers as it might overseas," he said.
Where does Australia's certified grassfed beef trim end up?
Given that Australia now has a series of large, and expanding certified grassfed beef programs, what happens to the large volumes of trimmings produced during the deboning process?
The overwhelming majority is exported under long-term contracts to the United States, where it carries a distinct price premium over generic beef, Beef Central was told. Much of it is sold at retail through large US outlets like Wholefoods and Trader Joe's, while the remainder goes into grassfed burger offers in the hundreds of mid-sized premium burger chains across the US.
"The grinding business for burger chains and retailers in the US is enormous, and many customers are looking for a point of difference. Grassfed offers that," one wholesaler/exporter said. Smaller quantities find their way into the Japanese and EU export markets.
Some Australian certified grassfed brand programs offer 10c/kg premiums for cull cows run in certified herds, for the production of grassfed manufacturing beef. Teys' Grasslands program is an example.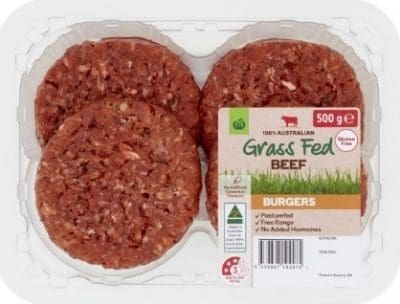 Within the domestic Australian market, major retail groups stock limited ranges of grassfed, pre-packaged beef patties, but grassfed fresh mince is not frequently seen among major supermarket retailers.
At times, some Woolworths stores do stock a Grassfed/HGP-free premium mince for the equivalent of $16/kg, compared with its regular mince at $12/kg, lean mince at $15/kg, and Organic at $22/kg.  Just two of five Woolworths stores near Beef Central's office held grassfed mince stock this morning, when we checked the company's online shopping website.
Large, multi-state meat wholesalers told Beef Central that certified grassfed beef trimmings were only very thinly traded on the domestic wholesale market.
"We get a few inquiries for specific jobs – higher-end burger chains, or mid-sized hotel groups, for example – but there is very little certified grassfed trimmings sold via the wholesale channel," one contact said. "It's mostly to customers looking to make some claims to differentiate themselves from others on the menu."
However even with the small volumes changing hands in the domestic wholesale channel, a distinct premium was sometimes evident. Lean grassfed trimmings were often worth 40-50c/kg more than generic product on the domestic market, and occasionally out to a dollar, one wholesaler said.
"But it's a niche market in this country," he said.
Having said that, he suggested small niche markets were emerging for trimmings with some form of premium story attachment.
"For example we are seeing some customers interested in a mince program for burgers, based on trimmings from dry-aged beef. It's very niche, but there is a demand for it. Organic product has always been a small part of the trimmings market, and if anything, that is growing."
Trim price movements
Domestic trimmings prices currently were 'all over the place,' Beef Central was told yesterday, as supply and demand changes overseas due to COVID and other factors impact the local market.
One wholesaler said while the market was currently 'changing daily', regular chilled 85CL trimmings (not sold as grassfed) were yesterday trading at 850-880c/kg, while some wholesalers might be selling product at just over 900c/kg.
Those prices were probably a dollar a kilo higher, just two weeks ago, but the rapid softening in demand and price for Australian trim out of the US as North American processors crank up their production, following the big lapses caused by COVID plant closures in April and May, had caused domestic prices to fall rapidly.
Because so little certified grassfed trim was sold on the domestic spot market, it made it difficult to offer a price comparison, one trader said. Some of the product was traded under contracts negotiated two or three months ago, rather than the spot market.
"I would say that the majority of certified grassfed trimmings used in Australia are sold under contracts negotiated earlier, which makes it hard to establish a price based on today's market," he said.
"Some of the current contract pricing might reflect just how nervous processors were three months ago, when COVID was bearing down."