TASMANIAN grassfed Angus beef is now being stocked in chilled cabinets in Woolworths supermarket outlets in Victoria.
HW Greenham's Pure Black branded beef, produced out of the company's Smithton plant in northwestern Tasmania, is now being stocked in upgraded Woolworths stores across metropolitan and regional Victoria.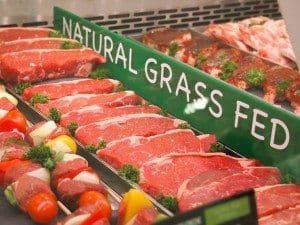 Pure Black is the 'little brother' of Greenhams' revered Cape Grim Beef grassfed brand, one of the early pioneers and real success stories of Australian grassfed beef.
The product is derived from 100 percent grassfed Angus yearling cattle, and in-line with Tasmanian Government law, must be free of hormonal growth promotants and genetically-modified feedtuffs.
Greenham Tasmania managing director Peter Greenham said the company was happy to be given the opportunity to work with Woolworths in Victoria.
"The brand already has some presence in Tasmanian Woolworths stores, but the team came to us with the idea to really promote grassfed beef in Victoria, as their customers were demanding it," Mr Greenham said.
"We were also pleased to hear that new butcher serveries were being constructed in the Victorian outlets. The idea of the brand being front-and-centre in the cabinet so that butchers can personally tell the product's story was more appealing than being 'just another product' in the pre-pack chilled cabinet self-serve section," he said.
"Customers in Victoria will love the product. It's got a rich and full flavour and most importantly, it will be consistent throughout the year due to the excellent grazing conditions and skill of our dedicated branded beef producers," Mr Greenham said.
The list of current participating Woolworths stores carrying the Pure Black Beef can be accessed here. Using the locator page, customers can type their postcode into the search field to deliver the closest butcher-servery equipped Woolworths store stocking the product.
Pure Black beef will be available in Woolworths stores in a range of cuts, including striploin (porterhouse), bone-in rib-eye (OP rib), scotch fillet, eye fillet, rump,  premium mince, bolar blade roast, sirloin roast, marinated back ribs and chuck short ribs. Retail pricing ranges from $33.99/kg for striploin to $35.99 for ribeye, to $49.99 for eye fillet.
Customers will be able to request their favourite steaks to be cut at their desired thickness or even truss-up a roasting piece for a special occasion at Woolworths meat serveries in Victoria.
See more images in gallery at base of page