The startling COVID-driven change in consumer behaviour during the April-June quarter was the main factor in a dramatic increase in sales and profit for Coles last financial year, annual results announced yesterday revealed.
As restaurants, hotels and functions closed down from April as part of COVID control measures, Australia's retail sector experienced an unprecedented boom in sales for key consumerables – especially lines like fresh meat, toilet paper and cleaning products – as Australian bunkered down at home.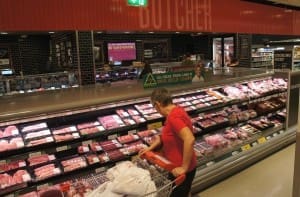 Images of empty fresh meat cases and supermarket aisles were common across social media during the depths of the consumer panic period. It represented a challenging supply chain environment for all retailers, trying to keep up with consumer demands.
For the year ended June 30, the Coles group (Supermarkets, Liquor and Express divisions) reported a 6.9pc increase in annual sales to $37.4 billion and group pre-tax earnings up 4.7pc to $1.4 billion.
The company's supermarket division was the star performer, with earnings up by 10.7pc for the year to $1.31 billion. Supermarkets sales revenue was $33b for the year, an increase of 6.8pc.Liquor sales also enjoyed strong growth, surging by 20pc in the fourth quarter, as home supplies replaced drinking at a pub, club or sporting venue.
In other results, Coles also reported double-digit revenue growth in its meat export business for the year, with strong growth in Asia.
A large proportion of the 2019-20 year retail sales increase was down to people being at home rather than out at pubs and clubs, Coles Group chief executive Steven Cain said.
Reduced availability of key lines due to pantry stocking led to lower promotional activity, particularly in pantry and homecare, and increased at home eating trends led to a shift to premium products for many customers.
"Since June 2019, we have been presented with a number of unforeseen challenges including drought, devastating bushfires, and of course the ongoing COVID-19 global pandemic. This has provided the greatest test of our lifetime and we are experiencing things we never thought we would see in a supermarket, or for that matter Australia," Mr Cain told shareholders.
Coles, for its part had become a designated "essential service", playing an important support role during these crises, and it would continue to play an important role as the nation recovers and returns to growth, Mr Cain said.
Following a subdued and socially-distanced Easter, sales improved as a result of increased in-home consumption, shareholders were told.
Home cooking categories such as meat and poultry benefitted, partially offset by declines in impulse, food-to-go and prepared salads.
Customers made fewer trips to supermarkets while basket size increased significantly. However, the mix of sales evolved following the initial period of panic buying and pantry filling, with April and May seeing a degree of de-stocking in canned and ambient pantry lines, Coles said.
As social distancing eased towards the end of the period, customer demand again evolved with signs of increased demand for home entertaining resulting in rises in categories such as gourmet cheese and flowers. More recently, the reinstatement of restrictions in Victoria had resulted in a reversion to the earlier pattern of trade in the state.
Product restrictions on red meat and other items were lifted throughout the fourth quarter but partially reinstated as COVID-19 cases began to rise late in the quarter.
There was also a parallel change in the pattern of shopping with customers migrating to convenient neighbourhood stores at the expense of CBD, shopping centres, or resort stores, however Coles started to see some reversion of this pattern towards the end of the fourth quarter.
While Mr Cain said supermarket sales had remained strong for the first six weeks of the new financial year, to mid-August, Covid related costs were expected to remain high.
"I don't think anyone knows what's going to happen in six months' time," he said.
Online sales boom
COVID-19 also had an impact on Coles' Online sales and demand for home delivery. After a brief suspension of service in March, due in part to the panic buying impact on product availability, the company's online business was relaunched both to increase capacity and reorient towards service for those most in need. Online demand and sales grew strongly in May and June with growth rates above 30pc.
Online invested heavily throughout the year in expanding capacity in Home Delivery, largely through extended pick times and the recruitment of additional drivers.
The Coles board yesterday declared a final fully-franked dividend of 27.5c per share, a 14.6pc increase on the final dividend of the prior year.
Coles shares were trading at $19.02 this morning, up 1.7pc on yesterday.
Woolworths announces its full-year results on 27 August.