FED cattle and beef prices have declined dramatically in the US over the past fortnight, driven by a range of factors.
There is currently a very large inventory of cattle in US feedlots at, or close to, market-ready weight, and this is pushing US domestic finished cattle and beef prices sharply lower as end-users wait to see where the markets will settle.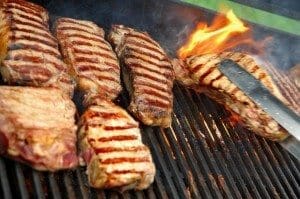 The most recent USDA Cattle on Feed report showed that on 1 September, 9.99 million cattle were in US feedlots with a capacity of over 1000 head. This was 2.7pc higher than the same time last year, and is the highest September total since 2012.
The more telling number from the report, however, is the very large number of cattle (3.6 million head) that have been on feed for over 120 days. This figure is 18pc higher than last year, and even higher again compared with the average of the previous five years.
This suggests plenty of slaughter-ready cattle to come onto the market over the next few months – at a time when cattle and beef prices have already been dropping alarmingly in the US, and beef demand is seasonally relatively weak.
With so many cattle on feed for a long period of time, average US carcase weights are reaching record highs – steer carcases are currently around 920lbs (420kg), which is far heavier than the average of 890lbs this time last year.
These heavy animals coming out of feedlots are also contributing to the excess supply of fatty trimmings, which are trading at values lower than half the price of 12 months ago.
Words like 'collapse' and 'freefall' have been widely used by analysts to describe the current market dynamics in the US.
Writing in Friday's weekly US Cattle Fax report, Tod Kalous said US cattle markets are in and have gone through uncharted territory in many ways over the past 12 months.
As a reflection on just how extreme the current US market is, Mr Kalous offered the following points that describe the current rare market circumstances:
So far the US cash fed market has experienced its third largest decline in history from the first half high to the second half low, in seasonal years. The figure on Friday was at -24pc (1985 and 2001 declined 25pc).
The cash fed market has declined 25pc from the 2014 high of US$172.49 to $129.20, and the 2016 live cattle futures are pricing in a 29pc decline from the 2015 high to the 2016 low. There had never been two years back-to-back with breaks of this magnitude, Mr Kalous said.
The cash fed market has declined in each of the past six weeks – since 1980, six consecutive weeks of a declining market has occurred less than 2pc of the time.
The cash fed market has declined 14pc over the past 6 weeks. There had been only three other occasions in which the market has declined by 14pc or more over a six week period.
On a dollars per hundredweight basis, the US fed cattle market has declined $21 over the past six weeks. There's only been one other timeframe with a larger break over six weeks on a dollars per hundredweight basis – that was January 2004 during the BSE crisis.
The March 2016 feeder cattle futures priced in a 28pc decline from the summer/fall high 2015 to the spring low for 2016 last week, which would be the largest break in history for feeder cattle prices over this timeframe.
The volume of US live cattle futures contracts traded in the December contract reached a record high on September24.
"These points remind us of the gravity of the current situation, not that anyone needs reminding, but it also puts into perspective just how unordinary and extreme the current situation is," Mr Kalous told Cattlefax subscribers.
"The market is in the process of making a major low that will not likely be taken out again for an extended period of time going forward."
Meat prices also 'freefalling'
Prices for the USDA Choice boxed beef cutout closed last week $15.65 lower on Choice; while USDA Select for the week declined by $10.08. Lower asking prices by sellers each day gave buyers little incentive to step in and secure a position further out than what their immediate needs call for, Cattlefax reported.
Trend is impacting Aussie imports
The situation in the US is being clearly reflected in imported 90CL manufacturing beef prices out of Australia.  Prices have fallen 30c/kg in the past three weeks, protected somewhat by currency movements, as buyers continued to focus on the collapse of the US cattle market and sharply lower prices for US domestic lean grinding beef.
"End users for the moment appear content to sit on the sidelines while importers struggle to convert some of their existing inventory to cash," Steiner's most recent weekly imported beef report said.
"The main challenge remains the lack of buying interest, Steiner said. "Packers overseas likely have yet to digest the implications of the sharp decline in US fed cattle prices, and what that means for lean beef prices in the short term."
Demand for imported beef cuts are also now classified as 'extremely weak' as domestic US fresh beef prices, which for much of the summer were much higher than domestic, now are quite competitive.
To illustrate this, USDA last week quoted Select fresh domestic insides (not cap off) at $2.42/lb. Converting this to a cap-off equivalent using a ratio of 1.30 would imply a domestic cap-off price for product made out of US fed steers of around US$3.15 per pound. Asking prices from overseas packers are anywhere between US$3.40 to US$3.60 or even higher, hence the lack of demand for imported beef," Steiner said.
"It has been a dramatic shift in value that has caught some end-users with expensive inventory."
Nobody forecast collapse
Commenting in his US Cattle Buyers Weekly report, Beef Central analyst Steve Kay said market collapses can humble even the most ardent bulls, as August-September's precipitous US price decline had proven.
"Cash live cattle prices have fallen more than $22/cwt since the first week of August," Mr Kay reported. "The Choice boxed beef cutout has fallen more than $29/cwt  since August 26. Live cattle prices are now lower than they were at the end of 2013. The Choice cutout is at its lowest daily level since February last year."
The collapse was even more shocking, Mr Kay said, because no one had forecast such declines.
"Even the most negative forecast put a live cattle price low above $140. Yet they averaged only $134.94 per cwt live or $212.63 dressed (basis a 5-area steer) the week before last, and likely fell  another $5-7 last week."
Mr Kay said the collapse had confounded analysts because September live cattle prices are normally higher than those set in August. August prices averaged $148.45/cwt (based on a simple four-week average). But they averaged only $138.62 the first three weeks of September, and last week's price likely lowered this average by another $3-4.
Only 2004 and 2008 in recent history failed to see September prices premium to August.
Big losses recorded by lotfeeders
A year ago, US cattle feeders were enjoying excellent margins and amassing their largest equity position for some years.
"Now, they've exhausted that equity and are losing as much as $350 per head, the largest ever  losses for September," Mr Kay said.
Current losses were even worse than in February when cattle lost just over $300, according to data from the Livestock Marketing Information Centre. Those losses were the worst since July 2012. But the September losses are $50 larger.
Losses of this magnitude might continue for some weeks, as US Lotfeeding breakevens are still around $170 per cwt, LMIC's Jim Robb told CBW.
The 15pc decline in cash live cattle prices since the first week of August was the largest percentage decline for this time of year since 1990, when USDA's 5-area market data series began, he said.
"The margin deterioration reinforces the old adage that the money always runs out before the cattle. Cattle feeders last fall pushed feeder cattle prices to record highs because they felt feeder cattle supplies would get much tighter and that they had better buy cattle rather than have empty pens," Mr Kay wrote. "This came back to haunt them as losses became severe in February."
Len Steiner's Daily Livestock Report yesterday said there was an expectation in the market that US cattle prices would start to recover once the short-term glut of overfinished cattle was cleared.
"It is not an unreasonable expectation and it is already priced in the current spread between October and December fed cattle futures, with December holding a $5 premium," he said.
"But for this to happen feedlots need to quickly work through their backlog of cattle, which may prove to be a bit more difficult than expected. True, packers have increased slaughter but they will likely need to increase it even more, and this could be problematic."
US packers needed to see notably better demand develop before they would be willing to ramp-up slaughter and pay up for cattle. Some end-users had also been sitting on the sidelines, deferring purchases and waiting for a bottom in the market.
"Eventually they will come into the market," Mr Steiner wrote. "But fixing the demand issue for US beef will take a bit longer than some appreciate. Foodservice operators made decisions regarding promotions and menu items months ago. It will take them months to once again focus on beef offerings."
"And beef prices still are at historically high multiples to other proteins. Export demand (for US beef) also remains weak and that is unlikely to improve in the short term, especially given lower beef prices across the world."
So while US cattle prices should find a bottom in the next few weeks, a potential recovery might be capped by demand challenges, at least until the northern hemisphere spring, he suggested.
Calls to cap beef imports into the US
Providing  commentary on Drovers CattleNetwork last week University of Wisconsin extension specialist Brenda Boetel said the recent decline in US cattle prices combined with the increase in beef imports (mostly from Australia-NZ) had prompted several comments regarding the need to restrict beef imports, as the lower total supply of beef would support cattle prices.
"This solution is problematic in the long term," she argued.
"In the short term, the US would have a challenging time filling the needs for lean beef due to decreased cow slaughter and heavier finished cattle weights.  Hence the 90CL beef price would increase, eventually increasing the retail price of ground beef."
"Beef is already the highest-priced protein product and additional increases would likely shift consumer demand faster from high cost beef to lower cost poultry or pork. Additionally, the long-term increases in production of lean beef would decrease the more profitable sales of high-valued cuts both domestically and in the export market further reducing the overall profit margin for US cattle producers."