SAUDI Arabia could once again prove to be a promising market for US beef in the foreseeable future, a US Meat Export Federation executive said last week.
And the US is again talking more seriously about re-accessing the China export market, reversing bans imposed by China after the discovery of BSE in US cattle in 2003.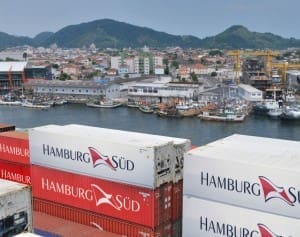 After a more recent 2012 case of BSE was recorded in California, Saudi Arabia closed its borders to US beef, paving the way for expanded exports from Australia.
But USMEF's regional director for Europe, Russia and the Middle East, John Brook, said he was optimistic the important Middle Eastern country would resume importing US beef in the coming months. He said the industry should learn more details soon as government officials looked to sort through the technical and political matters at play.
Despite a drop in oil prices, the Middle East remains a promising market for US beef with the presence of more American-style restaurants and modern retail outlets, Mr Brook told reporters during a media conference call from last week's USMEF Strategic Planning Conference.
Referring to the region's emerging food service and retail businesses, he said those establishments were looking for reliable suppliers of quality beef products.
"And with the steady growth in the Gulf region, that is why regaining access to Saudi Arabia is so important for US exports. Saudi Arabia is the biggest country in the region."
Australia, which ships about $100 million in beef products annually to Saudi Arabia, has a corner on that important market at present, Mr Brook said.
Australian beef exports calendar year to date have totalled almost 25,000 tonnes, out of a total Australian export volume to the Middle East of 45,000t.
Tariff differential gives Australia advantage in Japan
Australia also has a decided advantage over US beef in Japan, USMEF's vice president for Asia Pacific, Joel Haggard, said at the media conference.
Japan was the US's largest market for red meat, but exports to Japan have been down for these first nine months of 2015, Mr Haggard said.
"The duty differential that exists between US beef and Australian beef has been a major handicap."
A 10 percent duty differential placed the US at a serious competitive disadvantage, he said.
Still, USMEF officials remain optimistic the recently negotiated Trans-Pacific Partnership agreement would help level the playing field in the long term – if Congress acted quickly to ratify the trade pact in the US.
Almost 42 percent of all US ag exports went to the 12 TPP participant countries today, while red meat exports accounted for 70pc of all US red meat exports, USMEF president Philip Seng said.
"By 2030, 60pc of the world's middle class will reside in Asia, which has the fastest growing middle class in the world. In Vietnam, the economy has basically doubled since 2007, so this is the kind of growth envisioned in this TPP block," Mr Seng said.
He described 2015 as a tough year for US red meat exports.
"We're dealing in a marketplace internationally that has been shrinking the last couple of years," Mr Seng said.
"This is a trend that hopefully will reverse itself in 2016. But it's been a tough year. Total export numbers for the year are down 12pc on volume and 8pc on value on the beef side."
US beef exports are down 10pc to Mexico this year. High beef prices had prompted Mexican consumers to gravitate to pork and poultry in recent years.
"Another characteristic of this year is that the US$ has been strong against all the major trading currencies, and especially the markets that appeal to us," Mr Seng said. "So, as their currencies become weaker our currency becomes stronger, and it's just an added tariff, if you will, to our product."
But Mr Seng said international markets remained of paramount importance to US beef.
Highlights from last year, on the beef side, were a 9pc increase in trade to Korea, 5pc in Taiwan, while Vietnam was up 50pc and Singapore up 72pc.
So in spite some of the gloom, there is some very good news we've experienced," Mr Seng said.
"Saudi Arabia is a market we are very intent on getting into in the next few months."
China the 'big prize'
Though not yet part of the TPP agreement, China remained the 'big prize' for US exports, Mr Seng said.
Though China showed a very uneven economic picture at present, food service receipts were increasing at an annual rate of 7-8pc, Asia-Pacific expert Joel Haggard said.
"That's robust growth and that's driving record beef imports to China," he said. "Brazil has re-established access there, and Australia is taking advantage of its economic free trade agreement and started to ship live cattle there."
Mr Haggard cited Argentina, Uruguay and Paraguay as other examples of countries making inroads in the Chinese market.
The dynamics of logistics in the region also have evolved, making it easier for Europeans to ship product to China, Mr Seng said.
"Our attention should be focused on China long term. Europeans and everybody are looking at China as the market with most potential for growth," he said.
"I think the US has a responsibility from a trade relationship … to work out how we can accommodate a working relationship with China, especially on trade."
Source: Drovers CattleNetwork, with additional reporting by Beef Central.