As it is for Australia, Japan is the United States' most important meat trading partner, purchasing a little over $1 billion worth of US beef and offals in 2012, representing 19 percent of all US exports.
Since November, however, the value of the Japanese currency versus the US$ has taken a nose-dive, losing almost 18pc in value in just three months.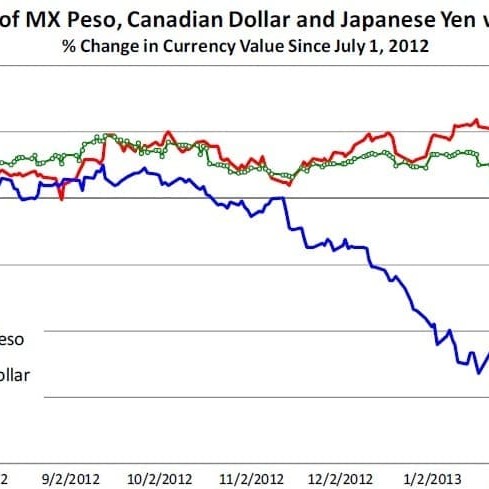 In contrast with predictions of a big increase in US beef exports to Japan this year because of relaxation in age-at-slaughter protocols for US cattle to 30 months, US analysts are now looking closely at monthly export data for January to be released this week, for signs of the impact that currency movements may have on beef trade.
"The change in the value of the Yen versus the US$ is not an accident that will be quickly rectified," Steiner Consulting says in its latest weekly imported beef trade report.
"It reflects a dramatic change in the stance of the Japanese Central Bank and the Japanese government. Japan is expected to become much more activist in its monetary policy, printing more Yen and embarking on easy money policies similar to those in the US, Europe and Britain," Steiner Consulting said.
"Some have argued that the change implies direct political interference in the affairs of what is an independent body (similar to the US Federal Reserve). However, the Japanese Central Bank has missed its inflation target for the past decade and sooner or later it was bound to come under increased pressure to deliver on its mission," last week's report said.
The danger for US competitiveness in the meat trade was how other commodity-exporting countries would respond to this change in Japanese policy.
"Developed economies have embarked on a struggle to generate growth via easy money," Steiner's report said. "Countries like Brazil, Canada, Australia and New Zealand will either stay put and see their exports/GDP decline, or they will also try to lower the value of their currencies via easy money and/or lower rates."
In the case of Brazil, there has already been a dramatic reduction in interest rates, from 10.5 percent last March to 7.5pc in January and likely even lower going forward.
This has lowered the value of the Real and bolstered Brazil beef exports. The US dollar also has gained ground versus the Canadian $ and A$ in recent weeks, a development that hurts US exports and encourages imports.
"Domestic demand has struggled from weak income growth and the stronger dollar will further erode the profitability of US meat producers," Steiner said.