CONTINUING its re-emergence as a significant player in global beef exports, Argentina last week reached agreement with China over chilled beef and lamb access.
Previously Argentinean exports to China were limited to lower-value frozen boneless beef, from only a handful of export plants.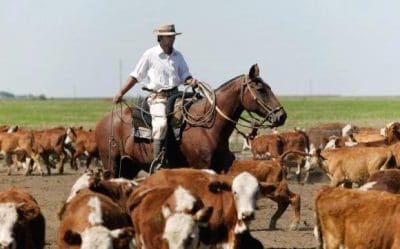 According to a report in MercoPress, the Argentine agriculture and livestock sanitary office, Senasa, announced on Thursday that Argentina and China had signed an agreement that now opens the Chinese market to chilled and bone-in beef and lamb from the South American country.
The deal concludes fifteen years of negotiations between the two countries and meant access to the world's largest importer of beef, Senasa said in a statement.
All types of Argentine beef will now have access to the Chinese market, the Argentine ambassador in Beijing said following the signature of a sanitary protocol by the two countries' animal health offices.
Until the agreement, Argentina only had access to China with frozen low-value boneless beef, which represented 50pc of total Argentine beef exports.
China is Argentina's largest market for its meat exports, importing 86,500 tonnes of product in 2017, mostly low cost cuts. Argentine beef sales to China were 75pc higher than in 2016, currently worth around US$35 million per month – expected to increase considerably with the new opening.
Second largest export market, Chile, last year took about 25,000t of Argentinean beef.
Trade sources in Beijing said first shipments of Argentine chilled beef under the new protocol could be reaching China during the first quarter this year. The trade agreement followed similar deals covering other Argentine agricultural commodities, including peas, blueberries and pulses.
As a beef exporter, Argentina is still in the early stages of recovering from a period of severe export limitations on beef, imposed by the national government as a means of capping domestic retail prices on beef. Argentineans remain some of the largest beef eaters in the world.
With the removal of the Government's distortive and prohibitive taxes on exports, farming has been boosted and promoted, and Argentina appears to be gradually rebuilding itself as a significant exporter of beef, lamb, pork and poultry.