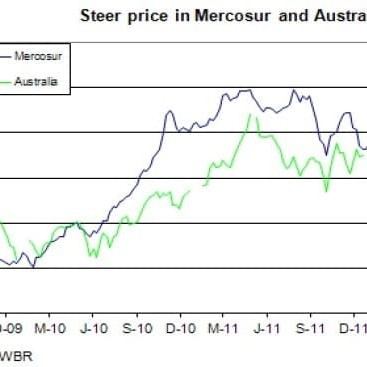 A significant international comparative milestone was reached recently when indicator cattle prices in South America dropped below Australian equivalents for the first time in two years.
For the past 25 months, the average steer price in the Mercosur region (comprising the largest South American beef producing countries – Brazil, Argentina, Uruguay, Paraguay) has been above the Australian reference figure.
As can be seen in the attached graph, since May 2010 the World Beef Report's Mercosur Steer Index (WBR/MSI) has been higher than its Australian equivalent, when compared in US$/kg.
The differential grew to 25pc in November 2010, when Brazilian prices boomed, but during the early stages of 2012 the gap has gradually narrowed to just 2-4 percent.
A fortnight ago, prices again moved back to historic relationships in Australia's favour, with Australian steer carcases 220-260kg quoted at US$/kg 3.21, and Jap ox $3.24/kg, compared with the top WBR/MSI figure at US$3.19/kg (other South American delivery points were even lower, at US$3.09-$3.04.)
Key factors appear to be Australia's ability to access higher-paying markets, like Japan, Korea and the US, and the relative currency movements in Australia and South America.
The Brazilian Real recently declined a further 3.4pc in a fortnight, which was largely responsible for the losses of value of the regional indicator. In Argentina, the market was again distorted by strike action by farmers, and drops in cattle prices in Uruguay.
Global uncertainty and a strengthening US$ continue affecting cattle prices in South America. The average price of beef exported from Brazil and Uruguay in May was the lowest seen in more than a year. In the case of Brazil, fresh beef average FOB value fell to US$4793/tonne, 3.3pc below April to reach the lowest level in 19 months. In Uruguay, prices fell 3.4pc below April and the lowest since January 2011.
While the currency movement has impacted on Brazilian beef export value, it had the opposite effect on volume, increasing 30pc year-on-year in May, to 83,000t. After a sluggish start to the year, Brazil's more price-competitive beef exports for the first five months of 2012 are now 3.1pc above year ago levels, at 339,000t. An increase in cattle throughput has also helped Brazilian exports.
The Brazilian Real decreased 18.4pc year-on-year to the end of May, falling from a high of US62¢ in May 2011 to average US49¢ in recent weeks. The depreciation has been influenced by a significant tightening of monetary policy in Brazil, with the Brazilian Central Bank cutting interest rates by 4pc since August last year. The latest interest rate cut in late May of 0.5pc took Brazil's official cash rate to 8.5pc.
These interest rate cuts come as Brazilian policy-makers look to shore-up an increasingly sluggish economy. The World Bank revised down its 2012 growth forecast for Brazil from 3.4pc to 2.9pc in its latest global outlook released in June.
The decrease in the Real has come at an opportune time for Brazilian beef exporters, as supplies have increased with the onset of the dry season. The increased supplies have also been reflected in the physical market, with the Sao Paulo cattle market index decreasing from $US3.25/kg in January, to $US3.04/kg by June 13.
In contrast to overall Brazilian beef exports, the country's trade into Russia – historically its largest beef export market – has started 2012 slowly. A Russian ban on a number of Brazilian beef processing plants a year ago has limited the amount of Brazilian beef able to access the Russian market.
Offsetting this has been growth in exports to other markets including Chile, Hong Kong (that's code for China, under the region's grey-market trade) and Egypt.