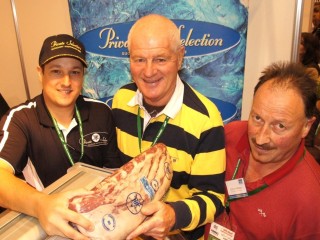 While wars might be won and lost on the World Cup Rugby field, Australia and New Zealand are kindred spirits with much in common when it comes to domestic beef market challenges, according to a visiting industry representative.
Rod Slater, chief executive officer for Beef & Lamb New Zealand, was visiting Australia recently for a retail trade event.
B&LNZ is responsible for the country's domestic red meat marketing and market development activities, as opposed to export, which is managed by a separate organisation, Meat & Wool NZ.
"Within beef, the domestic market represents 45-50 percent of all prime beef cuts produced in NZ – an even higher percentage than in Australia," Mr Slater said.
"In lamb, however, we are heavily export dependent, with 92pc being shipped offshore."
While currency was a significant challenge for the NZ beef and lamb industry in remaining competitive in the international marketplace, as it was in Australia, the nation's biggest current challenge was in maintaining supply.
"In the lamb industry, production has been lost in two ways," Mr Slater said.
"Firstly, there has been enormous pressure on prime lamb farming country from other land uses, including dairy and forestry, which is very hard to retrieve. On top of that, New Zealand sustained severe storms around this time last year when over a million lambs were lost in the South Island."
"Worse than that, there was considerable loss of adult breeding sheep in the snowstorms, which were very severe – one in a hundred year type events that probably produced the biggest losses ever sustained in the industry."
Pressure on lamb supply
"It has put extreme pressure on lamb supply, and coupled with increasing world demand, it has seen lamb prices to the NZ consumer more than double in the space of about four years."
Mr Slater said lamb was now a global product in terms of pricing, and NZ operators were now paying whatever the offshore price was, minus freight.
"The only advantage we get is that we are closer to home, and it is still the best market for that reason. But there is no light at the end of the tunnel. Our lamb numbers have gone from 40 million not that long ago to 21 million this year."
"That massive decline has been softened a little by genetics, because it now takes fewer ewes to produce the same number of lambs, but nevertheless it is a major problem."
The good side, of course, was that NZ lamb producers were now getting a reasonable return for their efforts. Back in July, fat lambs ready for sale were making NZ$211 – $10/kg to the grower, for lambs dressing around 21kg.
Recent high prices had put a dent in NZ consumers' passion for lamb, however.
"Lamb has lost a lot of ground in terms of domestic meat protein share as a result of the big increase in prices – some of it to beef, which is holding its own, despite its own price increases – but also to chicken and pork which are now much cheaper than lamb in relative terms," Mr Slater said.
Price high on consumer list
B&LNZ has this year set-up a Facebook page popular with consumers, and a common theme among users' comments was that lamb was now just beyond the budgets of many New Zealanders, at $45-$50 for a leg.
"We did some interesting research earlier this year on the NZ consumer and where the value of our products sat, in their minds," Mr Slater said.
"With lamb, the image rating was very good, and they rated it as a product that was easy to use, but they said price represented 81 percent of their purchase decision. So no matter how effective we have been in telling the consumer how healthy, convenient and enjoyable it is, price is now the over-riding consideration in lamb."
In contrast, price was 60pc of the purchase decision consideration in beef, and in chicken, much less again. Pork was also gaining ground as a meat protein source, despite having a hard time in NZ, coming under considerable animal welfare pressure in headline news on mainstream media.
Beef demand, despite price rises of its own, had been much more robust than lamb consumption in the past couple of years. That's come in the face of hefty 40pc rises in price in the past three or four years, but nothing like those seen in lamb.
Mr Slater said despite current supply issues, B&LNZ had maintained an "all guns blazing" approach to marketing both meats on the domestic market.
"Some are asking, with all the shortages of supply, why are we bothering to promote our product?"
"But just because we are going through this period where supply is a big issue, we feel we cannot stop talking to our customers, taking our foot off the pedal," he said.
"Where our strategy has changed a little is in pulling back from the high-end promotion like TV commercials, in favour of the ongoing work in reinforcing the nutrition messages, and related activity. TV ads are really the tip of the iceberg. Underneath, there is a huge effort going on with health professionals, nutrition and other areas which cannot stop."
"If we put price aside for a moment – and I'm sure it is the same in Australia – the biggest challenge to purchasing red meat now is cooking knowledge. Up to 15 years ago, children in New Zealand were taught cooking in school. That has now stopped, and there is a huge knowledge gap there now which is a barrier to purchase in many cases. We can see that gap in our survey work, in different age groups."
As in Australia, the cooking TV show phenomenon had taken off in NZ, and it was of considerable value in inspiring consumers to try something different.
Taking marketing cues from Australia
So does NZ take some of its marketing strategy cues from Australia?
"Absolutely," Mr Slater said. "We think they are among the best in the world."
"Much more deliberately than that, over the years since about 2000, B&LNZ has purchased rights to creative programs from MLA in Australia. In 2006 we bought the MLA Iron campaign, with the familiar comparison ads, and we have bought a number of others, including the 'Red-Meat: Feel good' campaign with the dancing butchers."
"It's a win-win for both countries, because Australia picks up some revenue it otherwise would not have, and NZ gets access to some very good, well-researched material."
"In fact we won an award for the 'rock group' Red meat: feel good campaign, and we did not even make it!"
Asked whether there were opportunities for Australia and NZ to share in some "Australasian region" joint marketing campaigns in international markets, he said without question, they were there, as many of the clean/green connotations applied to both countries.
"To be fair to both organisations, there has been a little of that going-on already, in test markets like Taiwan, and a little in the US for lamb. It's small, but there is scope for more of this sort of work. To a large extent we are not competitors, but co-operators, as much of the NZ beef export is manufacturing beef from dairy cattle. But the disadvantage to NZ is that we do not have the critical mass that Australia does."
Mr Slater said independent NZ butchers were holding their own against larger supermarkets at present, but the emergence of 'high-volume, low-margin' retail models was creating a very, very competitive marketplace, which was also high-risk.
Good independent butchers were establishing their own niche, with lots of value-adding, quality and customer service angles, differentiating themselves from outlets trading solely on price.
As in Australia, price wars were evident among the big supermarket players – Progressive, owned by Woolworths Australia, and Foodstuffs, running along the lines of the IGA model in Australia. Both had similar market share.