During tough times like this, the Australian beef industry needs every shred of good news it can get its hands on, to put a bit of a spring back in its step.
To that end, Beef Central has decided to purposely seek-out developments in domestic and international meat and livestock supply chains that offer cause for optimism, beyond the immediate drought and livex market failure horizon.
And what better place to start than China ….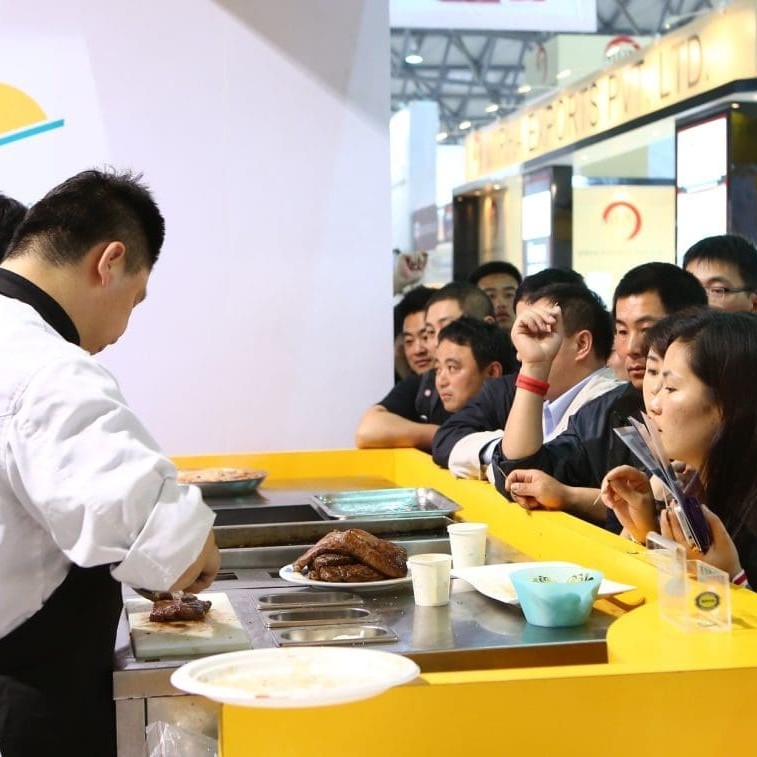 ANY lingering doubts that China might be a transient or opportunistic customer for Australian export beef were swept away forever during a major trade fair in Shanghai last week, where a large contingent of Australian red meat exporter exhibitors was overwhelmed with trade prospects.
SIAL China is one of the world's largest food and beverage trade shows, and because of the rapid and somewhat unexpected emergence of China as a powerhouse Australian beef customer over the past nine months, the event has taken on a much greater importance.
Last year, just two Australian exporters had a trade stand at SIAL. At last week's 2013 event, 14 Australian companies partnered with Meat & Livestock Australia to mount an exhibit, and a further 15 exporters had a staff presence (See exhibitor list at bottom of page).
As will be described in a separate SIAL exhibitor reaction article to be published on Beef Central on Monday, veteran exporters who have attended 40 or more food trade shows around the world ranked last week's SIAL event as easily the busiest they have ever seen, with potential customers four-deep along the Australian stands.
As the beef supplier with easily the least constrained access to the Chinese market of any large global beef producer, Australia managed to secure a premium location in the exhibition hall devoted to meat protein – just one of dozens of halls in the convention complex – which itself was described as being the size of the Brisbane Convention Centre auditorium.
Out of nowhere, China started to project itself as a serious importer of Australian beef in July last year, and is currently on-track to notch up imports of Australian beef totalling more than 60,000 tonnes for the 2012-13 financial year. For calendar 2013, a figure of 100,000 tonnes is not beyond possibility.
But the real underlying potential may only now be being discovered, trade participants are saying. As recently as a few months ago, there was a view that China might be another 'flash in the pan', just as Russia exploded in size as a beef market in 2006-07, only to die away again. But all that has now changed.
"Australia's presence at SIAL last week was hugely successful," MLA's China region manager Andrew Simpson said yesterday.
"The number of people queuing-up at each Australian exporter stand was quite surreal – unlike anything I have ever seen," he said. "Nobody among the group had encountered anything like it."
MLA played a strong role in coordinating the overall 'Australia Inc' presence at the show, and in ensuring exporters had an environment conducive to doing business. All of the exporter-exhibitors spoken-to by Beef Central were effusive in their praise for MLA's performance.
Australia managed to secure a very large footprint in a premium location, right in front of the show's main entrance. As well as individual company 'booths', there were meat cutting and cooking demonstrations, product sampling, and extensive chilled cabinets displaying Australian beef and lamb, plus a mezzanine meeting room and general hospitality area.
Obviously an event the size of SIAL attracted other global protein producers keen to engage in trade with China, and there were large stands also from the United States, Canada, Uruguay, Argentina, France, and interestingly, Indian buffalo meat.
While the US Meat Export Federation mounted a large display, there were no US commercial exporters exhibiting, as there was for Australia.
"Everybody said the epicentre of the entire food show was the Australian exhibit," Mr Simpson said.
Just one factor behind that was Australia's relatively free and unfettered access to the Chinese market. Neither the US or Brazil, for example, can legally sell beef to China, because of BSE, FMD or ractopamine concerns. Those countries' product only enters China, illegally, via the 'grey channel,' slipped over the border from Vietnam or other neighbouring countries.
That partly explains why markets like Vietnam and Hong Kong are such large customers for Brazilian beef. Hong Kong was Brazil's second largest export market for the first quarter this year.
Just as Japan's annual Foodex trade show played a huge part during the early 1990s in providing a venue for Australian beef exporters to establish trading relationships with large Japanese importers and end-users in the period immediately after market liberalisation in 1990, SIAL Shanghai is now playing a similar role in an even bigger potential market.
Demand across broad category range
One of the extraordinary aspects of customer inquiry out of the trade show was the breadth of demand.
Strong business was being done in all product segments from fullblood marbling score 9 Wagyu, through to chilled quality grainfed and grassfed cuts, MSA yearling (both grass and grainfed), veal and more price conscious PR, S and manufacturing beef.
"There was a wide variety of product presented by the 14 Australian exporters directly participating in the event, and everyone felt they had found 'plenty of homes' to put product into," Mr Simpson said.
"All of the big Chinese retailers were represented in attendance at SIAL, and many of the bigger importers."
"There were a number of Australian exporters of high-end grainfed product targeting the upper-end of the food service market, but just below them, there were a multitude of grainfed players supplying into boutique butcher shops and better quality retail outlets."
While there was already considerable momentum being seen in imported beef demand from China, adding further weight to that has been the country's outbreak of the H7N9 bird-flu virus, which has seen mass containment slaughters and consumers abandoning chicken meat in droves, leading to a $6.5 billion loss reported so far to China's domestic chicken meat industry.
Click here to view the full list of Australian red meat exporters exhibiting at SIAL Shanghai.
Read the SIAL Shanghai exhibitor responses, published in a separate story on Monday.
Next week in Beef Central's 'positive news' series: Five cattle market segments that have withstood the cattle market tsunami brilliantly.