This is the second part of a three-part report compiled by meat trade analyst Simon Quilty on the looming impact of the African Swine Fever outbreak in China's pig population, and its implications for global meat trade, including beef. Click here to view Thursday's first article. Today's report focuses on the impact of rising pork prices in China as transport restrictions and the widespread nature of the disease impacts supply and demand of pork domestically. It also looks at the social implications of the disease outbreak as China moves into high demand season.
IN THIS second part of my report, I have continued to use China's severe outbreak of Porcine Reproductive and Respiratory Syndrome (also known as PRRS or Blue-ear disease) in 2006-08 as a case study in the hope that by understanding that disease episode, it will enable us to better understand the impact of the current African Swine Fever epidemic in China/Asia and Europe, and where it may take the global meat trade in the future.
High pork prices lead to social unrest
During the Blue-ear disease outbreak in Chinese pigs a decade ago, Premier Wen Jiabao made public appearances on state television to address citizen concerns over higher prices and inflationary fears, and to dampen growing unrest.
This was because retail pork prices in China rose more than 50pc during the June 2006 to June 2007 period, while wholesale prices increased as much as 95pc. These rising pork prices in China fuelled inflationary fears and eventually led to higher CPI levels in the economy.
These concerns continued into 2008 as pork prices rallied and CPI jumped to 3.5pc in 10 months. Premier Wen made well-publicised visits to Chinese swine and other farms and was quoted as saying "the pork price hike should have a limit, because some urban residents can't afford it," and that the situation "needs a market adjustment."
In 2007 individual provinces took their own specific actions – notably, Guangzhou Province promised to give a monthly payment of 20 Yuan for every low income families during May, June and July to "help offset the higher prices of pork and non-staple foods."
At the time a 20 Yuan direct payment amounts to less than 3pc of an average low-income salary in Guangzhou of 780 Yuan per month.
Other steps taken in 2007:
The Chinese Premier at the time ordered local governments to provide subsidies for pig production in the hope of alleviating the supply shortage.
Premier Wen held an emergency cabinet meeting ordering local governments to increase food assistance to low-income families and to encourage pig rearing through grower subsidies.
Also at the time, the sensitive issue of the income gap between urban the rural residents was very real with increases in food prices placing more pressure on rural residents who tended to be of a lower-income status, whose spending on food accounted for a larger share of their income compared to their urban counterparts.
"Inflation in China is the worst it has been in more than a decade and food inflation has reached 18.2 percent. Cooking oil is now so expensive that three people were trampled to death in November in a stampede to grab bottles at a reduced price," Cornell University reported in 2007.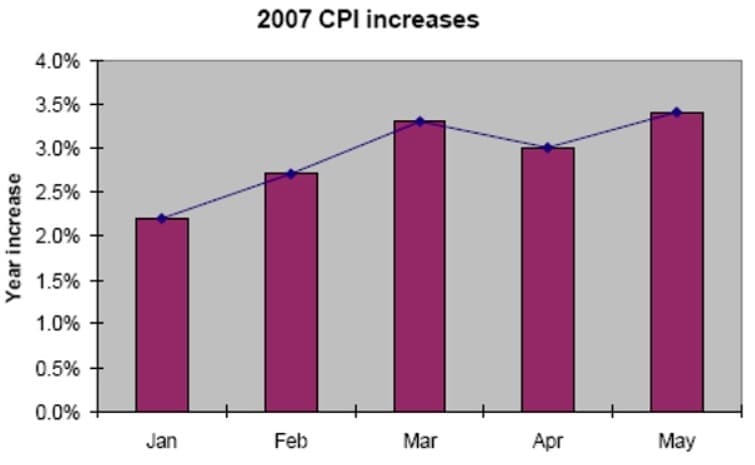 In 2007 food prices in China accounted for nearly one-third of the consumer price index (CPI), which rose to 3.4pc in May that year with food prices rising 8.3pc. Meat constituted close to 7pc of the CPI basket for China, with rising pork costs at the time the biggest single influence on food prices which eventually pushed CPI inflation above 4pc.
When comparing this to 2018 – the same concerns exist today as pork prices will drive China's CPI higher. The increase in 2007 of 1.5pc over five months was important and by December this year if the current rate of increase continues, then 3pc is a real possibility with 3.5pc possible by March next year. This was seen as a critical level in 2007 which triggered concern about inflation and social unrest.

China's hog markets today
Since the ASF outbreak in August 2018, hog price differentials are starting to occur between quarantined regions where oversupply is occurring and demand regions (mainly cities) where pork supply is tight due to transport restrictions.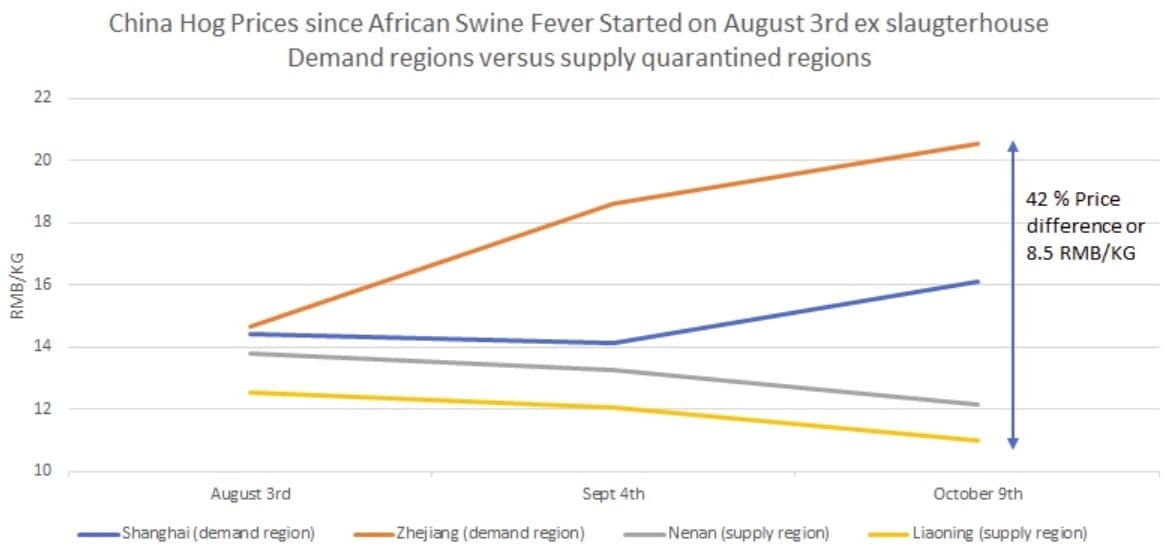 Analysts within China are telling me that prior to the southern China outbreak, the government was looking to allow Henan white strip meat and live pig products to be transported to Shanghai, Jiangsu and Zhejiang Provinces attempting to stabilise pig prices – but this is no longer possible.
However, the distance between pigs in South China and Southwest China is relatively long and ability to transport is difficult, so market participants therefore believe there will continue to be a price differential, but not as high as the last month due to the additional supply which is expected to see a price correction.
The China-based hog market analysts described the situation last week in a quarantined area where hog movements are restricted as follows: "The current African Swine Fever epidemic is still in a dangerous period, restricting the inter-provincial transportation and circulation of living pigs will be normalised, and the low price of pigs in the northern producing areas is difficult to fundamentally reverse. Just when the northeast pig price showed signs of stabilisation, the frequent and intensive outbreak of the Liaoning epidemic will once again cause a heavy blow to the entire northeast pig price, especially the lowest low Liaoning pig price in the country or once again see a refreshed low."
In high demand areas, the opposite is happening, with prices rising quickly, as outlined by another analyst this week: "According to the previous regulations, Yunnan has become an infected area, so Guangxi, Sichuan, Guizhou, and Tibet, which are close to Yunnan, will be banned from transporting pigs across provinces, putting enormous upward pressure on areas where pigs are mainly exported. An obvious example is that on October 22, the gap between the purchase orders of the two pigs in Guangdong and Guangxi has reached less than 1 yuan, which is historically low (only one week before the spread was 3.22 yuan). The challenges facing the Guangxi pig industry will be more difficult, while Guangdong may bring prices up because of the lack of pigs."
Problem could take ten years to fix
The following is a candid report from a China based analyst sent to me this week – it's a very blunt assessment of where he sees the China pork industry and the long term impact of ASF. He asked to remain anonymous:
"For the Chinese pig industry, African swine fever is definitely a disaster. It will not only make the breeding enterprises suffer heavy damage, but also make the upstream insurance and feed enterprises difficult. In a nutshell, the entire industry ecology has changed due to ASF. Under the nest, there is no egg, and no one can ignore or even escape the disease".
The fall of the southwestern pig industry means that fighting African Swine Fever has become a long-term battle according to the analyst.
"Earlier, many experts and industry professionals were looking forward to quickly eradicating the epidemic and bringing the industry back to peace. At the meeting in Henan Province, an expert admitted that according to foreign experience, China's African piglet prevention and control road has a long way to go, and it will take at least ten years to completely solve it."
National emergency pork reserves are of little use
In 2007 Premier Wren called for strategic pork and live pig reserves they claim can be used in the event of severe food shortages. Today, these pork and live pig reserves are problematic because frozen and fresh pork carries the AFS for up to 1000 days, so domestic pork reserves are potentially a liability. Imported pork is, to me, the only true solution to guarantee clean pork.
In 2018 the Chinese government I believe still retains this right to call upon emergency stocks from pig slaughterhouses throughout China – this amount I have been told equates to close to 200,000 tonnes.
The issue is that there is no guarantee that any frozen or chilled pork emergency stocks put aside might not be contaminated itself thereby further acerbating the problem if it is transported across the country to high demand areas. In addition, 200,000t is a fraction of the country's needs and far larger quantities will be required.
Both issues of potentially compromised emergency stock and a relatively small quantity adds further evidence that using imported pork from clean countries that will ensure that no further contamination occurs is a likely outcome. I regard this as another key trigger-point that could lead to the implementation of a major import program.
In 2008 China introduced a state-sponsored import program that lasted for 10 months and saw 480,000t of pork imported from the US and EU directly into China – an additional 85,000tonnes came via Hong Kong. The Government clearly stated that the purpose of the import program was in order to stabilise domestic pork prices and ensure market supply – this was achieved in late 2008. There is no reason why a similar program will not be reintroduced, which I believe is imminent given the trigger points that have occurred with ASF.
Disease spreading in Asia and Europe
In 10 months during 2007, Blue-ear pig disease spread to 25 of China's 34 provinces. In contrast, in 2018, it has taken just 10 weeks for a total of 26 provinces to be impacted by AFS, with 12 provinces having ASF and 14 neighbouring provinces under transportation restrictions and live market closures. It means that 98pc of China's hogs nationally are now affected by restrictions.
ASF 2018 map compared to PRRS Blue-ear disease map
This week China's Government has announced that feeding food scraps to pigs is banned throughout affected and adjacent provinces, and in addition have introduced a registration system for vehicles that transport live pigs, fowl and any other species. The decision to ban the feeding of food scraps is based on the first studies which commenced six weeks ago on the first 21 ASF cases in China whereby 62pc of outbreaks that occurred in China was related to food scraps.
The southwest region contamination is of particular concern as this region is a large producer and consumer of pork and is one of the highest consumption regions in China consuming close to twice the countries average pork consumption at 68kg per person per year. With transportation restrictions inevitable from Yunnan and surrounding provinces, pork supply is expected to get extremely tight in the south as the high demand period leading up to Chinese New Year moves closer.
At the moment in China, 45pc of the pig herd is in ASF states and 53pc in neighbouring states. When comparing PRRS Blue-ear disease's geographical distribution to that of African Swine Fever (see map above), there are strong similarities between the two. But ASF is potentially having a greater impact.
Surrounding countries could be next
The spreading of ASF into China's Yunnan province places additional pressure on neighbouring countries Myanmar, Laos and Vietnam as they all share borders with Yunnan province.
In 2007, virulent strains of Blue-ear disease emerged also in Vietnam and the Philippines.
The spread pattern in Vietnam (2007-10) suggests the occurrence of new strains in the northern part of the country earlier in March 2007. This coincided with the Tet-Holiday, one of the major 'harvest times' in pig production in Vietnam and increased people and product movement in the country.
A second wave of infection, apparently with the same virus strain, occurred in June 2007 in the south of the country. Thailand reported highly virulent PRRS for the first time in 2008 but, even including 2009 data, case numbers were low (25 cases in 2008 and 33 in 2009). The new variant of PRRS were found much later in 2010 in Cambodia and Lao People's Democratic Republic, both reporting their first cases in 2010 in smaller commercial units and Myanmar had not found positive cases at all.
In recent days Thailand has accused Malaysia of having AFS and has called on their army to step up security along the border with Malaysia to prevent wild boar meat smuggling.
Thailand's Livestock Development Department on Friday called on the Fourth Army to step up security along the border with Malaysia to prevent domestic wild boar meat smuggling. The Deputy Director General of Thailand's Department of Agriculture claimed that ASF had spread through Malaysia in both its northern and southern provinces. He claimed that wild boars were the most smuggled agricultural item in southern Thailand and should it enter Thailand would cause massive damages to Thailand pork industry.
Europe issues continue with ASF
During the four-year period of 2014-17, close to 800,000 head of pigs died or were destroyed due to ASF in Eastern Europe and the Russian Federation according to a report released in March this year by Science Direct.
Bulgaria in recent days confirmed a second case of ASF which was found on the border of Romania and Bulgaria. It is two months since Bulgaria's first case was discovered. Similarly, a new case was reported in Romania in domestic pigs and wild boar this week. The addition of Romania brings the list of counties affected by the disease to 16.
The US government has lifted the suspension of pork imports from Poland after an outbreak was discovered there two weeks ago. The USDA had been reviewing Poland's export protocols after finding one facility was in breach following US export requirements. A second Polish facility was also being reviewed. In recent times outbreaks of ASF in Poland have prompted its government to set up control zones, and only facilities located within certain zones can export pork to the US. What is important to note here is that the US Government support regionalisation of diseases such as ASF as opposed to banning an entire country.
Reported in today's Pig Progress was an extract from a talk given by Prof Dr Zygmunt Pejsak to hog producers in Europe:
"Don't have any illusions – African Swine Fever will come to Western Europe. It may take three years, it may take ten years before it is confirmed in Germany, but the message to swine producers all over continental Western Europe is crystal clear: there's no way of stopping the virus circulating in the wild boar population if it is as dense as in Poland or Germany."
Key pork export destinations are also beginning to close their ports to some European pork. Serbia, Japan, Taiwan, Singapore and South Korea have banned Hungarian pork exports, for example, while Vietnam is stopping pork shipments from a range of EU countries.
With the spread of ASF within China occurring at such an alarming rate, with the virus spreading within 10 weeks geographically to an area almost equal to PRRS Blue-ear disease that took more than 10 months, and 98pc of China's hog population being impacted by transport restrictions, this I believe is an important trigger that will lead to the implementation of an import program, as it did 10 years ago.
The spread of ASF into surrounding Asian countries seems inevitable as it was with PRRS Blue-ear in 2006-07 with Thailand and Vietnam being as vulnerable then as they are today. The recent claims by Thailand against Malaysia and the use of the Thai army to prevent the spread reflects the tension that exists between countries with regard to ASF, and the potential economic loss to both countries. Should Thailand's claim be true, then Indonesia would also be under threat and all of South East Asia.
Two potential impacts should ASF spread through Asia
There are two potential impacts should ASF spread through Asia.
Firstly, should the pig population also be decimated as I believe China is now experiencing, then it will lead to additional demand for clean imported pork and secondly, the presence of ASF throughout Asia and no vaccine means that reinfection in China is a real possibility if the endemic spreads and China's neighbours are unable to control the problem in future years.
Click here to view Thursday's first article in this  report series. The final part of this three-part report on ASF in China, published in coming days, will focus on the import program that occurred in 2008 and how this will translate into a program today which I am confident will not only include pork imports but also include beef, chicken and lamb.