HIGHER prices for all meat proteins in China as a result of the African-Swine Fever impact on domestic pork production is contributing to an expansion in China's domestic beef production, a recent trade report has found.
The US Department of Agriculture's Global Agricultural Information Network issued its half-yearly report on China's livestock and meat production last week.
The GAIN report forecasts that officially, China's 2021 pork production will increase by 14 percent to 47 million tonnes.
However this level of projected expansion is being significantly questioned at the moment (see analyst Simon Quilty's comments made at the recent ABARES conference) with regular reporting of new African Swine Fever outbreaks by China's Ministry of Agriculture and Rural Affairs.
The latest outbreak was in Sichuan on March 9, the second reported last week in that province. China's release of pork reserves is also running slightly ahead of last year, with the last week's release of another 10,000t bringing the cumulative 2021 total to 210,000t.
Importantly, the GAIN report cited industry sources noting that disease outbreaks in the fourth quarter of 2020 led to 10-30pc piglet mortality rates across China. Industry sources also estimate that 30-50pc of China's sow inventory now includes poor-performing cross-bred sows, originally intended for commercial meat production.
Throughout 2020, China continued to add crossbred sows to sow stocks, increasing the pig crop in quantity, but at the expense of overall herd productivity, the report said.
It also noted the challenges from the new strains of ASF, partly due to questionable quality of ASF 'vaccines', and other diseases such as Porcine Epidemic Diahorrea Virus and Foot and Mouth Disease (FMD) also impacting productivity.
China's pork imports are expected to ease to 4.5 million tonnes this year, down 15pc from 2020, while pork consumption is projected to increase 11pc to 51.39mt. Imports are therefore estimated to have accounted for 13pc of China's pork consumption in 2020, but this ratio will fall to 9pc in 2021, the report said.
China's live hog price dropped again last week (to 28.55 RMB/kg, down 22pc from last year), which continues to suggest producers are culling pigs to get ahead of the renewed disease risk. At the same time, as of last week, piglet prices were up 7pc from last year and sow prices up 11pc, with prices expected to remain high on tight supplies.
The GAIN Report also noted the increase in consumption of chilled and frozen pork, especially in China's major cities. It also discussed the negative impact of China's COVID-related measures on imported cold chain food, including testing and disinfecting, without WTO notification, domestic notice or comment periods.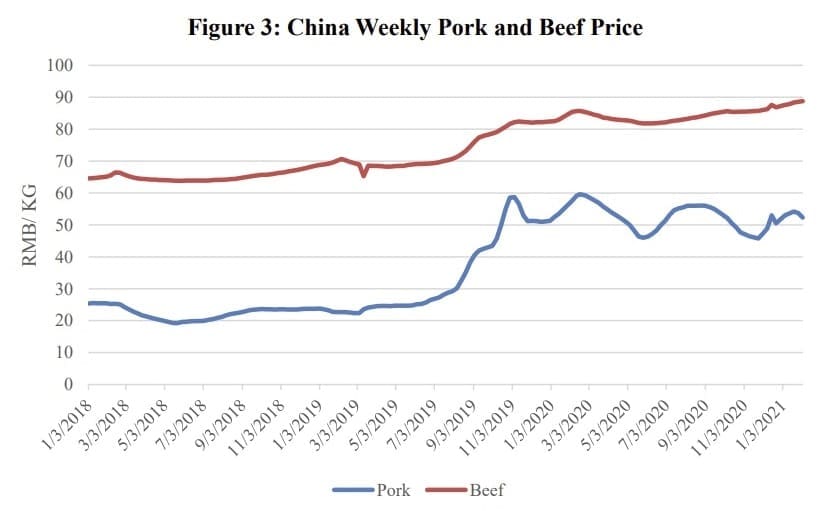 Beef production to increase
China's domestic beef production is projected to increase this year, driven in part by the growth in the dairy industry, the GAIN report also expects rising beef consumption to drive continued growth in China's beef imports (expected to rise to 3.1mt this year, up 12pc from 2020).
Domestic Chinese beef production is forecast to increase by 4pc this year, as cattle retained in 2020 are brought to slaughter.
Industry reports indicated that more Chinese dairy producers have decided to increase their beef cattle herds due to high beef prices. The slaughter rate in 2020 declined as ranchers retained beef cattle longer in anticipation of higher prices later in the year and into 2021. Consequently, 2021 slaughter rates are expected to increase.
However Chinese beef production would be constrained by the high cost of feed and lower priced imported beef products, the report said.
"Consumer demand for beef products has expanded beyond the traditional hotel and restaurant trade, into ready-to-cook products and quick service delivery," the GAIN report said.
Domestic beef production growth would also be aided by large producer investments in production, e-commerce demand for beef from consumers and expanded cold-chain logistics.
"However, the increased costs of feed and lower-priced beef imports will constrain this expansion from being more robust," the GAIN report said.
"Separately, high domestic pork prices have narrowed the price gap between beef and pork meat. Since beef is considered a luxury good, the decline in the price gap has encouraged consumers to consider swapping-up for beef instead of pork," it said.
Regional differences are likely to continue to affect beef consumption in China – with south China preferring fresh beef over frozen beef, while frozen imported beef and cold-chain products gain more consumer acceptance in northern China.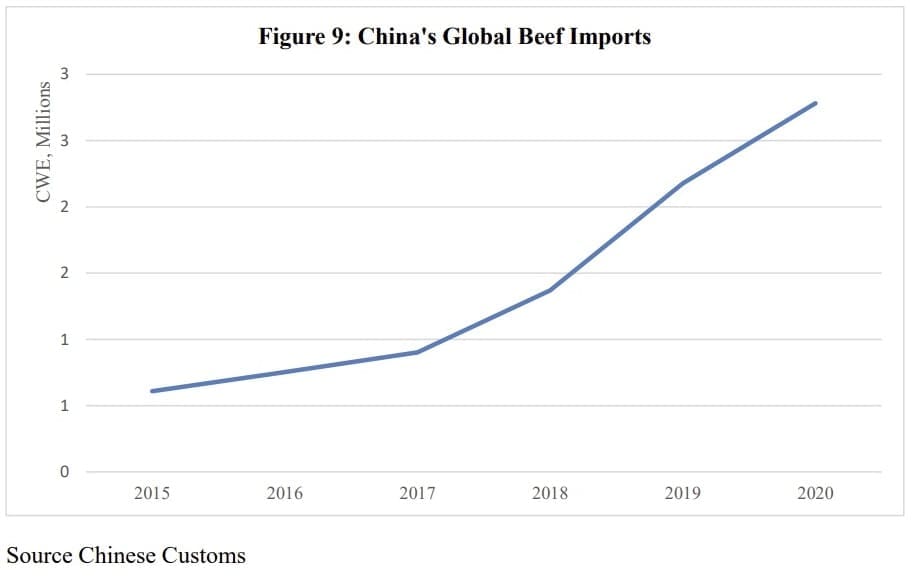 Beef consumption to grow by 6pc
Beef consumption in China, representing both domestic and imported supply, is expected to grow by 6pc in 2021, the report said.
Generally, Chinese consumers preferred to consume premium beef products when eating out, and the rebounding of dining-out after COVID would support greater beef consumption this year, the report said.
"Additionally, younger Chinese consumers are increasingly developing a familiarity with beef cuts such as ribeye, shortribs, T-bones and incorporating chuck and short plate cuts in hotpot dining."
Beef at-home consumption was also becoming more commonplace, through quick service food delivery and e-commerce platforms in larger cities. Beef consumption has also been promoted as a 'healthy' protein option in salads or processed in ready-to-eat packages.
Beef Imports
As the Chinese economy rebounds in 2021, demand from both food service and retail sectors is forecast to drive increased beef imports this year. Generally, beef imports have seen dramatic growth in China over the last five years, with this trend was bolstered recently by high domestic beef and pork prices.
"Chinese importers indicate that quality, price, supply stability, brand and reliability are important factors. South American suppliers including Brazil, Argentina and Uruguay provide beef imports which are further processed in China. Australia, New Zealand and the United States premium-priced beef is consumed by the food service and retail sectors."
Ruminant feed production highlights broader cattle expansion
As China's dairy herd continues to grow, ruminant feed production is forecast to grow. In 2020, ruminant feed production increased 15pc year-over-year based on industry data. Industry sources noted with increasing investment by producers into beef cattle production, demand for high quality feed ingredients will continue to grow.
Dairy producers in China have invested substantial resources to develop integrated systems, and additionally, some dairy producers are expanding into beef production to take advantage of high beef prices.
For example, some of China's top dairy producers have invested millions of dollars in feed, beef and dairy production, and processing facilities. One company's facilities had the intention to produce between 250,000 to 360,000 head of cattle over a five-year period.
This cross-sector integration was an example of how industry sources expect the Chinese cattle industry to continue to develop in the next few years.
Imports of live cattle decline in 2021
China's live cattle imports in 2021 are forecast to decline this year on weaker slaughter cattle demand, the GAIN report said.
However, imports of breeding cattle are expected to remain firm as well as demand for high quality beef and dairy cattle genetics. Imports of bovine semen from the US, the dominant provider, saw 38pc growth year over year in 2020.
Self-sufficiency goals will promote further pork production investment in 2021
China has emphasised a desire for self-sufficiency in animal protein production. For example, China's National Conference of Departments of Agricultural and Rural Affairs in December set the annual pork production target for the country's five-year plan at 55 million tonnes, nearly 35pc above the current production rate.
These published goals send signals to producers that investing in hog production expansion is supported by the government.