After warning of its intention to do so last week China last night imposed an 80 per cent tariff on Australian barley, effective immediately and set to last for five years.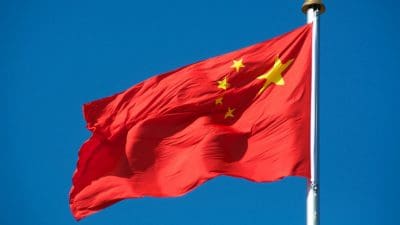 China's Ministry of Commerce (MOFCOM) made the announcement, saying China's "domestic industry had suffered substantial damage" caused by historic Australian barley sales.
The anti-dumping tariff is believed to be 73.6 per cent, while the anti-subsidy tariff would be 6.9pc.
Australian Trade Minister Simon Birmingham told Channel 7's Sunrise this morning that the Australian Government rejects any idea Australian farmers are subsidising or dumping product on global markets.
"We will defend their integrity as best we can," Mr Birmingham said, pledging to work with farmers to find alternate markets in the wake of the "unfair duty" placed upon them.
"This Chinese decision is bad for Australian farmers, but it's also bad for Chinese breweries and other customers of Australian barley in China who will end up paying more for product or getting sub-standard product from around the world."
"We hope that China will reconsider this at some point, and we'll continue to work with them where we can."
Concern for cargoes
Grain Central understands two cargoes of Western Australian malting barley are already on their way to China, and a third is now loading in South Australia.
If Chinese importers are unable to get exemptions for these cargoes which total around 150,000 tonnes, they may be diverted into Saudi Arabia through one of its periodic optional-origin tenders.
WA and SA are Australia's two biggest barley-exporting states by far, and farmers in both states are believed to hold very little malting barley from the crop grown last year.
Related article: Australia's barley industry at a glance: China targets our second biggest crop
Related article: Chinese to share pain of tariff on Australian barley
It means the Chinese tariff is likely to have the biggest impact in the short term on CBH Group as WA's dominant bulk handler and trader, and Glencore's Viterra as its SA equivalent.
This is because they have accumulated malting barley at its normal premium to feed, but may have to sell some or all of it into Saudi as feed, traditionally the floor in global barley values.
Growers wear new-crop risk
The Australian barley crop now being planted is forecast to produce roughly 9 million tonnes (Mt) and without the tariff, China could be expected to buy around half that.
Growers have forward sold very little new-crop, perhaps 10pc at most, and are therefore carrying the price risk in what could be an oversupplied global malting barley market.
Secondary markets for Australian malting barley like Japan and Vietnam now look to become even more important.
They may be sourcing more malting from Australia if other origins are pushing more into China, where the tariff on Australian barley can be expected to inflate prices.
Australian maltsters may also step up their acquisition and/or production to help absorb increased tonnages of barley available on the domestic market.
Industry responses:
CBH Group (The biggest bulk handlder and grain trader in WA, Australia's largest barley-producing and exporting state):
"Over the past five years, China has accounted for between 50 and 80 per cent of Australian barley exports annually, making it our largest and highest value market for barley.
"Western Australia produces the majority of Australia's export barley, and the introduction of these tariffs will have major implications on our growers and the Western Australian barley industry.
"This has already become evident, with significant price drops in both malt and feed barley markets following this month's announcement that these tariffs would likely be implemented.
"As Australia's largest barley exporter, we are deeply disappointed that the long, valued and mutually beneficial relationship with our Chinese barley customers will be compromised as a result of these hefty tariffs.
"CBH will continue to develop and strengthen relationships with alternative markets to ensure maximum value is returned to Western Australian barley growers." – CBH chief marketing and trading officer Jason Craig
WA Government
"It would appear Western Australian barley growers have been caught up in a much larger issue.
This decision could see a direct loss of up to $200 million to Western Australian farm incomes this year from reduced barley values and reduced wheat prices, as more farmers turn to wheat crops. This could have a multiplier effect in the regional economies of WA's grainbelt.
"This underpins the importance of research and development into new grain varieties, products and markets, to help farmers adapt to ever-changing global trade conditions.
"For example, the Western Australian Government-funded Australian Export Grains Innovation Centre has led considerable work on opportunities for Western Australian oats in the South Asian market, and is exploring opportunities for malting barley into India." – WA Minister for Agriculture Alannah MacTiernan
National Farmers' Federation
"This is a massive blow to Australian grain growers, who are right now nearing the end of their winter planting.
"The new tariffs will significantly curtail and, most likely stop, exports of Australian barley to China by artificially increasing the price, until the situation can be can resolved."
"Australian grain growers are amongst the least subsidised in the world. They operate in a free and competitive global market. The idea that Australian barley has been 'dumped' in China doesn't match the realities of Australian grain production.
"Export sales are made at prices above the purchase value offered to farmers, which in turn surpasses their cost of production.
"This issue has been under consideration for 18 months. Australia respected China's decision to launch the investigation and engaged in good faith with MOFCOM on the process.
"Organisations across the entire spectrum of Australia's supply chain made submissions that included detailed data around export and domestic sales programs, company ownership and operational structures.
"It's very disappointing that despite the details in the comprehensive submissions provided by Australia, China has decided to impose these punitive duties." – NFF CEO Tony Mahar