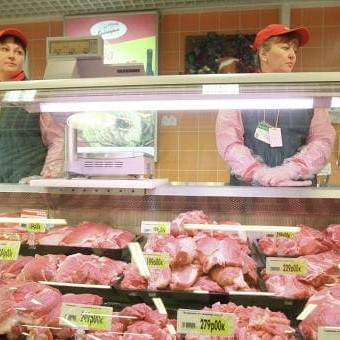 Important changes have been made over eligibility of cattle for access to the Russian export market, effective immediately.
The Australian Government confirmed on Friday that Australian exporters are now required to ensure that they only source cattle that are HGP-free when processing meat and offal products for export to Russia.
The Red Meat Advisory Council issued a statement yesterday afternoon, confirming recent media reports that, in late 2013, Russian Authorities detected traces of trenbolone acetate, an active ingredient in some hormonal growth promotants, in Australian product. That has resulted in disruption to Russian market access for a number of Australian exporters.
"The Department of Agriculture, together with the Department of Foreign Affairs and Trade have been working with Russian Authorities to clarify Russia's import requirements," yesterday's RMAC statement said.
In response, the industry has moved swiftly to refine systems that will ensure all Australian product destined for Russia is HGP-free. For the livestock production sector, there are no changes to the safeguards already in-place to differentiate livestock based on their HGP status, all of which are subject to audit and verification:
Producers using the Livestock Production Assurance National Vendor Declaration (LPA NVD) must declare if cattle consigned have ever been treated with HGPs
State and Territory legislation requires cattle producers to permanently identify HGP-treated cattle with a triangular ear mark
All HGPs include a palpable marker to aid the detection of treated cattle throughout the supply chain, in accordance with their registration requirements with the Australian Pesticides and Veterinary Medicines Authority (APVMA).
Russia's HGP-free requirement is separate – but in addition – to its existing specification for product being free of the antibiotic agents, oxytetracycline or chlortetracycline. A 90-day Provisional Russian Export Slaughter Interval (ESI) remains on products and feed containing oxytetracycline or chlortetracycline, unless otherwise determined by APVMA.
Producers who do not use products or feed containing oxytetracycline or chlortetracycline, or who comply with the 90 day ESI (or the ESI specified by APVMA) must continue to write the words 'Russian Eligible' on the LPA NVD/Waybill for cattle in Question 9.
For consignments described on the latest 2013 LPA NVD, Question 6 now includes the Provisional Russian ESI and, once answered, does not need 'Russian Eligible' to be written.
Australian processors will continue to use the LPA NVD information to direct product in accordance with the requirements of the importing country. Processors will ensure product derived from cattle certified for the Russian market is supported by an LPA NVD on which the consignor has:
Answered 'No' to Question 1 'Have any of the cattle in this consignment ever in their lives been treated with a hormonal growth promotant (HGP)'; and
Written 'Russian Eligible' in Question 9 'Additional Information', or for consignments described on a 2013 LPA NVD, where the producer has answered 'No' to Question 6.
RMAC export processing director, David Larkin, said he believed the industry as a whole was well-placed to meet any customer country's requirements, because of the systems Australia has in place.
"Industry representatives will continue to work closely with the Department of Agriculture and Russian counterparts to minimise any further disruption to Russian market access for Australian exporters and producers," Mr Larkin said.
Producers seeking any further information on this matter should contact their processor or local agent.
Earlier, the Department of Agriculture played-down Russian media reports that Russia has already banned imports of Australian beef offal over the use of HGPs.
International media is reporting Russia's agricultural watchdog, Rosselkhoznadzor, said the ban was imposed after the discovery of TBA in 'several shipments' of Australian beef by-products.
In a statement, the department says it is aware of Russia's concerns about residues of TBA in a small number of export consignments, but the department's statement says exports of Australian beef to Russia are continuing uninterrupted.
It says it's working closely with meat exporters to provide assurances sought by Russia.
"The majority of international markets accept beef produced from animals treated with TBA. The Russian Federation does not," the statement says.
"Australia recognises Russia's right to determine its import requirements and is committed to working with Russian authorities regarding this matter."
Read Beef Central's original report here.
Read Beef Central's earlier update on the Russian market access issue for offals here
Click here to read RMAC's full advice on access conditions for Russia issued yesterday.