Northern NSW beef processor Andrew McDonald used yesterday's Meat Standards Australia 20th anniversary gathering in Brisbane to lobby for greater access for saleyards cattle to the MSA program.
In a frank admission, Mr McDonald recognised that his family's business, Bindaree Beef at Inverell, had been one of MSA's most vocal critics when the program was first emerging – but 20 years later had become a 'great supporter.'
"So much so that today we grade 40 or 50pc of all our kill," he said.
"But we're looking at grading 100pc of our slaughter cattle as soon as the supply chain comes on board, and obviously for us, saleyards procurement is the important target in that regard," he said.
"We're actually holding up our whole brand re-launch (over the issue), and the efficiencies were see in being able to grade all of our cattle under the Eating Quality Guaranteed (EQG) cipher, and consolidate the different types of cattle going through our plant, based on teeth, eating quality and other factors," Mr McDonald said.
He asked the MSA panel when the saleyard supply chain was likely to be approved for MSA supply.
MSA program manager Sarah Strachan said a clearer answer on prospects and timing was expected in the next couple of months.
"We're reviewing some trial work carried out over the past couple of years again," she said.
Ms Strachan said there was already an MSA saleyards pathway in place, but she acknowledged that in its current form it was 'prohibitive', because cattle coming from approved saleyards needed to be processed within 36 hours of leaving the property, including curfew times involved in saleyards.
"Probably less than one percent of all cattle being MSA graded are currently coming via the saleyard system," she said.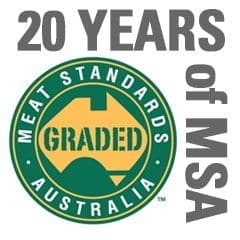 A trial looking at a saleyard pathway was conducted from King Island in Tasmania, results from which would be reviewed next month.
"That's when we'd expect to have an answer on whether the saleyard pathway will change," she said. "But we realise it is limiting to some prospective MSA users."
Mr McDonald said numbers fluctuated throughout the year, but on average 25 to 30 percent of Bindaree's kill was sourced out of the saleyards system.
He said a 'workable' saleyards pathway for MSA under the EQG cipher would be an important step for his business.
"The issue we currently have is the complexity and inefficiency it adds, in grading all cattle by teeth, and then eating quality. For us, we have a situation where two pens of Angus steers might arrive for slaughter – one from Inverell saleyards, and the other direct from the farm. It means the two and four-tooth saleyards cattle have to be graded separately from the direct consignment two and four-tooth cattle. That scenario, alone, requires four different production runs, and it only gets worse, logistically. We need to remove the complexity."
To illustrate his point, Mr McDonald said using the entire spectrum of variables across the kill floor – including age (dentition), MSA, breed type, market access, HGP status and other criteria – Bindaree had calculated in November last year that there were 110 different ways that a given animal could grade.
"Under an Eating Quality Graded cipher, we want to streamline that down to perhaps 10 or 15. We think those efficiencies will easily be worth another $10 or $15 a head," he said.
"We want to grade the other 50pc of cattle we process at the plant. There's two benefits we see in moving down this path – greater processing efficiency, and from the consumer's perspective, beef graded exactly against eating quality."
So far as Bindaree's earlier views of MSA were concerned, the company always agreed with the MSA outcome, but disagreed with the process used to achieve it, Mr McDonald said.
"Where we are today is probably where we wish the program was 18 years ago," he said.
"We're about to be in that position where every animal can be identified under MSA, which is exciting."
Bindaree Beef manages a suite of six grain and grassfed beef brands, all underpinned by Meat Standards Australia.