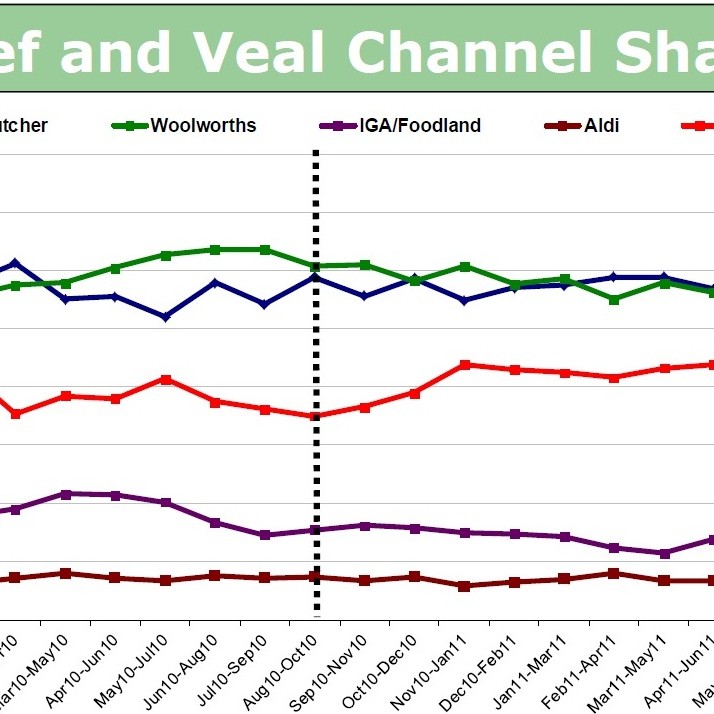 While independent butchers and Woolworths continue to dominate results, both lost a little ground to the rival Coles Supermarket chain in the latest monthly analysis of beef and veal channel share released yesterday.
The latest Australian Meat Purchasing Data report covering trade to the end of October showed market share held by Woolworths and Coles both slipped a little in the latest reporting period, with no clear winner evident.
There has been virtually nothing to separate the two channels over the past three reporting periods, and October data was no different.
Based on rolling three-month averages, which statisticians say are more reliable than single-month figures, independent butchers held a 28.8 percent share of national beef and veal sales during the August-October period, just 0.1pc better than Woolworths.
Butchers eased from a 30.7pc share a month ago (down 1.9pc) while Woolworths slipped 1.5pc.
A point worth noting is that the share trends for independents and Woolworths have closely mirrored each other over the past six months, whereas earlier there was no clear correlation, and were often counter-cyclical. That suggests external forces, rather than internal ones like marketing and promotion, are currently having greatest influence over market share between the two dominant channels.
At the same time, Coles halted a four-month slide in market share, posting a figure of 18.9pc for the August-October three-month rolling average reported yesterday. As the graph on this page shows, this still sits below the company's recent highs around 21-22pc which occurred between November last year and June 2011. Analysts point out this coincides with the launch of significant beef price discounting (the so-called supermarket price wars) and Coles' heavily promoted "No added HGP" production/marketing move.
This time last year, Coles held a 17.5pc share (dotted line on vertical axis in graph), but that was before the start of the big improvement seen as discounting and marketing activity set in.
Immediately after the company launched its price discount strategy last December, followed by the non-HGP strategy in January, Coles enjoyed a six-month period of higher beef sales, but the Roy Morgan data suggests that has now eased, returning to 'longer-term' trends.
The Coles market share figure recorded last month, for the period ended September 30 was 16.9pc, equal to the lowest seen over the past two years.
Other channels were flat, or showed only modest rises for August-October rolling quarters in the latest Roy Morgan dataset.
The IGA/Foodland group held 7.3pc of national beef market share, the same as the last reporting period, while the Aldi Supermarket chain continued a gradual recent improvement to secure 5.1pc of share. The market/deli/other category held 8pc, a little better than the previous reporting period, but well below 9.2pc this time last year.
When scrutinising the Roy Morgan survey data of claimed household consumption, the exact level of peaks and troughs cannot be determined with certainty, however analysts claim the dataset is indicative of the general trends.
Category sales:
Total fresh meat (beef, lamb, pork and chicken) retail volumes in October reached 140 million serves per week, down a little from 142m in September but still better than August results. Beef and veal's share of that remained quite strong at 38.5pc over the rolling quarter, 0.9pc down on the previous reporting period.
Lamb and pork also recorded declines in overall meat market share, at the expense of cheaper chicken, which lifted 1pc in comparison with this time last year.
Relative price movements:
Retail pork prices fell significantly in the last rolling quarter to hit their lowest level in four years, according to the Australian Bureau of Statistics. Average pork retail price slipped 10.3pc from $13.29c/kg in the September rolling quarter to $11.92 in October.
Lamb prices also came back slightly but retained their number one price position among meat proteins ($15.73), up 7pc on this time last year. Beef prices ($15.40 average retail) remain 5pc below this time last year, due mostly to competitive pricing from Australian retailers and generally flat consumer sentiment.
Chicken prices have remained virtually unchanged for two years, averaging $4.09/kg in the most recent survey, up 1.2pc.

Click on the image here for a clearer view of the beef market share graph