PRE-PACKAGING of retail-ready beef products in Australia was just one strategy likely to reduce risk of food counterfeiting in export markets like China, the International Congress of Meat Science and Technology was told in Melbourne earlier this week.
Researcher Caroline Francis from the University of Melbourne is studying perceived trust among Chinese consumers towards security features applied to imported Australian meat.
Responding to a question about the extent of online retailing of red meat in China and the risk this presented for counterfeiting and substitution, Ms Francis said research had shown that Chinese consumers did not like frozen Australian meat to be cut-up and re-packaged in China, because it 'opened up avenues' for the product to be tampered with.
Having lived and worked in China for five years, she said online purchasing of goods was growing exponentially, and meat sales was a significant part of that.
"Increasingly, Chinese consumers making purchases online are looking for products packed (in the case of Australian meat) in Australia."
"I'm not ruling-out slicing and re-packaging in China as a viable option in some business models – so long as brand owners work hard to protect their brand and educate consumers. But given recent trust issues, Chinese consumers now clearly prefer meat products that are pre-portioned and packaged in Australia," she said.
Research had shown their level of trust dropped immediately when they found the foodstuff had been cut-up or packaged in China itself.
Meat products fell into a 'high risk' category for counterfeiting, Ms Francis said.
"Increased awareness of food fraud within the Chinese market has heightened the perceived risk, and a lot of people looking to buy imported meat products are closely scrutinising those products, searching for attributes that indicate authenticity," she said.
While there were many different regulations being formulated to try to stamp out counterfeiting in China, there were still numerous failures, and counterfeiting continued to thrive, insulated from litigation, and different ways of catching the culprits.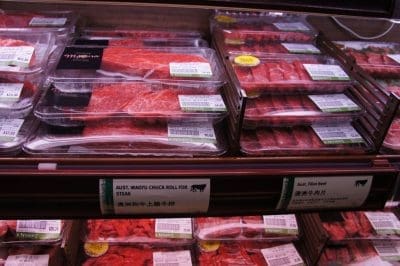 Ms Francis said it was important for Australian red meat exporters to establish 'initial trust' with consumers in markets like China.
A lot of Australian brands and products were unfamiliar to Chinese consumers, and it was important to identify our products quickly. "Initial trust can be established if a product passes a consumer's critical investigation and judgement on trustworthy attributes," she said.
Industry promoted anti-counterfeiting technologies as trustworthy. "They all serve a purpose, and a lot of them do a very good job," she said.
But how do consumers perceive these technologies?
"Some are used every day in China, while others are very unfamiliar," Ms Francis said.
She discussed several influencing 'levers' that either strengthened trust, or gave rise to scepticism, adding a premium value, or decreased status for the product.
The use of QR codes on product packs was one authenticity tool she highlighted.
"What our survey quickly found out was that yes, a brand owner can put a QR code on their pack that help potential consumers to connect with their brand website or marketing information. But even the way the QR code is presented on the pack is important.
In one example, the presentation of the QR code was 'common looking,' stuck onto the pack like a sticker, and carried no explanation. In another, the code was part of the printed packaging itself, was well-presented and fully integrated, and carried a much higher level of trust with consumers, research showed.
Other anti-counterfeit tools and technologies discussed ranged from augmented reality systems to identity links to Australian-made logos, awards references and other devices. The use of 'nano-dots' applied to a pack using an adhesive spray, containing laser-etched micro identification in the embedded particles, was another more 'covert' identification technology – bot was not useful to consumers themselves.
Some of the devices used to protect currency notes from counterfeiting could also be applied to packaged meat products, Ms Francis said.
"A lot of small to medium-sized enterprises aiming to export beef to China are unlikely to have the knowledge or technology to build sophisticated anti-counterfeiting systems, but currency is an excellent example of some techniques that can be applied, including holograms, and fine printing patterns on the packaging itself which can be hard to reproduce.
"It makes sense to create packaging which is challenging for the counterfeiter to reproduce."
Ms Francis said some anti-counterfeit technologies were a good fit for meat products, and others not.
Multi-layer strategy
'Layering' was another important strategy to consider when aiming to protect the integrity of an Australian brand in a market like China.
"That's about not using just one technology, and thinking your product is protected. Having multiple layers that consumers can identity is a valuable strategy."
Layered protection did not necessarily have to mean multiple security elements, but could include education, and website information directed at consumers on 'what to look for' to ensure the product was genuine.
Even relatively simple tools like using good quality packaging design, that showcased the 'sophistication' of a genuine Australian beef brand, could help in the anti-counterfeiting challenge.
Database of protection tools
As part of her study, Ms Francis is developing a database on the range of security elements that brand owners might consider.
This list will extend from ultra-modern technologies like QR codes and holographic images, back to 'age-old' technologies such as 'wax' stamps or fingerprints printed on products, which could be really hard to copy.
"Some older brand protection systems may be seen as superseded, but just may need to be revamped, and they can be cost-effective," she said.
As part of this work, she has worked with experienced graphic designers and gone through the exercise of trying to reproduce different products and tools used for brand protection.
"A lot of Australian products are just so easy to copy," she said. "We have to think smart."
Click here to view an earlier International Meat Science Congress report on novel approaches to verifying geographic origin and feed history using isotope and trace mineral analysis.