BINDAREE Beef's decision to execute a major re-branding strategy for its product range recent paid big dividends at this year's Brisbane Show branded beef competition decided on Friday.
After submitting a couple of entries in last year's competition, Bindaree decided to go for broke this year, as a means of showcasing its recent brand range expansion and redevelopment, launched three months ago.
Earlier, the company enjoyed some success in the competition with class-wins achieved through entries listed under major customer, the Aldi Supermarket chain's Highland Park brand identity, but this was the first time the company has competed in its own right.
Bindaree's national retail ready manager, Creighton Dolbel, said the company had undertaken the major brand refresh project, in order to highlight the different streams of grain and grassfed product coming out of the company's Inverell plant in northern NSW.
"The new brand concepts were developed over a six month period, with input from a range of staff, our international marketers Sanger Australia, and external sources, and we have introduced them to the market gradually since the earlier part of this year," Mr Dolbel said.
The brand range includes six entities covering grass and grainfed, marbling score, breed and weight distinctions.
"The brands are predominantly targeted at the domestic market, giving customers much clearer guidance about product at different quality levels, for different occasions," he said.
By any standards, Bindaree's haul of five competition medals at Friday's Brisbane branded beef awards was impressive, and ranks as possibly the strongest performance by any single exhibitor in the past six years of the competition. Included were two class wins (gold medals) two silvers and a bronze.
Eight judges tasted their way through more than 50 of the finest red meat brands on the Australian retail market on Friday.
"To achieve gold medals in two of the three categories we entered, we felt was an outstanding achievement, and a testament to the quality of beef coming out of Inverell," Mr Dolbel said.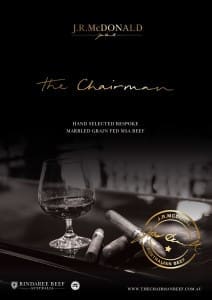 In the grainfed MSA-graded category, Bindaree's flagship grainfed brand, JR The Chairman, earned the gold medal. The Chairman is a 100-day product fed at multiple feedlots in central and northern NSW and southern Queensland, under longer term contracts.
The brand represented the top 1pc of grainfed beef graded at Bindaree, Mr Dolbel said. A second 100-day grainfed entry representing Bindaree's Vintage brand earned the bronze medal in the same class.
Bindaree earned a second gold medal for its Mayfield Beef brand in the competition's Open class.  Mayfield Beef, a premium grassfed, free-range yearling MSA-graded product that is finished on a barley-based supplement ration in the paddock. The product is produced under a joint-venture in-conjunction with Ceres Ag. A silver medal went to Bindaree's Cape Byron Angus brand, its premium MSA Angus grassfed beef brand.
In the grassfed MSA class, Bindaree's The Trinity brand earned a silver medal. Company literature says it represents the top 1.5pc of the grassfed meat graded at the plant. Distinctly marbled, richly flavoured, tender and wholesome the Trinity is amongst the highest MSA-graded grassfed beef in Australia, Bindaree claims. The various Bindaree brand identities and their claims can be accessed in gallery images at the bottom of this page.
While Bindaree head JR McDonald was an outspoken critic of the Meat Standards Australia program in earlier times, the business is now obviously using MSA to great effect in underpinning the performance of its brand programs.
Most of the cattle for the various brand programs are sourced out of the New England, Northern Rivers, southern Queensland and surrounding regions. Some cattle are pulled out of areas as far south as Orange.
"This is a proud day for Bindaree Beef," JR McDonald said. "Eighteen months ago we singled-out six types of cattle that through MSA grading we highlighted as being some of the best beef in Australia. We then spent time developing the brands and the pathways for those cattle to be identified and delivered to consumers," he said.
Mr Dolbel said the market response to the new brands had been very good, so far, but volumes under the brands only represented a small percentage of Bindaree's overall throughput.
"While, yes, it's available out there, it's not going to be everywhere," he said.
Wagyu class to AA Co entry
The Australian Agricultural Co continued its long sequence of consistent performance in branded beef competitions across Australia with another gold medal in Brisbane this year in the Wagyu beef class.
AA Co's Darling Downs Gold brand program, signifying crossbred Wagyu fed a minimum of 300 days on a wheat-based ration with corn silage at Aronui, earned first place in a high-quality field.
The entry representing the brand carried an AusMeat marbling score of 8.
The animal it represented was company-bred on one of AA Co's Barkly Tableland holdings in the Northern Territory, where large scale Wagyu F1 breeding now takes place, on a scale unprecedented worldwide. The genetics trace back to the Westholme Fullblood cattle run on AA Co's Wylarah aggregation near Surat.
While some quantities of beef from the Darling Down program Gold are retained for sale on the domestic market, by far the largest customer is Korean retail group, E-mart, with the US restaurant and hotel trade another important second customer.
Second in the class was Stockyard Beef's Stockyard Black, with Andrews Meat Industries' Tajima Crossbred Wagyu third.
 Melrose takes branded lamb quinella
Brisbane wholesalers and brand managers Kerry and Dominic Melrose, from Melrose Wholesale Meats, scored the grand championship and gold medals and both branded lamb classes in Brisbane, for their Tasmanian Royal product sourced out of the Island State.
The product is sourced through a network of dedicated lamb producers in northern Tasmania, using a service kill at JBS Devonport. The spec calls for good-framed, second-cross British type lambs, producing carcases weighing 18-24kg.
"They're about the weights butchers are preferring today," Kerry Melrose said.
The brand is targeted at the upper end of the retail butchery trade, with heavier bodies increasingly going into the food service restaurant sector. Queensland is the only state where fresh Tasmanian lamb is consistently coming into the market for the retail trade.
"With the retail market as it is today, all the operators who are good at what they do are looking for a point of difference – and Tasmanian-sourced lamb provides that in an amazing way, with its clean and green reputation," Mr Melrose said.