THREE California restaurants have this month started selling a bio-engineered plant-based burger as part of their menu offer.
Impossible Foods' Impossible Burger is bio-engineered to mimic the taste, smell, appearance and mouth-feel of ground beef.
By genetically modifying yeast to produce heme, an iron-containing molecule in red meat, the company has created a 'bloody' burger that's pink when raw and turns brown when it's cooked. Unlike Australians, many Americans prefer to eat ground beef patties still pink in the middle.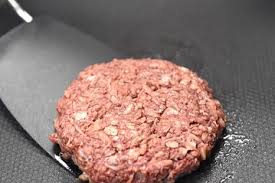 As pictured here, textured wheat and potato protein form the base of the ground 'meat', with flecks of coconut oil mixed in. The coconut oil stays solid until it hits the frying pan, where it begins to melt, just like beef fat.
"The goal is to turn plants into meat much more sustainably and efficiently," Impossible Foods founder and CEO Pat Brown said during the launch.
Early adopters include Jardinière and Cockscomb in San Francisco and Crossroads Kitchen in Los Angeles.
"All the amino acids and the heme that come together in the taste, that's what got me," said chef Chris Cosentino.
Mr Brown, a former Stanford biochemist, said he wanted to give people the pleasure of eating meat without the environmental consequences.
"With seven billion people on the planet demanding meat, it's really become an environmental disaster," he said.
He claimed the Impossible burger uses 95 percent less land, 74pc less water and created 87pc fewer greenhouse gas emissions compared to cattle raised for beef. And eventually, Brown says, his company's burger will cost less than hamburger patties in the grocery aisle.
But some critics say Americans don't want genetically engineered 'Frankenfood' and that environmentally-friendly reasons aren't enough.
"I don't think you're going to get people to convert over," said food analyst Jeffrey Landsman.
"For example, you're not going to get people to eat krill just because it's plentiful and sustainable."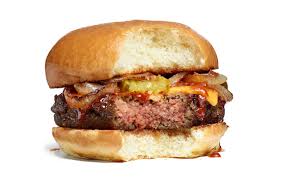 However, earlier this year, the Impossible company unveiled its burger, pictured right, to much fanfare at chef David Chang's Momofuku Nishi restaurant in New York.
It has chosen to direct its product through the food service sector (restaurants) over retail (grocery stores) partially to control the taste and dining experience.
Award-winning chef and owner of San Francisco's Jardinière, Traci Des Jardins, has helped the Redwood City-based company come up with complementary flavours for the burger.
One of Impossible's competitors in the faux meat space, Los Angeles-based Beyond Meat, has taken the opposite approach. Mid year it started selling fresh Beyond Meat patties in the meat aisle at Whole Foods supermarkets in Boulder, Colorado and six other US states.
Just last month, chicken giant Tyson Foods bought a stake in the Beyond Meat business, suggesting a growing market for the increasing number of faux meat companies.
Source: KQED Science