BIG seasonal dairy bull slaughter in New Zealand is keeping a cap on imported grinding beef prices into the US at present.
Last week's quotes from Steiner Consulting in its weekly imported bef market report had 90CL prices at US196c/lb, down slightly on the previous week but still 6c/lb better than this time last year. In A$ terms, last week's price at A573c/kg was up 6c/kg on the week before, but still A12c/kg shy of year-ago values.
Seasonal increase in NZ bull slaughter is one of the pressures on lean and extra lean grinding beef prices lower, Steiner said.
"Also important to note is that generally at this time of year a two-tier manufacturing beef market tends to develop," last week's report said.
"Supplies of grinding beef that is available for delivery between now and the end of the year are quite limited and command a premium. However, product that will be available for delivery in January is trading at a significant discount," Steiner said.
"US end-users also continue to focus on spot loads and also are trying to cover some of the December needs. Bids on January and February product at this time are quite limited and buyers are asking for hefty discounts to even consider taking a position that far out."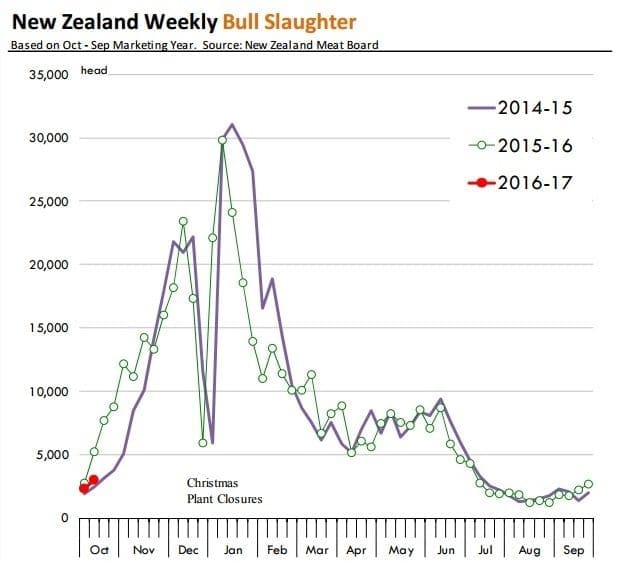 As the chart here shows, bull slaughter in New Zealand increases significantly in late November and December and then tracks even higher in January. Current year data (red plot line) is currently available only through the second week of October, but Steiner thinks bull slaughter in NZ is currently running at around 11,000 head per week compared to around 2500 head in early October.
"We should see bull slaughter double this level by mid-December, although weather conditions often tend to slow down or accelerate the rate of slaughter," last week's report said.
Part of the reason for the weakness in bull meat prices for delivery in January and February reflect expectations of higher supply availability during that time frame.
US lean grinding beef market
Non fed slaughter in the US continues to run above year-ago levels and should remain near annual highs for the next few weeks, Steiner says. Cow and bull slaughter for the week ending November 12 was 125,000 head, 5pc higher than a year ago.
"We expect US non-fed slaughter this week to be around 127,000 head, 6pc above last year. Beef cow slaughter in the last three months has been some 22pc higher than a year ago, mostly because of how light slaughter was last year."
The increase in US domestic slaughter has helped offset the sharp reduction in beef imports this year, especially those from Australia. US dairy cow slaughter, on the other hand, has been consistently under last year's levels. Low feed costs and an improvement in dairy prices since April have caused US dairy producers to not only limit the number of dairy cows they bring to market, but also add to the existing herd.
"For now, domestic grinding beef supplies are adequate," Steiner said. "US beef cow slaughter is seasonally lower into Q1 although we still expect overall kill to run 5-7pc above year ago levels."
US fed steer prices relative to beef consumption
There continues to be a lot of debate in the US beef market about the state of demand for fed cattle and why current prices are so much weaker than normal models would suggest.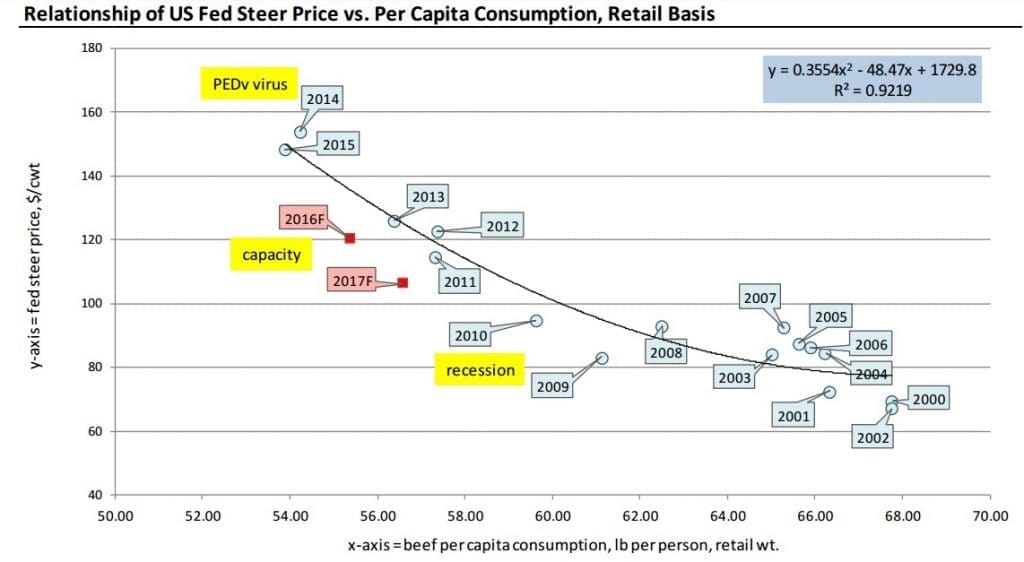 The chart above, prepared by Steiner Consulting, makes some attempt to explain some of the brewing controversy.
Early in the year, USDA was projecting US per capita beef consumption at around 54.5lb/person and a corresponding fed cattle value of around $132-135/cwt, which was in line with the trend over the last 15 years. More recent USDA forecasts, however, have been adjusted lower. The most recent WASDE report now projects the 2016 per capita beef consumption at 55.4 pounds per person (retail weight), 1.6pc higher than what was projected earlier in the year.
The average US fed cattle prices for the year, however, is now projected at $120/cwt, 9.8pc lower than earlier projections and 19pc lower than a year ago.
"As we show in the chart above, this price/use relationship is now well under what the long run regression would suggest," Steiner said. "USDA appears to have adjusted 2017 prices down by a similar magnitude, which basically says that the problems which have caused fed cattle prices to underperform so far this year will continue to persist in 2017."
A number of factors appear to have impacted the fed cattle market to this point. US packing capacity is inelastic in the short-term and packers have been able to extract significant leverage given they are working full schedules and any excess cattle are processed on Saturday.
"Also beef prices at retail have not adjusted as quickly as some had hoped, thus causing cattle prices to decline even more in order to clear the market. Finally lower prices for competing meats have negatively affected the value of lower priced beef cuts, including fat beef trimmings as well as rounds and chucks," Steiner said.
"For now packer margins are excellent. In the very near term, fed cattle prices may receive some additional support given lower placements and higher marketings in the last three months. Going forward, however, US fed cattle supplies should continue to expand, thanks to a larger calf crop in 2015 and 2016."
Low feed costs and excellent northern hemisphere autumn weather also will encourage US producers to continue to bring to market heavier cattle, and thus further bolster the amount of beef available in the marketplace.
Source: Steiner Consulting's weekly imported beef market report