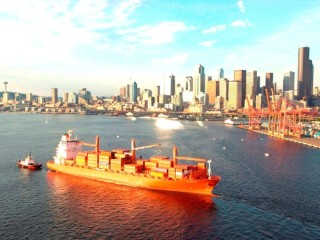 The impact of historically high beef kills across Eastern Australia has been reflected in another near-record beef export volume for the month of April, with shipments totalling 85,332 tonnes.
The figure was up 19.3 percent on April last year, and 15.3pc on the same month in 2011, according to DAFF trade data released yesterday afternoon.
In stark contrast with 2012, which recorded a slow first six months in Australian processing activity followed by a rapid increase in the second half, drought liquidation of cattle across Eastern Australia has driven processing early this year at a frantic pace. Not surprisingly, this has translated into export activity.
Underpinned by increased slaughter and lower cattle prices, total Australian beef exports for the first four months of 2013 are up 10pc on the previous year, to a record 308,755 tonnes.
The pattern of the kill, and the impact of the season on the type and condition of cattle being slaughtered is reflected in April's export statistics, which show 74.25pc of all beef exports last month left Australia in frozen form, up from 71pc this time last year.
While some purists might argue that it is way too crude, it could be argued that a significant lift like this in the 'frozen' segment of the trade over 'chilled' provides an indication of an overall quality decline due to drought.
China momentum continues
China again featured as a key part of the story behind Australian exports during April, helping compensate somewhat for further reductions in trade into traditionally strong markets like the US and Japan.
Although it fell just short of setting yet another monthly volume record, the strength of buying demand out of China continues to amaze stakeholders, with another 11,654 tonnes consigned out of Australia during the month. That fell only 650t short of the previous month's all-time record, and contrasts sharply with April last year, when only 311 tonnes was consigned.
See Beef Central's separate detailed report this morning on trade growth into China.
US exports down again
Among other key markets, exports into the US during April reached 17,722 tonnes, a small decline on March figures and more than 7.4pc below trade recorded in April last year.
The April decline looks even worse, when it is considered that the March shipment figure was a 33pc decline on trade 12 months earlier.
As defined in earlier Beef Central articles, there are several reasons for this:
the huge surge in exports out of New Zealand in March and April due to drought liquidation of NZ dairy cows
the persistently high A$ value
stronger bidding competition from alternate manufacturing meat customer countries, and
the general flat beef demand in the US food service and retail segments, coupled with continued how domestic cow kill.
Fiscal year to date, trade to the US is now at 170,100t, only about 1pc better than the same period a year earlier, when the country was still in the middle of drought-driven cow herd reduction.
Japan trade falls
Trade with Japan also continued to disappoint, with total shipments for April reaching only 23,115 tonnes – a 6.3pc decline on this time last year. The result is particularly poor when it is considered that the peak demand period surrounding 'Golden Week' starts this week, normally a high-point in beef demand.
Currency problems associated with the devaluation of the Japanese Yen have also affected Australia's competitiveness in the Japanese market.
While Japan's large gyudon beef bowl and hamburger food service segments continued to face tough conditions during April, the increase in the frozen beef trade (13,200t or 57pc) may also suggest importers' attempts to avoid triggering the Japanese Government's 'Snapback' tariff during the first quarter (April to June) of the Japanese fiscal year. Snapback is a safeguard which gives Japan the option to increase the beef tariff from 38.5pc to 50pc, for the reminder of the financial year, once the trigger level is exceeded.
Financial year to date, Japan has now taken 243,000t of Australian beef, down more than 30,000t from a year earlier.
Korea shows strong growth
Korea continues to be one of strong export performers in north Asia, taking a much improved 9606 tonnes during April – a 27pc rise on this time last year, but back on March shipments. Australia was the largest beef supplier to Korea during the first three months of 2013, totalling 34,596t, up 10pc on the same quarter of 2012. Frozen beef accounted for almost 74pc of trade into Korea during April, a particularly high proportion. This time last year it was 66pc.
Big growth to Middle East
Another star export performer during April, helping offset declines into the US and Japan, was the Middle East, which took 5460t of Australian beef – two-and-a-half times as much as this time last year (2260t).
Financial year to date, the Middle East has now taken a record 36,400t of Australian beef, almost 10,000t better than the corresponding period a year earlier.
One of the big drivers was widespread bans across the Middle East of Brazilian beef over the use of the beta agonist, ractopamine, paving the way for larger Australian exports. Stronger overall demand was another factor.
Indonesia is another market to show a positive volume trend, albeit coming off an historically low base. Trade in April totalled 2800t, more than double this time last year (1391t), but not quite as strong as March. April is the start of a new Indonesian boxed beef quarterly quota period, which may partly account for the result.
With the Ramadan religious festival this year due to take place from late July-early August, trade can be expected to surge in July, which is also the start of a new quarterly quota period, trade sources say.
The EU grass and grainfed beef markets also recorded some growth during April, rising to 1620t for the month, a 13pc lift on year-ago performance, and a similar rise over March trade.
Smaller markets in decline included Russia and the former Soviet states (CIS), which fell away sharply to just 2153t during April – a 51pc decline on the same month last year (4470t). That's being driven by abundant, cheaper supplies out of South America, aided by exchange rate movements.
At one point, Russia/CIS was taking close to 50,000t of Australian beef each year, mostly manufacturing meat that was in lower demand in the US due to high rates of drought-induced US herd liquidation.
Small, but incremental growth is also being seen in a basket of smaller emerging Asian markets. These include the Philippines (2400t for April, compared with 809t a year earlier) and Malaysia (1443t, compared with 951t a year ago). Trade to Taiwan eased a little, to 2903t.
The 'total Asia' contribution to Australian exports stood at 55,500t in April – representing 65pc of all beef trade, up from 56pc this time a year ago.