Solid December monthly figures ensured that Australia's 2011 calendar year beef exports finished on a particularly strong note, reaching a four-year high of 949,192 tonnes.
That's up almost 3 percent on 2010 performance.
On top of exceptional export trade activity in November, when exports reached their highest monthly level since October 2008 (89,700 tonnes), December figures released last week by DAFF showed total monthly trade reaching 82,000t.
That's about 5pc higher than corresponding December 2010 figures, driven by increased livestock availability led by higher prices, lack of rain disruptions to processors early in the month, some currency relief and improved export demand in Japan and the US.
Shipments to the US in December, for example, reached 15,900t, close to double the volume seen in December a year earlier (8800t).
Despite the high value of the A$ versus the Greenback and cattle supply constraints driven by post-drought years herd rebuilding, Australia's overall 2011 calendar year export shipments were in fact the third highest recorded in the past 12 years.
As can be seen in the graph below, the figure was only just eclipsed by 2008 (957,000t) and 2006 (953,000t) both years when the currency value was considerably lower. In 2006, the A$ monthly average value ranged from US72-78c, and in 2008, US67-96c.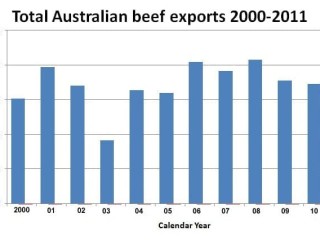 Shipments to Japan in December reached 30,200t, about a thousand tonnes better than the corresponding period a year earlier. The figure brought the 2011 year's shipments to Japan to more than 342,000t, about 14,000t short of the 2010 trading year, which could be explained partly by the March Tsunami event.
Steady to improving demand from the Japanese fast food and processing sectors again underpinned demand for frozen beef (204,000t, up slightly from the previous year), while stronger competition from the price-competitive US supply saw Australia's chilled exports to Japan slip about 17,000t or 11pc last year, to 138,400t.
Australia's 2011 export volume to Japan was the lowest since 2003. Growing demand for Australian beef from emerging international markets also challenged Japanese buyers to secure more product, particularly frozen and manufacturing beef items.
Despite the slide, the Japanese market remained the largest export destination for Australian beef in 2011, accounting for 36pc of total shipments, despite the devastating March earthquake and prolonged stagnation in the economy.
US trade continues to slide
While Australian exports to the US finished the year strongly, this resurgence came off an extremely low base earlier in the year, which was reflected in the overall calendar year performance.
As mentioned above, December exports to the US (15,900t) were almost as strong as November (16,700t). For total 2011, however, the shipping volumes reached only 167,900t – the lowest seen in more than 20 years. This came about under the combined weight of an historically high A$ and strong US domestic manufacturing beef supply, which kept grinders out of the imported beef market until later in the year.
The 2011 figure represented a further 30,000t slide in beef trade with the US compared with a year earlier (195,000t), and a Grand Canyon-sized drop from the heady days of 2002 and 2003 when Australia broke through the US beef quota limit of 378,000t.
Once one of the cornerstones of Australia's beef export trade, the US is now in danger of slipping into 'second-tier' status among beef export customers, statistics suggest.
Korea bright light
Not far behind the US in overall trade volumes last year was South Korea, which took 146,300t, a 15pc improvement on 2010 (124,200t). This was only the third time in history that Australia's trade with Korea has exceeded 140,000t, which was arguably Australia's strongest performing export market relative to other customers last year.
An FMD outbreak leading to the liquidation of large numbers of Korean pigs was one contributing factor behind the strength in beef trade.
Beef business with Korea for the month of December reached 12,400t, almost identical to November, and about 400t better than the corresponding period in 2010.
Taiwan, ME, Ruissia show growth
Other strong export market performers last year, further demonstrating the fragmentation of Australia's exports away from the previously dominant US/Japanese markets, included Taiwan, the Middle East and the former Soviet Republics led by Russia.
Taiwan significantly lifted trade last year, taking 36,800t of Australian beef, up from 30,800t in 2010. December monthly shipments reached more than 4100t, a 40pc increase from the same period a year earlier.
The Middle East markets (principally led by Dubai, Saudi and Jordan, but supported by smaller Gulf States) registered total trade for 2011 of 31,900t, a solid rise from 24,300t in 2010.
The Commonwealth of Independent States (CIS) centred on Russia also performed solidly, reaching 55,100t last year, almost entirely made up of frozen product. Trade in December reached about 3000t, well down from 8600t this time a year earlier, however, as the northern hemisphere Russian ports started to freeze over.
Reflecting the growth in trade into the European Union in the high quality grainfed segment, total export to the EU last year reached 12,800t, up from 9800t in 2010.
Another growth market was combined Central and South America, where volumes last year reached 16,300t (mostly chilled single cuts like rump cap) a big jump on trade the previous year of 5900t.
Increasing volumes into smaller north Asian markets like Hong Kong (8900t, up from 7000t a year earlier) probably reflected a growing grey trade into China. China itself continued to show slow but steady progress, taking 7800t last year, up from 5600t a year earlier.
The import quota access and cuts limitations imposed on Australian beef exports to Indonesia during 2011 were clearly evident in DAFF's yearly trade statistics.
The nation's drive for self-sufficiency in beef saw Australian beef and veal imports last year reach 39,600t, a 20pc decline from 49,000t a year earlier.