TWENTY-FOUR of the world's best retail butchers will converge on the Gold Coast in September to take part in the 2016 World Butchers' Challenge.
Four teams of six butchers representing the UK, France, New Zealand and Australia will contest the unique competition, being held at the Gold Coast Convention Centre on Saturday, September 10.
The World Butchers' Challenge has grown out of the former Tri-Nations Butchers Challenge, involving teams from Australia, New Zealand and the United Kingdom, held each year since 2011.
A French team will be added this year, giving the re-named event an even greater international flavour.
Event convenor Trevor Saville from Saville's Fresh Meat Market at Helensvale, said the Challenge was all about pitting some of the best tradesmen and women from across Australasia, the UK and Europe in a test of knife skills, value-adding and retail savvy.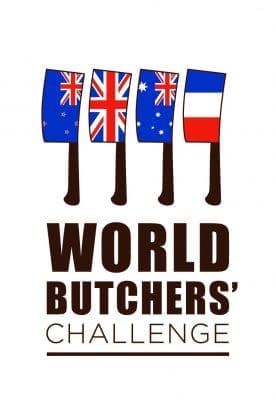 The teams of six will each have three hours to turn a side of beef, a side of pork and a whole lamb into a first-class value-added butchery display. Each team is judged by a panel of expert international industry members on their preparation, knife skills, product innovation and value-adding, presentation, finishing and display, and articulation – all elements that the global butchery industry sees as vital ingredients to the longevity and continued growth of independent butchers.
Some items will be taken through to cooked stage for a taste test component. A sausage section, including taste test of the cooked product, will be included for the first time. Beef Central will provide a judge for the event.
The New Zealand Pure South Sharp Blacks team has won the past three consecutive Tri-Nations crowns, but this year's Australian team, which has been practising furiously for the past six months, is confident of turning the tables on the Kiwis, on home ground.
A team of six crack independent retail butchers has been selected to represent Australia in the inaugural World Challenge.
Adam Stratton (co-team captain) from Tender Value Meats (NSW)
Michael James (co-team captain) from Carina North Quality Meats (QLD)
Nick Dagg, Heights Butchery, Cairns (QLD)
Tom Bouchier, Peter Bouchier Butchers of Distinction (VIC).
Colin Garrett, Colin's Meats, Sydney (NSW), and
Paul Brady, Tender Gourmet, Hornsby (NSW)
In addition to the main event for teams of six professional butchers, there will be apprentice and 'Young Gun' (qualified tradesmen/women under 30) categories for individual butchers.
Australia's representatives in the International Young Guns division are Matthew Papandrea, Joe Papandrea Quality Meats (NSW), and Dianna Edwards, from Sydney, who won the recent Meat Wars event.
Representing Australia in the international apprentice division will be Ryan Dougherty from Bruce's Meats in Adelaide, and Suzanne Roeger, from Melbourne.
Major sponsors for the World Butchers' Challenge this year are Australian Pork Ltd, and Meat & Livestock Australia.
Preceding the Challenge on September 10 will be a five-day study tour for meat retailers – both international and domestic – starting in Sydney and finishing in the Brisbane/Gold Coast region.
A gala dinner will be held at the convention centre on Saturday evening, September 10, combining the World Butchers' Challenge awards with the annual Australian Meat Industry Council Queensland retail awards event.