INNOVATIVE cuts of Australian grainfed beef are being showcased in a novel new restaurant concept in London's trendy Soho district.
It's an excellent example of how Aussie grainfed product entering the European Union under the 46,000 tonne High Quality Grainfed quota is increasingly finding homes in the upper-end of the food service sector, including hotels and restaurants.
As its name suggests, the new Flat Iron restaurant in Beak Street, Soho, is a steakhouse concept dedicated to just one cut of beef, the Flat Iron steak. The cut is produced by taking a conventional oyster blade, and seaming-out the connective tissue between the two muscles, to produce a full-flavoured, tender piece of meat ideal for barbecuing or grilling.
Restaurateur Charlie Carroll opened his new restaurant in Beak Street last year after examining the local market needs and what he saw as being 'hot' on the foodie horizon.
"It's a simple concept – an excellent steak served in nice surroundings for a tenner," he said. A 'tenner' is equivalent to A$18.20, making it very competitively priced, by UK steakhouse standards.
Part of the solution in sourcing to meet that tight menu price-point is in using a less pricey cut like the Flat Iron, which can be sourced, wholesale, in London for around two pounds per kilogram (A$3.65/kg) less than a conventional steak, like striploin/sirloin.
Choosing the innovative and lesser-known Flat Iron is also proving popular with diners, and represents a strong point of difference from regular grilling cuts served elsewhere.
Mr Carroll looked for a single cut of meat that was not being used for steaks in the UK, and drawing on his knowledge of the world food trends, plumped for the Flat Iron.
"It offers huge potential," he said.
Whole chilled cryovaced oyster blades are seamed-out using a local catering butcher, and portion-cut into 200 gram serves, for delivery to the restaurant on a daily basis.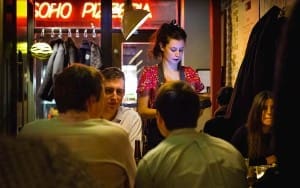 Already the Flat Iron restaurant is hugely successful. It has a no-booking policy, but customers are quite happy to wait for up to two hours for a table at busy times.
While the restaurant continues to source some raw material from domestic UK suppliers, increasing quantities are sourced from JBS Global, JBS's trading office in the UK, out of the company's EU grainfed programs at its Riverina feedlot and integrated processing facility near Narrandera in southern NSW.
All the EU-destined product is packed under JBS's Aberdeen Black brand, mostly Angus derived, 130-days grainfed, producing marbling scores of 2 or better. All the Australian product is clearly identified that way on the menu.
'We were focusing a lot on the local beef and still offer that product too, however after meeting with the JBS guys and trying some of their Aberdeen Black product, I was quite impressed," Mr Carroll said.
"The Aberdeen Black beef from JBS has great consistency and we have had plenty of positive feedback from our customers," he said.
JBS Global, based in London, is the largest importer of Australian grainfed beef in Europe, all supplied out of the company's Riverina operations. The company employs a team of 22 people in its London trading office, including three Aussies.
"This program started on a modest scale a few years ago, and we now supply more than 20 countries across the EU with high quality Australian grainfed beef," a spokesman from the JBS office in London said.
"The consistency of this product fills a niche in this market for high quality grainfed beef."
Aussies paying a trip to London could do a lot worse that paying a visit to Flat Iron while taking in the bohemian sights at London's Soho. The restaurant can be found in Beat Street, a main thoroughfare.