AUSTRALIA has today signed the Australia-UK Free Trade Agreement (FTA), which means the trade pact is now set to enter into force during 2022.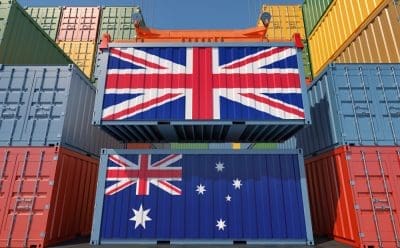 The FTA includes the elimination of tariffs and significant new quotas which will boost agricultural exports, according to Australia's Federal Agriculture Minister David Littleproud.
It will also facilitate mobility of skilled agriculture workers between Australia and the UK and enhance technical collaboration
"This is a huge achievement for Australian agriculture and our farmers," Mr Littleproud said.
"This agreement will open up new and enhanced market access for our beef, sheep meat, wine, sugar, dairy, grains, horticulture and seafood exports once it enters into force.
"The UK is a high value market and the reduced trade barriers will provide more opportunity for Australia to export premium products and provide UK consumers with increased choice.
"The agreement is the most comprehensive free trade agreement Australia has signed with any trading partner apart from New Zealand.
"It will contribute to Australia's post-COVID recovery and provide a boost to Australia's economy, including delivering more jobs and business opportunities, particularly in rural and regional Australia.
"There will be immediate new market diversification opportunities and reduced trade costs for many sectors, including wine, seafood, rice and horticulture.
"New commercially significant up-front quotas for beef, sheep meat, sugar and dairy will also provide immediate benefits for our farming communities.
"The FTA will also cover a variety of measures critical for the further development of Australian agriculture, including improved investment arrangements and enhanced trade in manufactured goods and services.
"It also establishes closer cooperation on biosecurity, animal welfare and antimicrobial resistance that will not impact Australia's standards or right to regulate in these critical areas.
"The FTA will also facilitate agricultural labour mobility between the UK and Australia providing new opportunities to support the exchange of skilled labour."
Australia's agricultural trade with the UK in 2020-21 was worth $823 million with key exports including wine ($514m), lamb and mutton ($77m), beef and veal ($11m), pulses ($15m), wool ($8m) and nuts ($7m)
Total exports to the UK were at an all-time high in 2020-2021. Australian agriculture, forestry and fisheries exports to the UK increased by $182m from the previous year ($641m to $823m).
The complete elimination of tariffs on all agricultural goods within ten years will provide opportunities for continued strong growth of Australian exports into the future.
Inking of deal positive for future partnership: Red meat taskforce
The virtual signing of the Australia-United Kingdom Free Trade Agreement (A-UK FTA) by Australian Minister for Trade, Tourism and Investment Dan Tehan and the UK Secretary of State for International Trade Anne-Marie Trevelyan today has been met with strong support by Australian red meat industry representatives.
The terms of the A-UK FTA, which were agreed in principle by Prime Ministers Morrison and Johnson in June 2021, will see Australian beef and sheepmeat/goatmeat access to the UK liberalised over a transition period.
For Australian red meat producers and exporters, this will mean that Australia will be better placed to help supply some of the UK's import requirement for high-quality beef, sheepmeat and goatmeat.
"The inking of the FTA solidifies an already close partnership between the two countries," said Andrew McDonald, chair of the Australia-UK Red Meat Market Access Taskforce.
"Australia and the UK have a long history of trade, with the UK being a loyal purchaser of Australian beef and sheepmeat, albeit in small volumes.
"Under the A-UK FTA, future trade will be more streamlined, removing burdensome costs from the red meat supply chain that ultimately disadvantage British consumers and stifle opportunities for market development.
"The FTA also represents an opportunity for Australian and British exporters to further diversify their markets and demonstrates both countries commitment to rules-based, open trade.
The deal, once ratified, will result in Australian beef and sheepmeat exports entering the UK under a tariff rate quota (TRQ) regime – with initial TRQ tonnages gradually increasing over a 10 year transition period. Product within the TRQ amounts will enter tariff free. Whilst there will be no TRQ regime post year 10, a volume safeguard provision will apply until the end of year 15, beyond which no safeguards will apply.
"Our gratitude is extended to Australian Trade Minister Dan Tehan, UK Secretary of State for International Trade Anne-Marie Trevelyan and their respective negotiating teams for their dedication to achieving this momentous outcome.
"We look forward to continuing to work with Minister Tehan and his team in seeking to expedite ratification of the agreement and thereby securing timely entry into force in 2022," Mr McDonald said.
AMIC welcomes a new era with signing of the Australia-United Kingdom FTA
The Australian Meat Industry Council (AMIC), as the only peak representative of red meat exporters in Australia, welcomes and supports today's signing of the landmark free trade agreement with the United Kingdom.
The virtual signing of the Australia-United Kingdom Free Trade Agreement (A-UK FTA) by Australian Minister for Trade, Tourism and Investment Dan Tehan and the UK Secretary of State for International Trade Anne-Marie Trevelyan, will allow improved access for Australian farmers to more than 64 million UK consumers.
AMIC has been at the forefront of negotiations through the Australia-UK Red Meat Market Access Taskforce, chaired by AMIC member (NH Foods) Andrew McDonald.
For beef, a tariff-free quote of 35,000 tonnes at entry into force will expand to 110,000 tonnes in year 10. Tariffs on beef will be eliminated after ten years.
For sheep meat, a tariff-free quote of 25,000 tonnes at entry into force will expand to 75,000 in year 10. Tariffs on sheep meat will be eliminated after ten years.
"The expansion of current markets is very welcomed in a time of market volatility," said AMIC CEO Patrick Hutchinson.
"Not only does AMIC work towards new and improved market access, but we continue to strive for market "longevity", which is becoming a far more crucial issue than accessing new markets as we defend our current market shares globally.
"We have shared, as an export nation, a long history of meat exports to the UK, dating back to 1879 when 40 tonnes of frozen beef and mutton were shipped from Sydney to the UK.
"Our export members are exceptionally positive about re-engaging on expanded trade with the UK, post Brexit.
"AMIC extends its gratitude to Minister Tehan and UK Secretary of State for International Trade Ann-Marie Trevelyan on the signing of this agreement, which will further strengthen the strong trade relationship between our two countries."
Cattle Council has welcomed a new Free Trade Deal between the UK and Australia that was signed between the two countries today.The deal creates significant new opportunities for Australian beef producers with trade to be fully liberalised over ten years.
Cattle Council CEO, Travis Tobin said Australia had the best beef in the world – and the UK has many of the world's top restaurants.
"Jamie Oliver and Gordon Ramsay would be chomping at the bit to offer more Australian beef," Mr Tobin said.
"It would not surprise me to see Australian steak served at the Royal Family's dining tables.
"UK consumers can be confident that our beef has been produced to the highest standards, with world-leading food safety, animal welfare and environmental practices.
"The UK and Australia have a long, shared history, both culturally and commercially.
"This deal will further diversify our export markets, creating ongoing certainty for Australian beef producers.
"The UK has been a long-term trading partner with Australia and will now be able to enjoy more of our high-quality product.
"This partnership marks an enhanced and prosperous new relationship with the UK.
"It also signals a strong commitment by both Governments to delivering free trade.
"This deal has been a long time coming and is a credit to Australia's Trade Minister, Dan Tehan and his UK counterpart, Anne-Marie Trevelyan.
"I'm sure that in the coming years this trade deal will become a positive trading relationship for both countries.
"I also hope we see Australian and UK producers collaborating more to help address our common challenges, including the global protein shortage."