An Australian team of six gun retail butchers has run a close second in the 2022 World Butchery Challenge held in Sacramento, California over the weekend.
The Aussie team finished runners-up to 2022 champions, Germany, with a crack New Zealand team placed third. It was one of the best results ever for the Aussie team, which has competed in the event each year (COVID cancellations excepted) since 2011.
A record 13 teams entered this year, from across Europe, North and South America, and Australasia.
In individual awards, crack young Melbourne butcher Tom Bouchier from Peter Bouchier Meats was selected among the six best individual butchers competing among the international teams in this year's event, while Matt Tyquin was crowned 2022 World Butcher's apprentice, and Gareth Hunt was runner-up for the World Champion Young Butcher crown (35 and under).
This year's Makani Aussie Butcher team included Gary Thompson, Garreth Gorridge, Brett Laws, Craig Munro, Tom Bouchier and Luke Leyson (Captain). Australia's second competitors in the World Champion Butcher Apprentice competition, Gabriel Mahoney, and World Young Butcher competition, Joe Maberley, also performed particularly well.
Gauthier Detres from Team France Boucherie claimed the 2022 World Young Butcher crown.
The eighth World Butchers Challenge event, presented by Gascon Cattle of Bench Creek Ranch and Promega Food, welcomed newcomers Canada, Wales, Iceland and Portugal to this year's competition, making it the largest in its history. Other competitors this year included the United States, Brazil, France, Germany, Italy, Ireland and Wales, plus Australia and New Zealand.
Each team had three hours to turn a side of beef, a side of pork, a whole lamb carcase and five chickens into a themed display of value-added cuts, requiring superior knife skills, value adding flair and presentation smarts.
All injected their own creativity and innovation into the final presentation.
In the previous World Butchers Challenge held in 2018 prior to COVID, Ireland was crowned champions, with New Zealand runners-up, and Australia third.
Head Judge, Todd Heller from New Zealand, said the German team deserved their win this year.
"They showed immaculate teamwork, finishing skills and showcased innovation throughout their products. Best of all, we saw them come together and enjoy this competition," he said.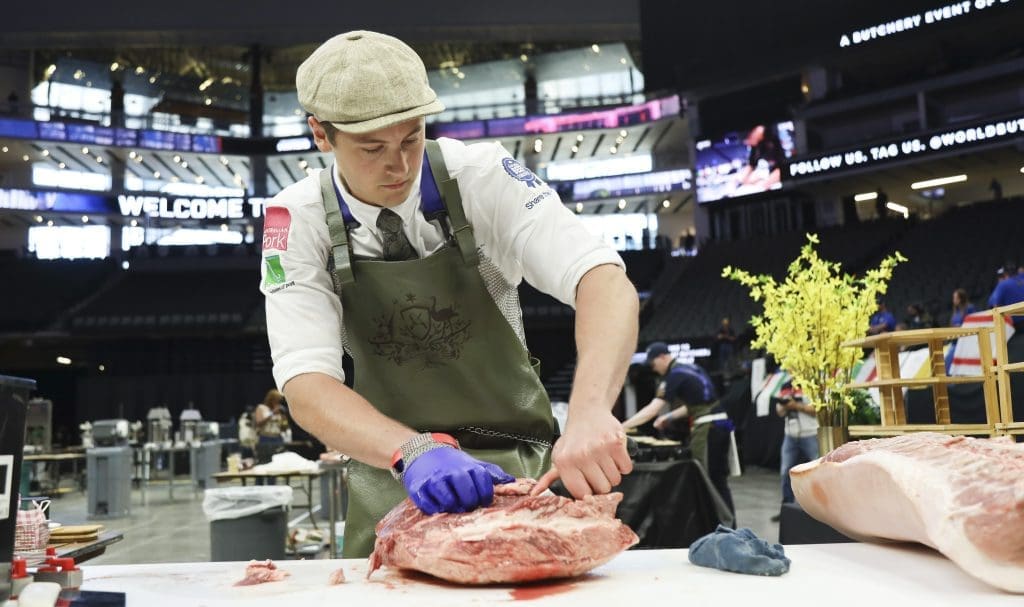 Australian team captain Luke Leyson said our 2022 team had a great deal of diverse experience.
"We have all grown up within the industry but have walked different paths to get where we are now. With that, we put together a great display and really pushed the boundaries within the competition."
Luke said the Australian team was excited to reunite with their fellow butchers from around the world at the WBC.
"It was a great opportunity to catch up with all the butchers from around the world. Social media has allowed us to make some really amazing connections with butchers that we would not normally get the chance to talk to. Now that judging is over, there will be a few, long overdue drinks shared within the big butcher family."
From just two teams in 2011, the next World Butchers' Challenge to be held in 2023 will involve fourteen teams, cementing this competition as a truly global event.
Other product results:
World's Best Beef Product: Team France Boucherie
World's Best Pork Product: Team GB Butchery – Great Britain
World's Best Chicken Product: Nazionale Italiana Macellai
World's Best Lamb Product:  Nazionale Italiana Macellai
World's Best Beef Sausage: Butchers of America & The Butcher Wolfpack – Germany
World's Best Pork Sausage: The Craft Butchers of Ireland
World's Best Gourmet Sausage: The Butcher Wolfpack – Germany
More Aussie team and event pictures below…..