CHILLED Australian beef is a standout winner for Chinese consumers, after an emerging Australian exporter received the best product award at the 2016 Yiwu Imported Commodities Fair in China last month.
Australian Farm and Resource Management's Prima Farm branded beef was chosen from products representing 1500 exhibitors from across 100 countries at the annual four-day event, which attracted close to 200,000 attendees.
Yiwu city, located 300km south-west of Shanghai in the central Zhejiang province, is one of China's most prosperous import commodity markets and will be a key player in meeting the Chinese Government's target of increasing its current importing value from USD$1.7 trillion to $10 trillion by 2021.
AFARM managing director Sean Flanery said there was huge potential to capitalise on this national strategy by the Chinese Government to expand its import markets.
"With Yiwu being a major access point for foreign goods trying to enter into Chinese markets, it made perfect sense to promote our Prima Farm beef at the Yiwu fair to Chinese importers and consumers," he said.
"The demand for imported commodities in China continues to accelerate with the expansion of China's middle class looking to other countries such as Australia for premium and clean products.
"We sold more than four tonnes of 2kg fresh Australian beef gift packs at the fair. The long queues to buy the meat, supplied by export processor Bindaree Beef's exclusive Mayfield brand program, resulted in some attendees almost pushing our table over to get their hands on our product."
"As one Chinese consumer told me, when they think of fresh Australian produce, they immediately think 'clean product,' making our beef highly desirable."
Selling the sizzle: Cooking demos powerful tool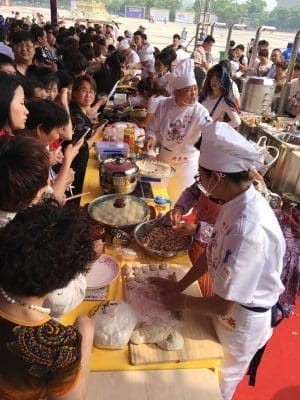 As can be seen in the accompanying photos, performing live cooking demonstrations at the Yiwu fair contributed towards AFARM's success and exposure at the event.
"By thinking outside the box in how to showcase our product, we wanted to ensure we made the most of the huge opportunity the fair presented to market our premium beef," Mr Flanery said.
"As the only exhibitor to cook its fresh product at the fair, the aroma from our cooking demonstrations drew in the crowds to our booth to the point where attendees were snatching the raw product before we even got to cook it. Another crowd-pleaser was the cooking competition we set up at the entrance to the fair, at which we invited local chefs to compete using our fresh beef."
Attended by Australia's senior trade commissioner from Shanghai, Brett Moore, the Yiwu Imported Commodities Fair presented an exceptional opportunity for Australia to grow its red meat business partnership with China.
The event came just one month after Austrade's annual Australia Week in China celebrations, where 1000 Australian business delegates took the opportunity during the week to learn more about the rise of commercial opportunities following the signing of the China Australia Free Trade Agreement.
AFARM is already benefiting from a recent partnership Mr Flanery established with Chinese ecommerce company Zhejiang Yilei Master Base International, to sell Prima Farm beef to the Chinese masses through Chinese e-commerce platforms and live TV shopping networks. More than 2700kg of Prima Farm beef was sold directly to the viewers less than an hour after Mr Flanery's first cooking demonstration appearance on a live TV shopping network in China earlier this year (see earlier story).
During his visit to China last month, he arranged a one-hour stage show filmed by major state-owned TV channel Central China Television (CCTV). The footage will be used as part of the Prima Farm beef brand's overall marketing collateral, including for promotion on TV infomercial programs the next time AFARM sends a consignment of fresh chilled cuts to China, which is scheduled for later this month.
See gallery below for more images from the Yiwu fair.