In this contributed article, meat and livestock industry consultant Simon Quilty argues there's a lot more than just supply and demand going on in the current US and international beef cycle…
IN the last week, imported 90's (90CL beef) in the US have risen a surprising US8c/lb, when most market participants were expecting imported 90's to fall, as they have done so every year at this time of year for the last 20 years, except for 2008.
Domestic US 90's are also very firm closing at time of writing (Wednesday last week) at US221.5c /lb, which is also bucking the traditional price trend. The US beef cut-out is also moving higher even though supply of beef is predicted to increase substantially from here.
The answer to this supply and demand quandary is that the US and global meat markets are entering into a 'super demand cycle' that could last for the next two years, where traditional perceptions on price movements due to oversupply, I believe, will be challenged.
Recent US export data has been described in some media circles as 'explosive' for March with double digit export and revenue figures. I believe these explosive export figures supports the start of this super demand cycle with year-to-date 2017 US beef exports globally up 21pc and pork exports up 16pc compared to the same period for 2016.
What is also important to note is that the largest volume increases are into premium markets like Japan and Korea, which has seen an even greater increase in revenue, in some instances as high as a 50pc increase – once again, I believe, highlighting strong demand.
One of the most intriguing aspects of today's US and global meat markets is trying to understand demand.
To me, there is an over-emphasis on US supply data which is resulting in the current inverse Live Cattle market – whereby nearby cattle prices are very high at $142* (*figures at time this report was filed – editor), but due to negative supply data the futures June Live Cattle forward market is at a 10pc discount and October Live Cattle market is at a 16pc discount. Next year's 2018 June contract is at a staggering 25pc discount, but I am not sure if this really reflects globally what is happening and is potentially misleading US meat buyers into a false sense of security on falling beef prices.
Global meat demand is not easy to measure and even more difficult I believe is the ability to understand its impact on US domestic demand – yet I truly believe that to ignore these global market signals will be at the peril of many buyers in the US market.
I am of the opinion that US meat prices drive global meat prices in eight years out of ten, but there are some years where the opposite occurs, whereby global markets dictate US prices or at least have an enormous influence. I believe we are possibly about to enter one of these global demand markets where US prices are driven by global prices,  and it is these periods which I call 'super demand cycles'.
Key areas outlined in this discussion:
Defining what a super demand cycle is and when it occurs
Global evidence of strong demand due to exceptionally high US meat exports
Identifying past periods of US and global strong meat demand which has led to a super demand cycle
Can history repeat itself where in 2004/5 a similar heavy discount existed on the forward live cattle futures curve which had predicted an 11% fall in cattle prices but results in a 30% rise
US and global meat prices have a strong price relationship and what that will mean for potentially 2017/18 should a super demand cycle occur.
It is my opinion that due to the potential super-demand cycle that the 'wall of cattle' will possibly not be seen, or if it does occur it will be mild and brief in its duration. With ongoing strong global demand, US prices could potentially not fall, or if they do, it will be mild and not as severe as the 14-25pc discounts in today's forward live cattle futures market.
Prices could continue to rise, particularly in 2018 as was the case in 2004/5 period when the second year of the super-cycle saw a 30pc rise in cattle prices contrary to the expected 11pc fall that was in the futures prices at the time.
How to define when global meat demand is strong which drives the super demand cycle
I have used a very simple approach to defining when global demand is high for meat, and that is when meat supply increases concurrently when global meat prices are increasing. Normally when demand is in equilibrium with supply, average or poor, an increase in supply would mean a fall in global meat prices. But when demand is very strong, both go higher simultaneously. This is one of the key characteristics of the super-demand cycle.
In the last 25 years, this phenomenon has occurred five times, whereby prices rose when supply increased (see graph below)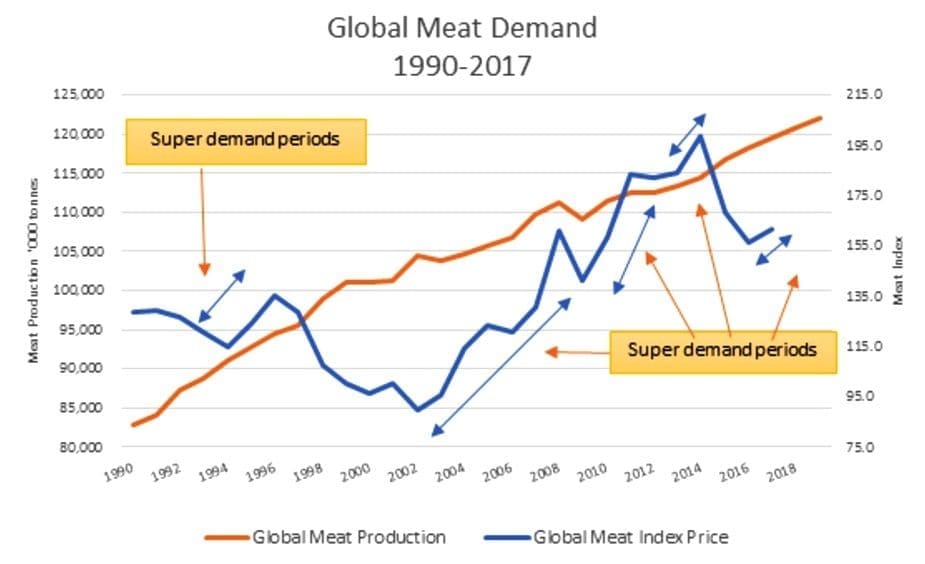 Source: OECD-FAO
These super-demand cycles are outlined in the table below and normally last two years before demand eases. In part I believe this is probably due to the ability of chicken to respond quickly to these periods of demand, given the short turnaround production period required, and to a lesser extent, pork. But I also appreciate that this involves a complex set of variables such as population growth, currencies, GDP and the list goes on.
With the exception of 2004/2005, the second year of demand tends to be higher in price movement than the first, but it seems that it does not take much global production to impact demand ranging from 1-2pc, with the exception being 2007 when production rose 3pc.
Periods of strong global demand – Super demand cycles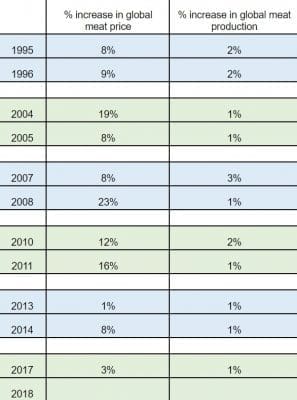 Global evidence of strong demand – US meat exports
Anecdotally, countries like Japan, China, Korea and those in Europe are all showing signs of strong demand, but I think the best evidence lies in US beef exports, which globally have increased by 21pc for 2017. More importantly in premium markets like Japan export volume is up 44pc but revenue is up 47pc, and in Korea volume is up 26pc but revenue up 32pc – once again these are important signs of a potential super demand period.
Global US pork exports are up 16pc compared to last year.
The exception is China which I believe has been influenced by political issues and trade restrictions but some of these barriers might be overcome in the latter part of 2017.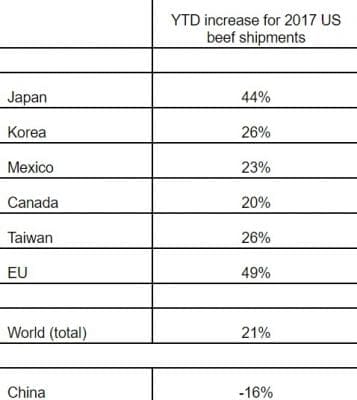 Japan's press recently reported that Japanese consumers ate 3.4pc more beef, pork and chicken between April 2015 and March 2016 year-on-year, according to the country's Agriculture and Livestock Industries Corporation. This was the tenth consecutive year of growth in Japan's meat consumption and as US beef exports highlight, this trend is continuing.
US chilled beef exports to Korea in 2016 grew by 42pc in volume and 31pc in value – with analysts predicting in 2017 record chilled US beef exports due to an expanding middle class and growing beef demand, in particular for Korean BBQ style meals.
Recently the COSTCO warehouse retail chain in Korea announced it would move from retailing US beef which normally is 17pc of their Korean retail beef needs, to 100pc US beef throughout their Korean stores. Once again important anecdotal evidence that demand is very strong.
Periods of strong US meat demand = super demand cycles
It is during the periods of super global demand that global prices will have their strongest influence on US beef prices, and it is during these periods when increased US beef production can see US beef prices rise creating a super-demand cycle in the US, and I believe 2017 and 2018 could be one of these super-demand cycles.
When looking at US meat demand, five periods of super-demand have occurred in the last 25 years (prior to this year) whereby production and meat price have concurrently increased in volume and value.
The years where US meat demand is the highest are 1999 and 2017, when even though production increased substantially, prices were also up considerably – defying supply gravity. I appreciate other years had greater increases in prices, but to me this was off a much lower production volume. The ability for prices to swim upstream from the increasing volume is impressive, and 2017 and 2018 are similar years whereby even with excessive supply prices will potentially go up dramatically.
Periods of strong US meat demand = super demand cycles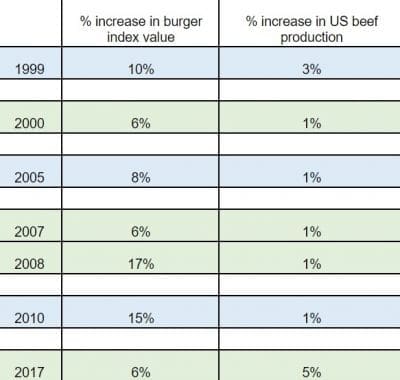 Periods where strong US demand overlap with strong global demand creating a super demand cycle
When looking at the periods of strong demand both globally and in the US – there are some key points to note that I believe lead to a super demand cycle:
Both Global and US demand has overlapped 5 times in the last 25 year
When overlaps have occurred the price movements have been very similar in their % shift
2017 price and volume estimates are based on Q1 data only so it still early days to determine if the trend will continue
Strong global demand has in the past lasted for 2 years in a row – whereas US strong demand has not always remained.
Overlapping periods of strong global and US demand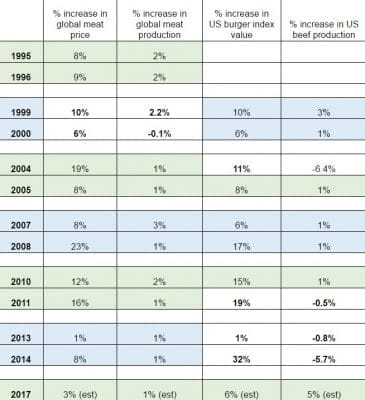 Can history repeat itself? 2004/05 super-demand period is a case study
There is no doubt that similar periods have occurred in the past, whereby the market had discounted heavily the forward curve with the expectation of large cattle supplies during a super demand cycle. The period 2004/05 was an example, when the forward curve was heavily discounted.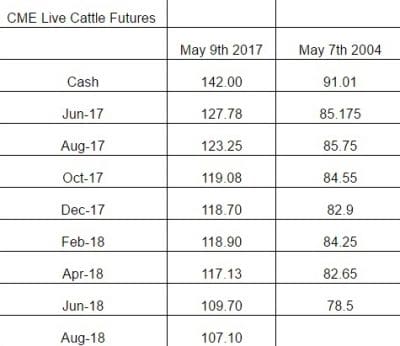 In 2017, the discounting is more aggressive, but as the graph below shows, in the 2004/05 period the actual cash value of cattle was well above the forecast futures prices as strong demand resulted in physical cattle exceeding all expectations by 30pc in the first six months of 2015.
If such a price swing was repeated in 2018, this would see Feb/April/June cash prices exceed $150.
In 2004 the 'wall of cattle' occurred in August that year, with prices falling 12pc to $82.46 from $91. This was a brief dip that was followed by nine months of rising cattle prices.
We may witness a similar event this year, and if so, this would see cash cattle fall to $124 which could be the low for 2017/18 if history were to repeat itself.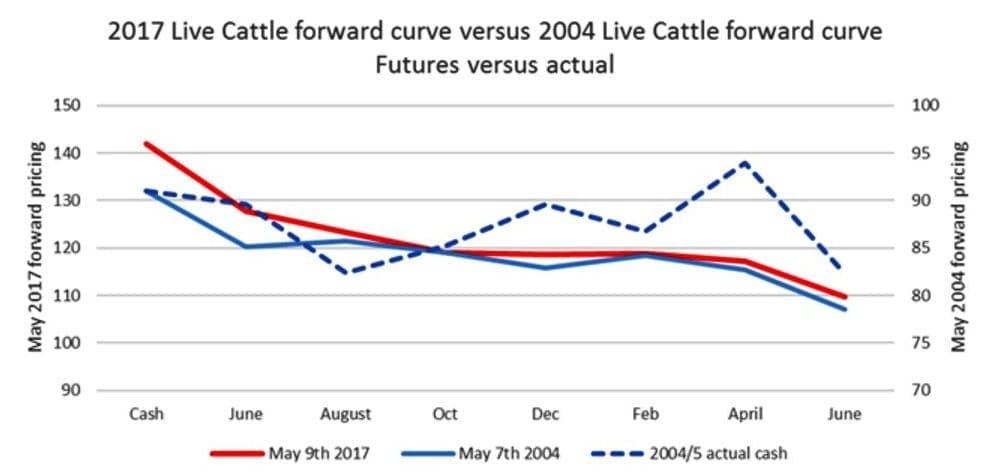 The price relationship between global and US meat prices
I believe there is a strong price relationship between global meat index prices and US domestic beef prices. This is particularly evident from 2001 onwards, whereby the correlation between price movements is at 88pc which is very strong.
I have no doubt that the US meat industry and in particular US beef prices has a huge influence on global beef prices and I believe this graph highlights this relationship, but in the five years outlined above in the table where strong global demand overlaps with US demand – I believe global prices have a much greater influence on US beef prices, the fact that US prices and global prices move in tandem at these times is good evidence for this belief.
In other words, there is a role reversal whereby global prices may drive US prices more than at any other previous time. 2017 and 2018 are shaping up as one of those periods where global prices will have a strong impact on US domestic prices.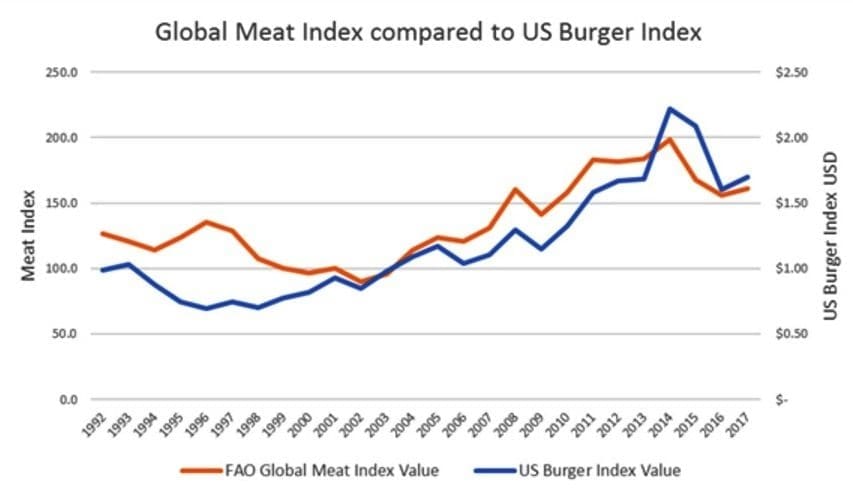 Global & US price movements potential super demand cycle trends 2017 & 2018
Given this influence of global meat prices on US domestic prices potentially over the next 12-18 months, I have put together a potential pricing scenario based on the trend of the last similar periods.
The forecast is based on the three-year traditional global meat index demand period that has occurred in the past, and the belief that the relationship between global meat prices and US prices remains strong.
The following is not a forecast, but is an outline of the potential price trend based on the last three strong demand periods. It is important to recognise that the current imported and fresh 50's and 90's market is not a simple equation of excess supply means falling prices. The strength of imported 90's in recent days has gone against what most might have expected, as supply starts to increase in NZ, yet prices are rising. Global demand is, I believe, having its influence.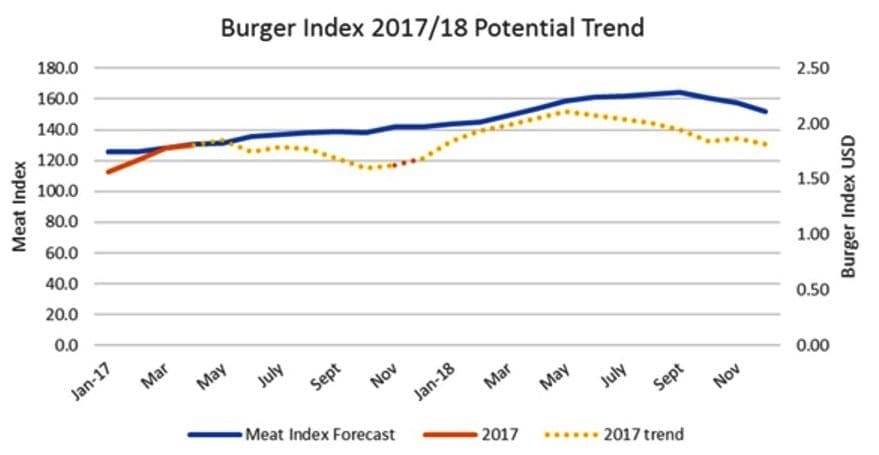 Conclusions
The impact of global demand is very much a part of the US market today, and could potentially lead to a super-demand cycle. Both global and domestic US demand, I believe, will be even greater in 2018. The supposed wall of cattle that is expected in coming months is likely to be absorbed by global markets, with strong demand taking the sting out of oversupply.
The previous periods of super demand cycles have the following features in common:
Global and US meat prices move in tandem during these periods
Meat production volume increases and price rises concurrently
Strong US meat exports occur increasing in volume
Strong global demand normally lasts two years in duration
Forward markets in super demand cycles are hard to predict, as was seen in 2004/05 which had forecast an 11pc fall in cattle prices, but in reality was a 30pc rise in the first six months of 2005.
Should the trend of previous strong demand periods prevail over the next 18 months, then the expected global meat index price increase in 2018 will be close to 16pc and for the US Burger Index a potential 14.5pc increase is possible.
The challenge, to me, is not necessarily being right or wrong in any prediction on forward cattle prices and/or the potential of a super-demand cycle occurring, but the ability as either a buyer or a seller in managing price risk, and ensuring that exposure is kept to a minimum.
Author, Simon Quilty, is a well-known meat and livestock industry consultant. He can be reached on 0411 199 433 or email simon.quilty@bigpond.com