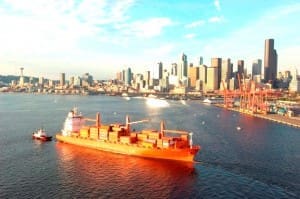 GENERALLY lower rates of beef kill and fewer working days caused by holidays have produced a marked reduction in Australian beef exports during April.
Total beef exports to all markets reached 97,477 tonnes for the month. Barring the export abattoir closure-affected period over December/January, that represents the lowest rate of export since September last year.
While last month's figure is still 14 percent higher than April last year in volume, and in fact represents a record for the month, it appears that the unprecedented high export activity caused by drought turnoff may now be subsiding. April's exports were down 8.3 percent on the previous month, which was an all-time record for any month for Australia of more than 106,000 tonnes.
Having said that, May is traditionally a strong month for slaughter activity – but it will be interesting to watch this month's performance relative to earlier years, given what has unfolded over the past year, season and turnoff-wise.
Eastern states average weekly kills during April dropped 20pc compared to March levels to about 110,000 head, which is little surprise given the two holiday-shortened trading weeks. The Easter period traditionally causes a check in slaughter levels, before throughput in May historically increases to numbers well above the February and March average.
May slaughter over the past five years has averaged close to 132,000 head, so looking ahead, it will be interesting to note if slaughter reflect the historical pattern, or is impacted more by the past year's drought event and record high turnoff.
Given the strong start to the killing year before last month's rain, calendar year-to-date beef exports to all markets remain high, at 373,000 tonnes – still about 65,000t or 21pc above the same period last year.
It's a lingering reflection of the relentless drought-driven surge in beef slaughter over the past 15 months, which has seen eight consecutive in-month shipment records broken, on top of the overall 2013 export beef tally which hit 1.1 million tonnes. A rise in the value of the A$ in the past two months, lifting about US4c to the mid-92s compared with February, has also added a little headwind to export performance.
Highlights during April included continued strong recovery in exports to the US, continued momentum in China, and growth in trade into Indonesia.
Recovery seen in US trade
The US accounted for just short of 25,000 tonnes of Australian beef in April. While that was well short of the previous month's massive spike in shipments to just over 30,000t (the highest figure since November 2008), it was in fact 41pc higher than April last year, reflecting the strong recovery in trade to the US this year.
Calendar year to date, exports to East and West coast US ports have totalled 93,000t, almost a third higher than the 64,000t shipped during the same period a year earlier.
The reasons were clearly spelt out in this earlier Beef Central article, with the US hitting record-high domestic cattle and beef prices due to domestic beef herd reduction to 50-year lows. Whereas the US for most of last year was being out-gunned on Australian grinding beef exports by other markets, leading to shipment volume lows not seen since the 1980s, currency movements and domestic shortage has seen the US step-up with more aggressive pricing on Australian product.
The April export result means the US has surpassed Japan as Australia's largest market, by volume, for the third month in a row – a sequence that hasn't happened since 2004. Given the expectation of sustained demand from the US this year, shipments are likely to remain high for the coming months.
Japan eases
Australia's beef trade with Japan during April reached 20,747t, back 8.2pc on the previous month, and about 10.2pc lower than this time last year.
Year-to-date, Japan has taken 81,000t, down 5.3pc on the same period a year ago.
A contributing factor is recent growth in imports from the US. During March, for example, there was a large decline in imports of Australian frozen beef, offset by a surge in US shortplate volumes, data from Japan's Ministry of Finance suggests.
Shipments from the US reached 15,000t during the month, underpinned by 215pc growth in frozen beef, at 9000t. The majority (94pc) of US frozen product was briskets and shortplate, to be supplied mostly to gyudon beef bowl outlets. In comparison, chilled beef intake from the US in March, at 5800t, was down 9pc from last year, on the back of strong prices.
Soft sales within Japan's western-style fast food sector, and robust demand for Australian manufacturing beef from other international markets also impacted on our trade with Japan last month.
End-demand for beef is gradually strengthening ahead of the Golden Week holiday this month, centering on beef for grilling, but nevertheless demand is not as brisk as it usually is before the break.
China demand returns in earnest
Sustained strength in the China market for Australian beef was again evident again in April, with exports totalling 13,859t.
While that figure was modestly down on March (+14,000t), it is still 19pc above April last year, when China spectacular growth trajectory was still gathering pace.
Noteworthy is the fact that 100pc of exports in April were in frozen form, following the earlier ban on chilled trade. This time last year, chilled represented roughly 15pc of all exports. Another point worth noting is that 13pc of exports to China, by weight, continue to enter the country in carcase form, providing work for Chinese boning rooms set up earlier, which have since struggled to find local domestic beef on which to base their business.
Calendar year to date, China has already taken 51,200t of Australian beef, up about 28pc from 40,000t by this time last year.
Korea steady
South Korea took 12,065t of Australian beef in April, down 5.7pc rise on March, but more than 25pc higher that trade in April last year. March, however, was a particularly strong month, being the third highest shipment tally on record.
Year-to-date, exports have totalled 47,411t, a 24pc rise on the same period a year before, partly because currency movements have meant Australian beef is more competitive against US imports.
Exporters have reported sustained interest from Korean traders in recent months, particularly for frozen beef, with shipments up 31pc calendar year to date, at more than 37,000t.
On the back of a gradual recovery of Korean economic conditions, chilled beef exports during the past four months have risen 4.8pc year on year.
The result comes despite an increasingly onerous tariff on Australian beef imports since January 1, relative to our US export competitors operating under the US/Korea Free Trade Deal. The tariff difference being paid by Australia and the US now stands at more than 8pc, and will continue at that level, at least until Australia's own FTA with Korea is fully-ratified by both governments.
See Beef Central publisher, James Nason's recent report, click here.
European Union, Russia
Exports to the EU member nations reached 1927t in April, down 13pc on March, due mostly to being the start of a new quota year, but still 19pc higher than this month last year. Significantly, chilled increasingly dominates the EU trade, accounting for 92pc of all exports last month.
Year to date, the EU has taken 7397t of Australian beef, up 47pc on the same period a year earlier, as the expanding grainfed opportunity gains momentum.
Notwithstanding the current troubles involving Russia and neighbouring Ukraine, trade into Russia and the former CIS states has collapsed this year, with just 301 tonnes consigned in April, on top of 549t during March. Both are well down on the 2153t trade in April last year.
The cause is the Russian authorities April 7 suspension of frozen beef shipments from Australia, following a similar suspension on chilled beef exports from March 31. The alleged reason was concerns over trenbolone residues, but the process is highly politically-charged, and linked to Australia's actions over Russia's invasion of Ukraine's Crimea region.
Russia has been an important market for Australian beef over time taking 24,000t for the 12 months ended June 2013. Calendar year to date, volumes have slumped to just 1522t, down from almost 6000t a year earlier.
Australia has been a traditional beef exporter to Russia since the 1970s and has had an impeccable record over more than four decades of meeting Russian market requirements at the time.
Indonesia stronger
After two years of being plagued with trade barriers associated with the country's politically-driven push for self-sufficiency in beef, Indonesia appears to be re-emerging as a more significant customer for Australian beef.
Shipments in April reached 4529t, 49pc higher than the previous month, and a spectacular 62pc higher than April last year. Year to date, exports are at 17,600t – 96pc higher than January-April in 2013.
In other Asian markets, Taiwan took 2810t last month, down about 15pc on the previous month; while the Philippines reached 2700t, much the same as March.
Middle East solid performer
The Middle East region continues to be a strong export success story for Australian beef, taking 5908t last month, up 5pc on March, and a rise of 8.2pc year-on-year.
Calendar year to date, the Middle East region has taken 20,192t of Australian beef, 5pc higher than in 2013.