FOR the Australian Agricultural Co, 2017 has delivered a major branded beef program re-direction that is both adventurous and original in its concept, and bold in its execution.
The new strategy abandons some of the accepted conventions seen widely in premium commercial beef brand strategies in Australia and overseas, as part of AA Co's stated mission to move from being a 'cattle producer' to a 'producer of luxury brands'.
The world's biggest beef producer is now about 14 months into its beef brand re-launch, which will ultimately consolidate a much larger suite of 17 brands covering grassfed, grainfed and Wagyu segments into just five key brand groups.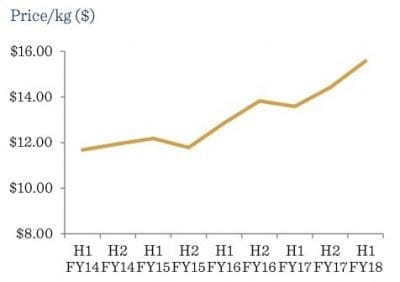 Early signs suggest the plan is working, with stronger average sale prices across the company's luxury/prestige and premium brands reported for the half-year to the end of September. Wholesale prices for luxury segment beef on a per kilo basis reached $16/kg, up from about $13.50/kg for the same period a year earlier (see graph at left).
One of the motivations for AA Co's 're-branding' exercise has been a desire to better leverage the company's vertical integration, heritage and control of the complete supply chain – all compelling brand stories with customers and consumers, the company believes.
An underlying benefit in slashing the number of brands is simply in reducing complexity in the meat side of the business. With up to 17 different 'carton lids' in use previously – each with different specifications and separate packaging – it created a processing and logistical nightmare.
The big reduction in 'box lids' alone is expected to deliver 'enormous' efficiencies across the business – not the least being far fewer boning runs, Beef Central was told.
Less reliance on the word 'Wagyu'
AA Co launched the first phase of its new brand program, focused on the Westholme and Wylarah premium brands, in Singapore late last year, followed by Taiwan in July this year. Other markets and brands will be gradually added to the list.
Singapore was chosen as the test-market for a number of reasons, including existing relationships with distributors, and being a market with a good cross section of culinary styles and customers, and a large expat population.
Visit AA Co's brands websites (www.wylarah.com.au and www.westholme.com.au), and it's immediately apparent that some big changes have occurred.
To start with, while most Wagyu brands use the word 'Wagyu' as a cornerstone part of the brand message, AA Co's Wylarah and Westholme brand website references to Wagyu are modest, subtle and discrete, to say the least. In fact the reader has to search hard for the word, to find it at all.
And the company's earlier press release announcing the launch of the first phase of its new Wylarah and Westholme brands in Singapore last November made no reference to Wagyu whatsoever.
Conventional thinking suggests that one of the key attributes worth highlighting in any Wagyu beef brand is the fact it is 'Wagyu'.
But AA Co now sees it differently. Consumer insights have shown that a wide range of other features – such as the company's heritage as the oldest company in Australia, producing beef for 193 years, controlling the world's largest beef herd on a landmass twice the size of Belgium, and exercising full control of the supply chain from conception to consumption, were considerably more important than previous descriptors used, like 'Fullblood Wagyu.'
"That's not meant to denigrate the significance of Wagyu in the production system in any way," a company spokesperson told Beef Central.
"Our commitment to Wagyu is absolutely unfaltering, because if you want to produce the highest quality meat, a big component of that is genetics, and the best way to do that is to utilise Wagyu. It just doesn't have to be the primary brand claim – we now think there are stronger brand attributes to highlight to end-customers," they said.
"Nor do we want to compete with 'Wagyu burgers' or 'Wagyu hotdogs'. Just because you call something Wagyu, does not make it flawless. It's not the only thing – it might have a better chance, but today's consumer is looking for a whole lot more in a premium beef offer."
Instead, the new Wylarah and Westholme brand messages are all about the careful and responsible stewardship of the land and the cattle, the 'terroir' of the beef, and the eating quality of the product.
Here's a quick summary of AA Co's five new brand groups:
Wylarah is designed as a bespoke, high-end luxury brand, representing the 'best of the best.'
Westholme is the next-level marbled beef brand, supplied via Wagyu influenced cattle. Neither reference Wagyu content.
The well-known 1824 shortfed beef brand, which AA Co threw considerable marketing resources behind since the late 1990s, will remain, but has a new logo and new look and feel under the 'grass-raised, grain finished' tag. It has not yet been officially re-launched.
Brunette Downs will become AA Co's grassfed, no HGP/antibiotics brand, "sourced from cattle raised in a pure and pristine Australian environment". The brand is not currently active.
Welltree is the name chosen for a new manufacturing beef brand, primarily for use for grassfed beef from the Livingstone beef plant near Darwin.
The 'glue' that holds the suite of five new company beef brands together is the tagline: 'AA Co: The art of Australian beef.'

The above brands (click on image for a larger view) are now divided into three main categories: Luxury/prestige (Wylarah, Westholme); Premium (1824); and Livingstone Beef.
In the luxury/prestige segment, the two new brands replace a suite of brands that were primarily built around Wagyu genetic content and marbling performance. They included Master Kobe, used for Fullblood and purebred Wagyu cattle with a marbling score of 8 or better; Kobe Cuisine for crossbred or higher Wagyu with a minimum marbling score of 6; Takumi for lower Fullblood/purebred marbling scores; Darling Downs crossbred Wagyu; and Greg Norman Signature marketed into the US.
A fundamental reason for the rebranding exercise was that these 'historic' brands did not adequately represent AA Co as a 'company,' Beef Central was told.
"They did not really address the 'values' or 'provenance' behind the brands," the spokesperson said. "With former brands like 'Kobe Cuisine' or 'Takumi', you could eat them anywhere in the world, and have no idea they were from Australia, let alone AA Co."
"What we are aiming to do with the brand re-launch is tell the 'Australian' story, as well as the 'AA Co' story. It's all about creating the connection between the company, its values, and what goes into the production, and the product itself."
Abandoning proxy 'specs' in favour of eating quality
Another clear departure from conventional beef brand thinking is the avoidance of references to production attributes such as '400-day grainfed', 'marbling score 6+' or 'Fullblood'.
"We believe the modern consumer is primarily interested in how the product eats, and its provenance – where and how the animal has been raised and managed – rather than how long it spent in a feedlot," AA Co's spokesperson said.
As a result, the new brands have been structured specifically on eating quality performance, not on breed content, time-on-feed, or other more 'typical' descriptor traits.
AA Co has recently done a lot of internal work on eating quality, and how consumers perceive it among higher quality beef offerings. That has included private consumer taste panel testing through MSA, ranging from F1 to Fullblood Wagyu fed for various lengths of time.
"The biggest learnings from that was that marbling score has a much bigger impact on consumer perception than breed content," the spokesperson said.
As a result of this work, the company has put closely-guarded commercial brand specifications together which are all about eating quality, rather than proxies like 'days on feed', or 'breed content.'
This will include a range of data beyond existing variables such as breed content, time on feed, oss and pH – although AA Co believes pH remains 'very important.' The company said it was the way the variables had been put together in a package that was unique. A similar, but slightly 'tweaked' model was under development for use in non-Wagyu brands like 1824.
At the time this interview was conducted, at least, the company planned to harvest beef for its Westholme and Wylarah premium brands from the same 'mobs' of cattle. Only the meat quality specs will change, with Wylarah representing the best cuts from the elite-performing animals, both fullblood and crossbred.
Beef Central asked whether this meant AA Co would change its production systems – less emphasis on crossbreds over Fullbloods, or less days on feed in Wagyu feeding programs, for example.
"We're not ignoring any of the basic principles – a marbling score seven sample is always likely to eat better than a score 3 – but the point we're making is that there is no one single factor that determines eating quality. And as fantastic as Wagyu genetics is, you still have to tick a lot of other boxes to deliver a consistently high quality product," the spokesperson said.
"But we have in fact been able to reduce days on feed in some programs, while still delivering the same eating quality performance. But in other programs, we have in fact increased days on feed, for greater consistency."
Over the next year or two, AA Co plans to slowly transition across to the new brands in all export and domestic markets.
Asked whether the new eating quality specs would deliver more, or less, beef from a given population of cattle into the new company brands, based on the eating quality specs, the spokesperson said it would depend on a bunch of variables, right down to how plant boning runs were set up.
"But hopefully it will mean we have a clear cut-off, where bodies either meet our eating quality and MSA specs, and are packed as 1824, for example, or don't meet the specs and are packed under the Welltree brand."
But without question, the process would deliver a more consistent product to the consumer, the spokesperson said.
As an example, AA Co entered two Westholme brand samples, deliberately selected from F1 cattle, in the 2017 Australian Wagyu Association branded beef competition – selected using the new eating-quality based methodology. They received two of the three gold medals awarded in the competition.
Regional identity
Other Wagyu industry stakeholders suspect at least part of the motivation for AA Co's brand changes has been the growing momentum in geographic claims over food products around the world.
AA Co's former Wagyu brands like 'Kobe Cuisine' and 'Master Kobe' clearly made references to famous Wagyu beef-producing regions in Japan, which the Japanese are now working hard to protect, under law – much as the word 'champagne' now has strict limitations in its use.
To be fair, AA Co's former 'Kobe-inspired' brand names were established a decade before this issue started to emerge. Similarly, terms like 'Darling Downs' are almost impossible to protect, from other producers claiming regional origins in the same area.
Deeper relationships with distributors and customers
Another key component of AA Co's brand re-launch is in developing a closer relationship with distributors and end-customers. As part of this, the company is attempting to engage more directly with end-customers like chefs in fine-dining restaurants and hotels, rather than leaving that expressly to the distributer in that country.
Relatively few Australian beef brands engage directly with the end-customer, because of the way the beef industry traditionally works, with product changing hands multiple times before it reaches its final destination.
"It's about building a much stronger and direct relationship with end-customers, without impacting on the distributor's role," the AA Co spokesperson said. "That process has also helped get the new brand identity onto menus, which has been our goal all along, allowing us to then build the brand recognition at the consumer level."
In some of the countries where this process has been implemented, like Singapore, an AA Co representative attends meetings with end-customers, along with the distributor. That process also provides direct customer feedback on the performance of the product, rather than being 'passed back' through the chain second-hand via the distributor.
"It represents an investment, but its proving to be a lot more responsive, in qualitative and quantitative data in the form of feedback from customers. It's almost 'real time'," the spokesperson said.
Another reason why AA Co is now building a depth in end-user restaurant performance information is because of largest shareholder, Tavistock's own investments, with 200 company-owned restaurants including high-end steakhouses in the US, and being the largest shareholder in the world's largest pub chain, Mitchell and Butler in the UK.