SHAREHOLDERS at the annual general meeting of the Australian Agricultural Co this morning were treated to a sneak preview of a new suite of commercial beef brands, designed to further consolidate the company's transformation from large-scale cattle producer to fully-integrated global beef marketer.
The well-attended Brisbane AGM attracted the usual two rows of suits in the front row, representing the big  corporate and institutional investors. Behind them was a strong showing of tweed jackets, representing the company's legion of  'ma and pa' investors who want to share in the vision of owning a piece of the Australian beef industry.
Discussion during shareholder question time touched on a diverse range of topics, from animal welfare and live export to the impact of free trade agreements, the operational performance of the much-publicised Livingstone Beef processing plant near Darwin, the continued lack of shareholder dividends, and the rationale behind the company's new brand program. Come back tomorrow for a report on what was on shareholders' minds.
Chairman Don McGauchie was pressed for more detail on the brands strategy by shareholders, but he resisted sharing too much, saying all would be revealed in an upcoming launch, likely to take place during September, Beef Central understands.
He said the brand program was about maximising the value of the company's cattle by reducing livestock sales and focussing on processing and marketing the company's own beef for global sale.
In coming months as the new brands are formally launched, there would be 'very significant' promotion attached, he said.
"The brands have been very carefully considered in the way they have been structured."
Managing director Jason Strong told shareholders the industrial and urban revolution currently underway across Asia – from Indonesia, to China and India – was creating the largest middle class in the history of the world. Asia's middle class was projected to total three billion people by 2030.
"And as that middle class grows, so too will its appetite for quality produce, especially meat protein," Mr Strong said.
"But AA Co does not want to attempt to feed Asia's emerging mega middle class. What we want to do across Asia, as well as in Europe, America, and the rest of the world is supply premium beef."
"What does that mean for our business? There's three key things: we need to remain profitable to give us the capability to invest for growth; we need to re-invest those profits into the business to give us the capacity to grow sustainably; and we need to turn AA Co into a global brand business to capitalise on those investments."
Taking Australian identity to the world
On that front, Mr Strong said over the next three months AA Co would begin to roll-out its suite of new brands to customers, both domestically and overseas.
"These new brands are not about taking away the Australian identity of the company, but rather, to take that Australian identity to the world. We believe AA Co has a great story to tell. We're a company that has been around for the best part of two centuries, operating in the wide-open spaces of Australia – a part of Australia which for many people across the world, embodies this nation," he said.
"On top of that, we have a proven track-record for providing some of the best beef on the planet. In short, we're proud to be Australian; we're proud of our people, land and cattle – all unique to our place in the world; and we're proud of what we produce – an intrinsically Australian premium product."
"We're convinced the world will like what they hear, and we know they will love what they taste," Mr Strong said.
"That's what all the hard work has been about since our 2014 redirection – ensuring AA Co has the capability and the capacity to deliver quality. What we're doing is combining a unique Australian environment with the best cattle in the world, and the latest and greatest technology and science in the world. It's giving us is the ability to routinely deliver a high quality product that is Australia on a plate," he said.
"Let me tell you: it's an art, as well as a science," he told shareholders.
"The task ahead of us is to make the world aware of the 'Art of Australian beef,' and make sure they are happy to pay for it."
Click here to access a short corporate video capturing those sentiments.
Chairman Don McGauchie said the new brands would extend across the quality and production system spectrum produced by AA Co.
Here's what Beef Central understands about the company's new commercial brands, at this stage:
Wylarah and Westholme will be the company's two new flagship Wagyu beef brands, segmented by marbling performance. Wylarah will be the 'luxury' marbling range 7+ type product, and Westholme, named after the famed Fullblood Wagyu herd purchased six or seven years ago which has driven much of AA Co's advance in Wagyu genetics, the marbling scores up to 7. It is unclear at this stage what happens to the existing Darling Downs (crossbred Wagyu) and Master Kobe (high-marbled Fullblood Wagyu) brands, but it is possible they will remain in exclusive supply arrangements with certain customers.
Brunette Downs will be the company's primary grassfed brand. The brand name has been in existence for quite some time, but has not been heavily utilised or held a position of prominence in the marketplace. That's primarily because of seasonal conditions, Beef Central was told earlier. The brand's 'natural' claims are underpinned by no-HGP, no antibiotics attributes.
The company's well-known 1824 brand will be the mainstay of the grainfed branded beef offer. Significantly, the new label will carry the descriptor, "Grass-raised, grain-finished." Cattle are typically grainfed 100+ days. Beef Central asked chairman Don McGauchie what had happened to AA Co on the Australian domestic market – once a dominant presence in many steakhouses and pub steak restaurants, but now rarely seen. His answer was that the overwhelming majority of 1824-branded product was now directed overseas.
The new Welltree brand, named after an adjunct to AA Co's Labelle aggregation southwest of Darwin, appears to be blazing new ground in the Australian branded beef landscape, in attempting to attach premiums based on a brand story to manufacturing/hamburger beef. Product will primarily be derived out of AA Co's Livingstone Beef plant south of Darwin.
Immediately after the AGM, shareholders (pictured below) were the first consumers in the world to sample AA Co's new Wylarah and Westholme Wagyu beef brands, which will be part of the new brands initiative.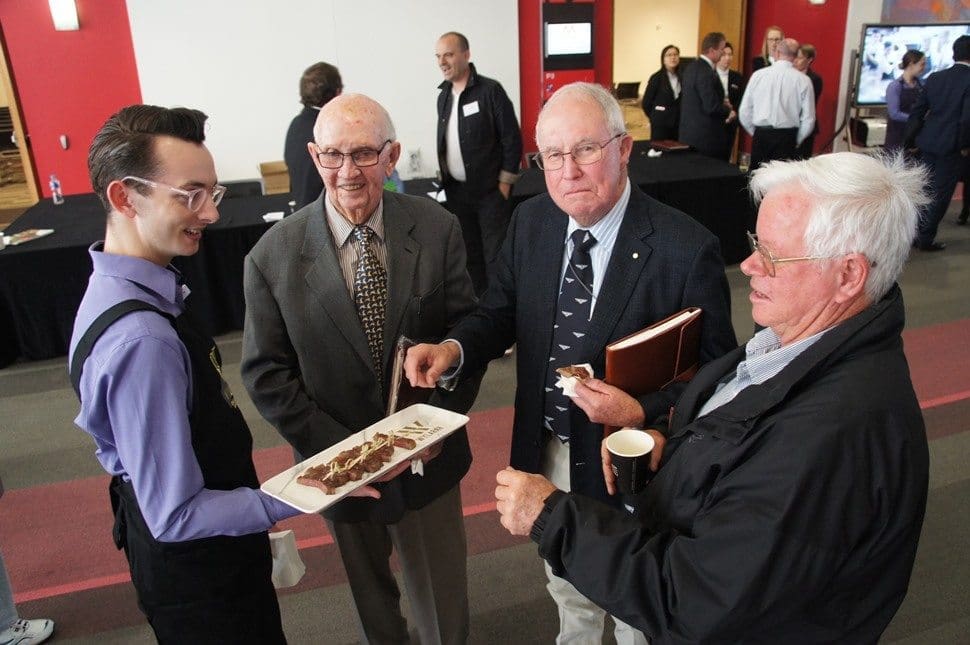 This morning's AGM, which finished a few hours ago, also provided the venue for AA Co to launch its impressive updated website (click here to access) executed by Brisbane IT and design house Generator, the 'brains trust' behind the Beef Central and Sheep Central websites and a growing number of other red meat supply chain client websites.
Come back tomorrow for an article on this morning's AGM  question and answer session.