The 2014 demand outlook for Australian beef appears positive, primarily due to the combination of a lower A$, recovering global economic conditions and the sustained purchasing of export markets, MLA says in the 2014 Industry Projections forecast released this morning.
After a calendar year record for beef exports in 2013 of 1.1 million tonnes, total Australian exports this year are forecast to decline 7.3pc, to 1.02mt.
MLA's forecast decline for 2014 is solely based upon the expectation of a sharp contraction in supply – the consequence of the surge in cattle slaughter due to drought conditions throughout the past 18 months.
The trade forecast is based on a number of key assumptions, including
An A$ averaging lower against the US$ than last year, trading between US84-90c (down about 10pc on 2013) and
Overall improvement again in global economic conditions, assisted by continuing recoveries in the advanced economies of the US, Japan and EU, along with the sustained performance of China and South East Asia.
Here's a breakdown of MLA's outlook for 2014, market-by-market:
Domestic market:
Despite solid market fundamentals including a stable economy, improving consumer sentiment and declining prices, the Australian domestic market is forecast to consume 11pc less beef year-on-year in 2014, declining to 662,000 tonnes. That follows a small 1.1pc increase last year, due to lower prices and abundant supply.
MLA expects the major influence on domestic beef consumption in 2014 and beyond to be continued growth in export markets, which are forecast to take 69.1pc of Australian production in 2014 – fuelled by a lower A$ and expanding global demand.
Population growth, along with a growing middle income population, will continue to increase competition for Australian beef in international markets, as well as on the domestic front. These anticipated Australian market trends will be further exacerbated in 2014 as a result of the expected 8.2pc fall in Australian beef and veal production.
Currency is another factor like to lure more beef into export markets, relative to Australian domestic trade. In the past year (since January 2013), the A$ has depreciated 14pc, and is currently at US88c, coming off 104US¢ in April, and 105US¢ in January 2013. In 2014, the A$ is expected to trade between 84-90US¢ – again providing a huge boost to export demand.
Consumer confidence remains lower than where it sat this time last year, with unemployment rising.
Food service sector growth in the Australian market is expected to remain flat in 2014.
Japan:
MLA is forecasting exports to Japan for 2014 to decline 7pc on last year, to 270,000 tonnes, due to a combination of strong competition from the US, a recovering, yet fragile economy, an unfavourable exchange rate, anticipated tight supply from Australia and strong demand from alternate markets.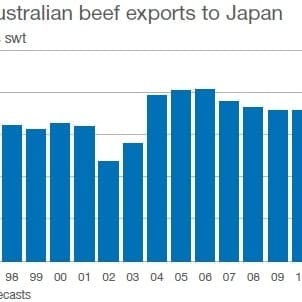 The forecast follows an additional 6pc decline in Japanese trade seen last year, with big drops seen in certain cuts like brisket (down 27pc) and shortribs (down 37pc).
China secured most of these volumes, while Japanese buyers shifted their focus to US shortplate, as availability increased – a result of the improved US market access.
Squeezed by tighter Australian beef production in 2014, competition for Australian frozen beef is expected to be fierce. This competition and resultant high prices, combined with the Japanese government's current monetary policy – "weak yen, strong exports" – will further challenge Australian beef trade with Japan.
With the gradual improvement in Japan's economic climate, further recovery in beef demand in Japan will largely hinge on a continuing lift in consumer spending, import costs and price of competing proteins like pork and chicken.
United States:
Beef exports to the US in 2014 are forecast to reach 210,000 tonnes, virtually identical to 2013, but more than a third back on traditional export volumes seen in earlier times.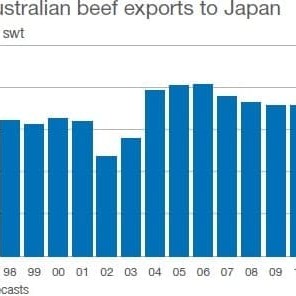 MLA says this is consistent with an expected drop in overall Australian beef production, combined with strong demand from several other key Australian export markets, including China, the Middle East and Indonesia.
Manufacturing beef exports, particularly lean beef, will continue to dominate Australia's exports to the US in 2014, with US domestic supplies of lean beef expected to be low, as cow and heifer retention commences after years of liquidation. Higher value loin cuts should retain a relatively steady volume, playing an important role in the developing grassfed, natural and organic sectors.
In 2014, the USDA forecasts US beef production to drop 6pc, to 10.98mt. The main driver behind the expected drop in production is improved feed conditions, for both pasture and lotfed cattle, which should encourage cow and heifer retention after drought-induced stock liquidation for several years.
In line with the decline in production, US beef exports are forecast to fall 8pc in 2014, to 1.05mt however, imports are expected to remain almost steady, at 1.03mt.
South Korea:
MLA anticipates that exports to Korea in 2014 will decline 17pc year-on-year, to 120,000t.
The reduction is largely a reflection of the strong competition in the Korean market – ranging from historically high inventories of domestic beef and pork, to the tariff-advantaged US beef.
Recent agreement between Australia and Korea on a Free Trade Agreement was welcome news for the future of trade. The third year of the Korea-US FTA has now commenced, meaning the tariff on US beef is now 32pc, as opposed to the 40pc still placed on Australian beef, which will remain in place until the FTA is signed.
Australian exports to Korea in 2013 were significantly higher than initial forecasts, totalling 144,000t – up 15pc year-on-year. Assisting last year's performance was an unexpected contraction in imports from the US (despite the tariff advantage for US beef), which declined 4pc year-on-year, at 87,000t (January to November imports).
Contributing to the decline in US product to Korea was a shift in focus by the US to the Japan market, which saw imports increase 42pc year-on-year.
China:
Exports to China in 2014 are forecast to consolidate around the record volumes shipped in 2013, at 155,000 tonnes.
However, this forecast should be considered in terms of the growth registered throughout 2013, which increased 371pc year-on-year, to 154,800t, and is forecast by MLA to be one of the few markets to maintain volumes in a year when Australian beef production and exports will contract.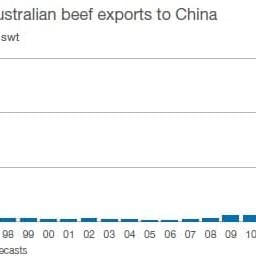 Competition from New Zealand is likely to be slightly lower this year, due to lower production, but Australian exporters will be closely watching the possible increased access for Brazilian beef. While there has been no official statement, reports suggest that Brazil could have some form of access into China in the first quarter of the year.
If that happens, it will create a major competitor in the market.
Additionally, market access for the US will also create significantly greater competition for Australia – if it eventuates.
According to the USDA, the Chinese cattle herd is currently steady, at around 104 million head, although, anecdotally the herd is trending down, as rapid urbanisation continues. Nevertheless, the rapidly increasing middle class is expected to maintain their growing appetite for beef, thus providing opportunity for Australian exports, along with the existing steady flow of beef through "grey channels".
One of the most promising features of the rapid growth in Australian exports to China in 2013 was the range of cuts shipped. Brisket volumes to China were up 423pc year-on-year, which pulled product away from Japan. Similarly, shin/shank (up 348pc year-on-year) pressured Taiwan, while silverside (up 366pc) competed with Russia.
Concerns around food safety, and the desire to consume meat from a clean and safe supplier is likely to sustain Australia's strong foothold in the Chinese market for the foreseeable future.
Indonesia:
Exports to Indonesia in 2014 are anticipated to increase 27pc year-on-year, to 50,000 tonnes, underpinned by a change in import protocols aimed at controlling rising beef prices.
The increase, albeit coming off a moderate base in comparison to previous years, is despite lower Australian supplies in 2014.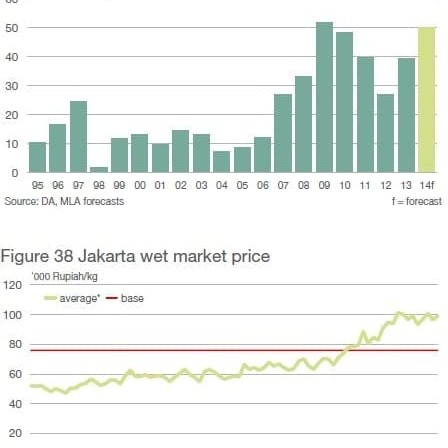 Indonesia has indicated that the level of imports of beef and live animals will be dependent on the price of secondary cuts throughout Indonesian markets. The Ministry of Trade will monitor prices, with an initial reference price of Rp76,000 per kg being set.
According to the market reports in late 2013, the average wet market price of most secondary cuts was well in excess of the Rp76,000/kg benchmark.
The volume of beef imports required by Indonesia to reduce the current significantly higher than benchmark market prices will be closely monitored by industry over the coming months, with reports suggesting it will take considerable time and volumes before wet market beef prices subside.
Australian shipments to Indonesia during 2013 increased significantly in the final three months in response to the easing of quotas, with the final volume reaching 39,400tt, up 45pc year-on-year.
Indonesia's potential to continue growing as a customer of Australian beef is underpinned by the large and growing population, which is estimated to reach 253 million people in 2014.
Additionally, the economic health of the country, with forecasts of 5.4pc GDP growth next year, bodes well for the capacity to increase red meat consumption.
While there is the population and economic potential for growth, changes in market access, particularly around the upcoming election this year, will be closely monitored.
European Union:
Exports to the EU in 2014 are forecast to increase pc on 2013 volumes, to 21,000t. The increase is expected to be driven by a continued demand for grainfed beef, assisted by the recent signs of economic improvement.
According to the International Monetary Fund, the Euro region is expected to come out of recession in 2014, with GDP growth forecast at 1pc. A modest recovery is also expected in the UK, Australia's largest beef market in the region.
Italy and the Netherlands, also large importers of Australian beef, are both forecast to emerge from recession in 2014.
After a difficult start to the year, the A$ weakened significantly against both the Euro and British pound throughout 2013, assisting the price competitiveness of Australian product. The Australian dollar reached a record high against the pound last March, buying 68 British pence, but dropped 20pc in value during the year.
Beef shipments to the EU have increased continuously since 2009, totalling 19,900t in 2013, up 33pc year-on-year, driven by the strong growth in grainfed exports.
The expansion of the grainfed quota from 20,000t to 48,000t) in mid-2012 has been the catalyst for growth in grainfed shipments, which totalled 11,500t in 2013, surpassing the grassfed volume (8425t) for the same period.
Brazil is currently the largest supplier of beef to the EU market, with shipments up 24pc to 71,300t in 2013 – but still struggling to return to volumes seen before the 2008 partial ban on imports.
Middle East:
Exports to the Middle East are forecast to reach 45,000t in 2014.
While this is a reduction on 2013 volumes, where exports reached a record high of 61,000t, it is still considerably above all other previous years and would be the second highest year on record.
Exports have grown rapidly for a number of years, with consistent year-on-year increases since 2005. Underpinning the surge in exports last year was the ban on Brazilian beef in Saudi Arabia in late 2012.
Exports to Saudi Arabia for 2013 totalled 31,000t, up almost six-fold on the previous year.
Encouragingly, the growth in exports across the wider region, not just Saudi Arabia, have entailed both chilled and frozen beef. Loin exports to the Middle East grew 114pc in 2013, totalling 6000t, illustrating the growing importance of the market as a destination for high-quality, high-value Australian exports.
Along with the growth in loin exports, grainfed beef shipments nearly doubled to the region in 2013. At a time when shipments to traditional grainfed markets, such as Japan, are easing, the expansion in exports to the Middle East provides a valuable outlet for Australian grainfed beef.
Tempering the outlook for 2014 is the potential re-entry of Brazil into the Saudi market. Although there has been no official announcement of a re-entry date for Brazil, it is anticipated that this will occur in 2014. This would impact on Australian volumes, particularly for frozen beef. However, many
Saudi Arabian retailers are now offering high quality Australian chilled grassfed and grainfed beef, an indication that even with the return of Brazil some market share may be retained.
Russia:
Exports to Russia are forecast to decline 34pc in 2014, to 20,000t, due to a combination of robust competition for reduced supplies of Australian beef in 2014, market access constraints into the Russian markets (primarily regarding the use of HGPs) and steady competition from other traditional suppliers.
In response to moves taken by the Russian government in late 2013, the Department of Agriculture now requires that all Australian beef destined for Russia be produced from animals that have not been treated with trenbolone acetate or zeranol, two synthetic HGPs which are approved for use in Australia. This particular condition has also contributed to the forecast lower volumes to Russia in 2014.
Taiwan, Philippines, Malaysia:
Beef exports to Taiwan in 2014 are forecast to ease 8pc year-on-year, to 33,000t. The annual decline is expected to be the result of sustained demand from the Chinese market, attracting large volumes of beef that traditionally went to Taiwan, especially shin/shank.
Shipments to the Philippines in 2014 are forecast to be sustained at 27,000t – consolidating eight consecutive years of growth, while exports to Malaysia are expected to be steady at around 16,000t in 2014.