WITH China shifting into second place behind the US as Australia's most valuable red meat export market (beef and sheepmeat combined), the activity around marketing, relationship building and education in-country has hit top gear.
From trade shows to cold chain seminars and cooking demonstrations to Asia's largest food expo, Meat & Livestock Australia's China team has been working to ensure Australian beef and lamb is front of mind as China continues down a path of purchasing unprecedented volumes of meat.
The focus is on enabling Chinese industry and business partners to better handle Australian product, and also to better communicate the advantages it offers, said MLA's Greater China country manager Joe Zhu.
Huge growth in chilled trade
Tremendous growth of Australian chilled beef to China has come on the back of rising middle class incomes and the increasing sophistication of demand and appreciation of beef products, he said. This had gone hand-in-hand with strong recognition of the Australian brand.
Chilled beef exports to China are up 146pc for the year-to-May, on top of a 120pc total growth last year. Despite limited cattle supply in Australia, year-to-May growth in overall Australian beef exports has seen 61pc growth to close to 95,000t. Lamb exports are up 22pc for the same period and mutton up 78pc.
Still, there is untapped potential, Mr Zhu said. "The Chinese consumer with a household income over US$35,000 –  the threshold where people start to consume premium imported meat regularly – is forecast to double between now and 2023," he said. "China has a population of 1.4 billion, but even zooming-in to our target segment, it is still a larger number than all of Australia."
Mr Zhu said the Australian provenance story was very strong in China. "People recognise Australian products as being green and safe. There is a very high confidence in its safety and quality," he said. "Australian beef has been in China for a long time. Australia is the only country that has always had access to China, and has always maintained a consistent supply."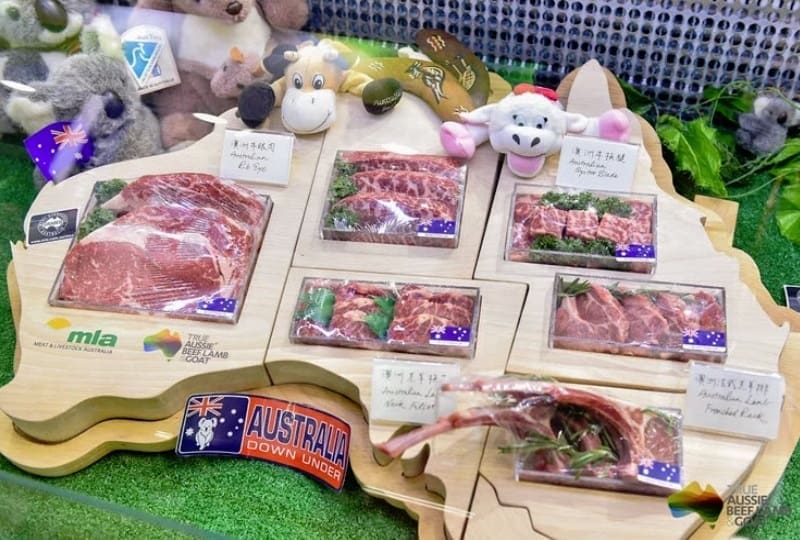 South American countries were a more recent start in the China beef market and volumes were growing at a fast pace. Mr Zhu said Brazil, Uruguay and Argentina had now overtaken Australia in terms of volume of supply, but offered a lower-quality product, taking the lower-income market segment and pushing Australia even more towards a premium position.
This also explained the growth in Australian grainfed and chilled product to China, he said.
MLA was focused on working closely with industry bodies in China to maintain relationships and keep the two countries engaged while issues at a political level were challenging, Mr Zhu said. Trade relationships were in fact very stable, given the difficulties at the political level.
The right message
"From a marketing perspective, we are focused on ensuring the Chinese industry is able to get the right message across to the end-user to allow consumers to appreciate products such as grassfed and grainfed, loin and secondary cuts," Mr Zhu said. "This will drive a sophistication in demand. Three years ago, people here associated any kind of beef meat as a steak, but now they understand beef is much more and with that, they are willing to pay a premium for better products."
More energy and resources are being directed to the geographical areas where MLA has determined those with the target income are living – typically provincial capitals and larger coastal cities.
Trade shows are a large part of business development efforts and a collaboration with Austrade called the Festival of Australia saw red meat tasting and cooking demonstrations delivered across five cities in late May, with digital platforms and media leveraged to maximise impact.
Big industry presence at SIAL trade show
Also in May, a record number of 26 beef and lamb suppliers from Australia, including big exporters like Teys, JBS, TFI and Mort and Co, took part in Asia's largest food show, SIAL, in Shanghai.
More than 1000 visitors stopped by the MLA booth during the show and Mr Zhu said Australia's position as a high standard food provider was significantly strengthened. The number of MLA WeChat official account followers jumped dramatically on the back of this event, which means many more importers and consumers receiving industry and nutrition information.
Meanwhile, 180 attendees – Chinese customs representatives, major importers and retailers – have taken part in two cold chain seminars aimed at introducing best practice and supporting the trade to be prepared for chilled products. Eighty percent of the attendees already sell Australian chilled beef while a further 10pc said they would now consider doing so.
Source: MLA