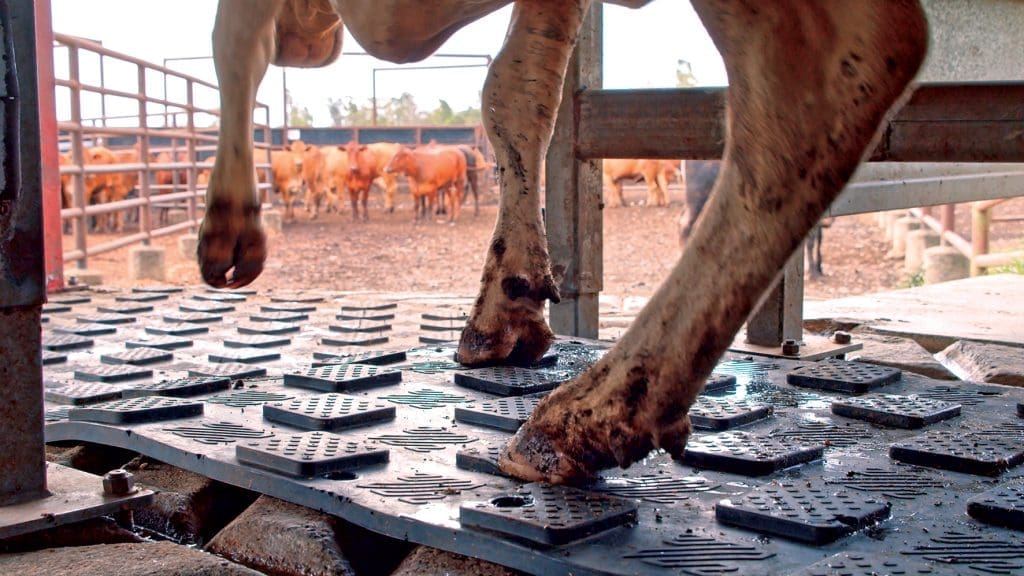 FINDING effective ways to stop cattle slipping on concrete has been an ongoing challenge for many livestock managers.
A new durable and markedly "grippier" rubber matting product developed through years of continuous research and development by agricultural surfacing company NumatAgri is now helping feedlots and saleyards across the beef industry to solve the problem.
The YoungStar mat is ideal for Australia's feedlots and saleyards. With an 18mm thick base and 14mm lugs on top of that, the high grip profile ensures major reductions in slipping and improved animal handling.
YoungStar is recess anchored with a unique stainless-steel fixing system, meaning the matting can handle high volume throughput without worrying about movement or damage.
The product is helping existing users in feedlots and saleyards to effectively innovate and increase animal safety without compromising everyday efficiency and productivity.
Success at Teys Condamine feedlot
Having recently installed YoungStar mats, Phil Lambert, General Manager at Teys Condamine feedlot says, "We have tried other rubber matting solutions that have helped, but unfortunately these other products weren't able to keep up with our demands. When YoungStar mat came out, we started off with a few small sections of matting throughout our yards. With the results that we saw very quickly, we purchased additional matting. With the success that we've had with the YoungStar mats around the site, we're now looking at options for installation in our dispatch area, ramps, and concrete areas through our cattle arrivals area."
NumatAGRI director Mike Judd said YoungStar differs from existing products due to its innovative grip pattern, which provides superior traction for cattle while also being comfortable and easy to clean.
"The grip factor is huge," says Judd.
"Livestock managers want to see cattle arriving on the matting in a calmer and more contented state. And, as everyone knows, relaxed animals are less work than stressed ones."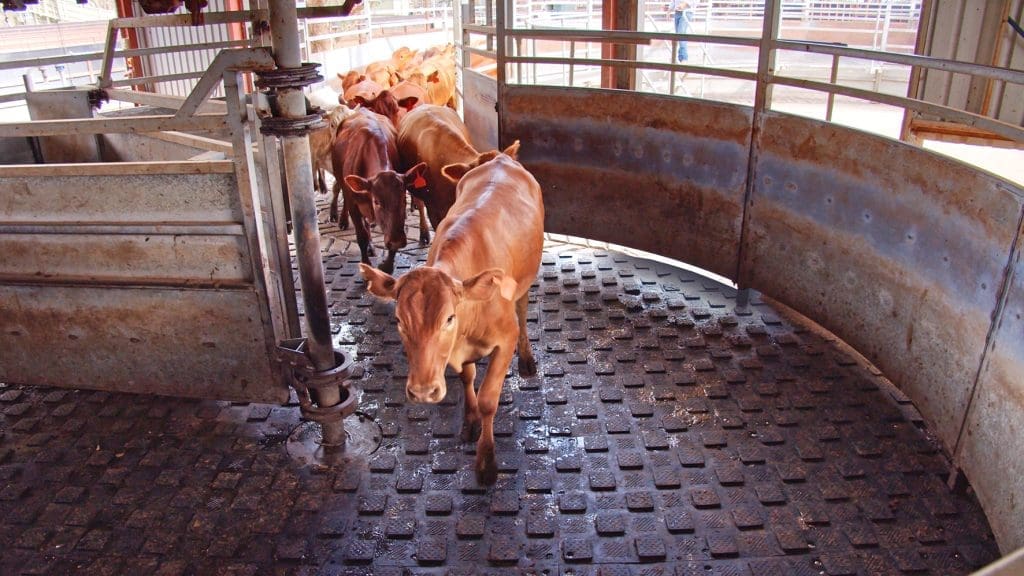 The company notes that many mats on the market feature only a small amount of grip and are made from low-quality rubber. This tends to make them slippery and more likely to wear out quickly.
The YoungStar mat has a 12 MPa rating which is at the top end of the scale for rubber mats, MPa being a measure of tensile strength.
"We've had YoungStar mats installed on the weighbridge of a 75,000 head feedlot for four years. With over a million head of cattle put across it to date, it's still looking great," Mr Judd said.
Other key features include manageable sizing of 900mm wide and 2100mm long, which is said to make the mat easier to install than larger woven-tyre solutions.
"Ultimately, animal well-being is front of mind for livestock managers, and their animals' health starts at ground level," Mr Judd said.
"Knowing how important it is to our customers makes us all here (at NumatAGRI) passionate about what we can do, but at the heart of YoungStar's success is the level of safety and comfort it delivers to cattle."
For more information, click here to visit NumatAGRI.