About Harmony Agriculture & Food Company
Harmony Agriculture & Food Company is a leading producer and supplier of premium branded beef to global markets. Its current supply chains produce 4300t of Wagyu F1 branded beef for sale and distribution annually. Harmony's core capabilities lie in intensive livestock production and the sales and marketing of premium products. It aims to be recognised as one of the leading businesses in Australia for the production and supply of premium branded beef products to a global marketplace.
The challenge: Identifying the best quality beef
For the premium beef market, identifying the best-performing animals is critical for sales forecasting and order fulfilment. Harmony was searching for a way to track animal performance over time; prior to MEQ Live, it was impossible to measure the marbling of live animals.
"Our current production process requires managing high-value Wagyu animals for around 400 hundred days on feed; however, this is an unsophisticated metric given the investment we're making," explains Anthony Fellows, Chief Executive at Harmony Agriculture & Food Co.
"Knowing the optimal time to process, based on an animal's optimal marble score and cost of gain, is highly preferable. With MEQ Live, our aim is to know at around 300 days when an animal will be in the optimal window for processing. For some animals this may be 360 days and for others it will be 450 days; so instead of relying on a first-in/first-out basis, we'll be able to make decisions based on individual cattle. This precision will drive greater efficiencies and better outcomes for our customers too," Mr Fellows said.
The solution: Scanning livestock with MEQ Live
Harmony needed a better solution to make identifying the best livestock more accurate and efficient. It decided to deploy MEQ Live, which uses advanced ultrasound scanning and machine learning technology to measure marbling and estimated yield in live animals.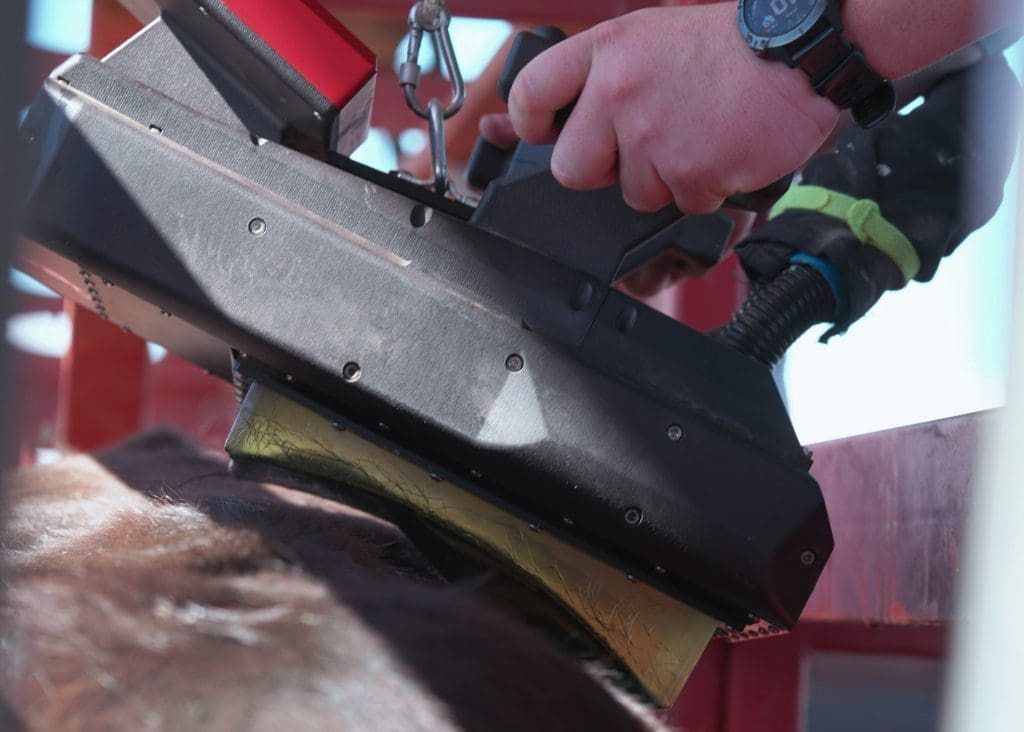 Harmony used MEQ Live to scan animals at feedlot induction, at 100 days on feed, at 200 days on feed and then pre-feedlot exit. Through this, they are able to realise the optimal value at each stage of the feeding process for each animal.
"Identifying the best-performing animals as early as possible is really critical. It helps us with sales forecasting as well as breeding operations as we move into the full-blood wagyu space," Fellows says. "With MEQ Live we can assess how much profit an individual animal is likely to bring ahead of processing, and drive more objective data back into our breeding programs."
By tracking animal performance over time, Harmony monitors the animals that marble highest and fastest. Knowing how marbling is progressing opens the opportunity to reduce days on feed for animals. This improves sustainability as well as increases profits through lower overheads for the same quality product.
The result: Gold medal-winning beef
Thanks to MEQ's technology, Harmony can now identify the highest quality animals, recently winning two gold medals in Sydney Fine Food Show's 2023 branded beef competition. Samples from the company's Victorian and Tasmanian-bred Omino Wagyu and Black Opal brands fed a minimum of 380 days, scored 91.5 and 90.5 points respectively.
Feedlots can specifically choose their highest-performing animals and give the market an accurate perception of the quality of the brand. This is in addition to the more commercial focus of identifying high-performing animals- better quality and higher premiums. Poor performers can also be quickly identified and moved out of the supply chain, reducing costs in the long term.
MEQ Live devices currently service feedlots with a combined capacity over 175,000 head and ultimately work to ensure that a brand is always consistent with the promised quality.
For Harmony Agriculture & Food Co, MEQ Live is the "holy grail" of beef production.
"Until now it hasn't been possible to objectively determine and predict the quality and yield in live animals. MEQ Live is revolutionising how we do business, enabling us to map how feed types affect marbling performance and pick out the best animals for breeding. This technology also creates further sales opportunities by helping us to determine brand segmentation far in advance of traditional grading methods," Mr Fellows said.
For more information – click here.