If anyone ever thought life on the land was boring, they've never stood in Mel Reddie's shoes. In fact, just reading what she's accomplished will make you tired!
Mel grew up on a cattle station in Cape York and went on to become a registered nurse, working in Oncology and Emergency for nearly 30 years on the central Queensland coast. After her marriage broke down, it was time for Mel to get back to her roots, sacrificing everything she had to buy a 1250 acre farm in Biddon nearly 15 years ago.
With an interest in breeding cattle, in particular the Speckle Park variety, Mel set out to make her dream a reality.
Not content with just one farm, Mel went on to buy another 1450 acre property west of Gilgandra, and leased 2 more properties totalling nearly 1550 acres at Eumungerie.
But getting into the second farm wasn't easy! The biggest challenge was buying this second property just prior to the drought in 2016, and still being able to keep her breeding stock through the drought and to keep operations going.
That was where DelayPay came in very handy. Mel was able to use DelayPay to not only keep her business running by buying feed for her stock, but also to help grow the business by investing in stud cattle and genetics to establish her stud, 'Spot On Speckle Park'.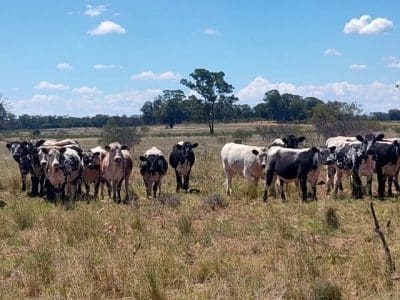 Having the support from DelayPay meant Mel was able to trade cattle opportunistically, and buy when the price was right.
"When I started nearly 15 years ago all I had was 25 heifers on 1250 unimproved acres," Mel said.
"DelayPay has been really pivotal for me over the last 5-6 years in particular. Kelsey & the team have been so easy to get along with, prompt in responses and they allowed my business to grow when opportunistic buying was available."
Since she started, Mel built a house, put power on, built cattle yards and now has 600 acres of improved pastures on that 1250 acres and another 300 acres of cropping land for grazing.
Along with the second farm and 2 lease blocks she also has an agistment block all of which form part of the plan to grow her beloved stud, 'Spot on Speckle Park'.
Last year she implanted 140 embryos and her commercial herd is now up to a grand total of 320 breeders. She also has clients booked in to run a recipient program so things are far from quieting down for Mel yet!
"My plan for the future is to push as hard as I can while I can but ultimately to have a well established home block to raise stud Speckle Park cattle," Mel said.
"The hours are long but I don't mind. I have grand plans but I'm always open to improvising as new challenges are presented everyday, so you need to be open to change."
To contact DelayPay click here.