WITH somewhere near 100,000 cattle and sheep properties* scattered across grazing regions of Australia, there's an almost endless supply of raw material to work from in looking for interesting and unusual stories behind property names.
As part of Beef Central's more casual holiday reading offer, we've decided to poke about and unearth some interesting accounts about exactly how property names came into being.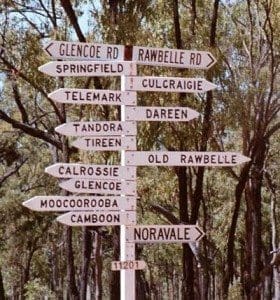 While much of our discussion focuses on Queensland, we're sure there are just as many anecdotes to tell about property name origins in other states and territories, and we encourage readers to add to the narrative via the comment options listed at the bottom of this article.
Much of the research for this article comes from Terry Alick's much-loved "Atlas of Queensland Pastoral Stations", which lists 7000 property names and locations across the less densely settled areas of the state. Our dog-earned 1999 version has been used countless times over the decades to pinpoint property locations, allowing us to put them in better perspective.
What's immediately apparent is the sheer breadth of inspiration that led to the creation of local property names across Queensland and the Northern Territory (additional source: NT Govt Pastoral Map, 2004 version).
While some tend to 'state the bleedin' obvious', there are other examples that are obscure, optimistic, vainglorious and pithy.
Local flora and fauna provided plenty of early inspiration for property names, it seems. Think of Budgerigar near Quilpie in the state's far west, Mt Wallaby near Gin Gin, Cockatoo, near Taroom, plus numerous Sandalwoods, Saltbushes and Coolibahs.
Geological features are also used in abundance. Examples: Mt Helmut (sic) near Springsure describing the shape of a local land feature, and nearby Mt Panorama offering a great view of the surrounding country. Dry Rivers, Rocky Banks and Sandy Creeks are common.
Other geological references reflect a sense of optimism among the early settlers, with several Mt Prospers, Paradise Downs', Mt Pleasants and Mt Hopes in evidence. Equally, though, there are the more pessimistic Mt Disappointments, Mt Desolations, Mongrel Downs and Mt Vexations.
Skimming through the Alick pastoral map index, its evident that Aboriginal names are arguably the most abundant of all property names in the Queensland bush – perhaps accounting for 20 percent or more in some districts. Think Keeroongooloo, Kangerong and Kaiuroo. 
Old Scottish, Irish and English place-names abound, with familiar names like Kelso, Kenilworth, Cremorne, Dalgonally, Rawbelle, Gowrie and countless others. All that can be said is that many early settlers must have had vivid imaginations, if Cork Station near Winton actually reminded them of far-away Ireland.
Connected with that are hundreds, if not thousands of grazing properties ending in 'Vale' (Valley), 'Dale' (open river valley), 'Burn' (well or spring), 'Glen' (narrow open valley) and 'Brae' (Scots for slope or brow of a hill) which are in abundance across rural Australia, especially in early-settled areas.
Humour, and its many forms including irony and bathos, are also evident in property names.
There no shortage of properties called Upson Downs across Australia, perhaps somewhat wryly pointing to the cyclical nature of the beef industry and the weather that often drives it. Some things never change. There are at least a dozen Dunroamin's scattered across eastern Australia, suggesting people wanting to put down roots.
Another personal favourite is Elsewhere. The most popular explanation relates to radio weather reports, where a string of locations and their rainfall recordings or forecasts were broadcast, followed by the inevitable, "Elsewhere, fine." Seems like it never rains at Elsewhere.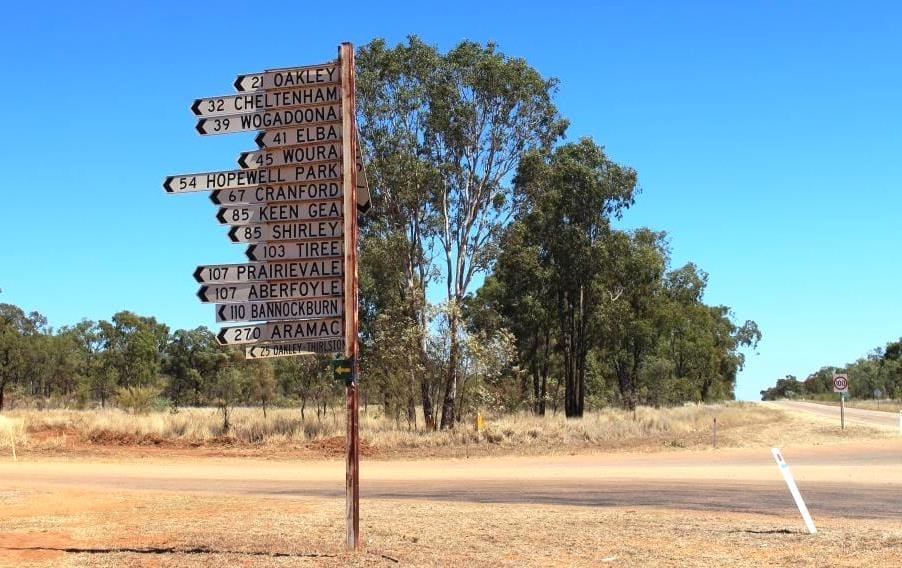 Reverse spellings are also more numerous than many might think. Nosnillor near Charters Towers is Rollinson spent backwards; also Seloh Nolem (Melon Holes), and Emoh Ruo (Our Home).
Biblical references are scattered liberally across northern Australia's grazing regions, as are astronomical and celestial references: Orion, Meteor Downs, Planet Downs, Sagittarius, Comet Downs and Cassiopeia (constellation, also greek mythology).
Other property names have been coined from local historic events.
The origin of the original Texas Station (and later, southern Queensland town of the same name) is generally regarded as a reference to a territorial dispute. The land in the area was first settled in the 1860s by the McDougall brothers, who found squatters there on returning from the goldfields. Once their legal right to the land was recognised, they named their property in honour of the rather more famous dispute between the United States and Mexico over the territory of Texas, or originally Tejas, part of Mexico.
In regions opened up as part of Soldier Settlement Schemes after the two World Wars, references to battles and events from the wars are common. While not all of them were designed for grazing purposes, there were 2000 settlement blocks released in Queensland alone after WW1, with 6400 in NSW, 3200 in SA, 8600 in Victoria, 1100 in WA and almost 2000 in Tasmania. It was perhaps inevitable that wartime references would be used to identify many of these newly created sub-divisions.
Other wars also provided inspiration. Fort Constantine, outside Cloncurry, for example, was named by local explorer and mineral pioneer, Ernest Henry, who named many local features after places in the Crimea, where he had served as an ensign at the Siege of Sevastapol in the Crimean War. Fort Constantine was one of his war postings.
Origins of other colourfully-named properties may be lost in the sands of time.
Exotically-named Cullin-la-ringo, near Emerald in Central Queensland, was the site of Australia's biggest massacre of white settlers by aboriginals in 1861. The property name sounds Spanish-French, or perhaps something from the American wild-west, but original settler Tommy Wills was an Englishman. Google could provide no further enlightenment.
Readers with time on their hands over the Christmas/New Year break may have comments or anecdotes on the origins of other grazing property names to add to this article. Items can either be posted via the comments panel at the base of this page, or via this same article posted on Facebook.
* Based on Property Identification Code (PIC) statistics