UNDER the microscope in this week's property review are four standout cattle property sales and some of the reasons they sold so well at auction.
Roger Hill is Herron Todd White's director for north and north-west Queensland. As an independent market observer, he noted that occasionally a property can well and truly exceed market expectations.
Mr Hill recalls four properties in north Queensland that, in their respective market times and conditions, achieved exceptional prices.
He singled out Liontown, Charters Towers; Maitland Downs, in the lower peninsula near Einasleigh; Nardoo, in the Gulf near Burketown; and Peronne station, Hughenden, sold in different markets over a ten-year period.
"They didn't just sell, they achieved outstanding results in the auction room," Mr Hill said.
"Each of the properties was worth every cent. These stations sold extremely well because the vendors worked hard and made good management decisions. As a result, the market rewarded them."
"Many attribute the record prices to what they perceive as a strong market, however, a physical inspection shows the market has paid a return for the investment and work carried out on each of those places," he said.
Mr Hill credited each of the vendors, explaining they made clinical and not emotional management decisions.
"Typically, good land condition, quality cattle, good water, good fencing and buildings go hand in hand with well thought-out planning and development decisions."
Examining the sales of Liontown, Maitland Downs, Nardoo and Peronne, Mr Hill identified a number of similarities.
The vendors were good thinkers and over the term of their ownership, specifically positioned their assets so they had:
Very good land condition
Well-planned water infrastructure and distribution
Very good or near-new fencing; and
Good infrastructure (such as appropriate sheds, yards, quarters and houses).
Mr Hill believes it pays for producers to re-invest money back into their properties.
"Producers who have made more efficient use of their country by realigning fencing, adding laneways and better distributing water have reaped substantial profits when their properties have sold. In recent years, this has also been good for tax efficiency."
Mr Hill said producers who rested their country also reaped the rewards of good land condition.
"Some have stepped away from set stocking and have implemented a wet season spelling rotation, while others have run higher density stocking rotations with longer rest periods."
He said often, those who have done this had benefitted from improved financial performance and returns.
Mr Hill said industry stakeholders sometimes questioned why the market 'did not pay for land condition', but it did, in his opinion.
"Liontown, Maitland Downs, Nardoo and Peronne are four examples of where the market has rewarded vendors for good land condition together with good water, wire and structures."
Conversely, Mr Hill noted properties with average country, average land condition, average water, average fencing and average buildings, only achieve average prices.
"It is the average prices that we are all used to, and that is why these sales stand out so much. If you only want to achieve the average, then only do the average."
What about stations that do not appear to be selling?
Mr Hill believes there is a misconception that if a second-grade piece of country is struggling on the market, it is due to a softer property market.
"Perhaps the vendor expectation was too high from the start. There are two key consistencies – if a property is correctly priced it will sell."
According to Mr Hill, the marketing and timing of the sales of Liontown, Maitland Downs, Nardoo and Peronne Stations were the fifth factors that helped each at auctions.
"At the time, there was a shortage of listings and strong demand. When each of those properties were presented, there was nothing else to compete with them for buyer demand."
Here's a breakdown on each sale:
Liontown, Charters Towers
In May 2015, the 15,154ha Liontown at Charters Towers sold on a walk-in walk-out basis for $8.7 million including 2350 quality cattle, plant and equipment. Deducting cattle and plant, it achieved around $7.1m or $470/ha.
At the time, it was described as a blue-ribbon breeding and fattening property that was well improved and extremely well-watered with a 44 year history of intense weed control.
Liontown was boundary fenced, subdivided into 21 main paddocks and six holding paddocks with 35km of laneways. The cattle yards were in good order and well constructed, each with water and shaded by trees.
The improvements included a partly concreted six bay steel frame machinery shed.
Despite coming out of a dry season with minimal rainfall, Liontown boasted a substantial body of grass.
Roger Hill said during their ownership, vendors David and Betty Steele reinvested money into developing the country, improving land condition, upgrading the fencing, watering points and buildings, and as a result the market rewarded them.
Maitland Downs, Einasleigh
In December 2018, Einasleigh cattle breeding and fattening property Maitland Downs sold for a record $9.85 million WIWO.
Spanning 13,835ha, it is 280km north-west of Charters Towers and 20km west of the Lynd Junction.
Renowned for producing bullocks that regularly topped the market, the walk-in walk-out sale included 1124 quality breeders and 250 calves, all machinery and plant.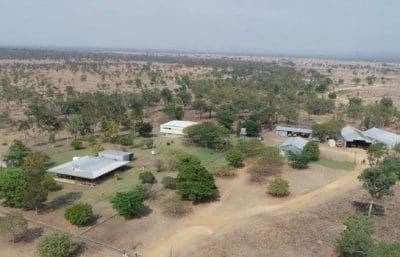 The sale price was around $8.6 million or $620/ha.
Featuring quality improvements, Maitland Downs had 11 main paddocks with laneways servicing 1500 head capacity steel and timber cattle yards. It was well-watered by the Einasleigh River, permanent waterholes, seven bores and eight dams.
Mr Hill described Maitland as a stud quality property.
"The showpiece property boasted bitumen access, an attractive mix of basalt and granite country types, good land condition and was very well watered and fenced."
He said the record price was a credit to the hard work carried out by the late Geoffrey Carrick who held the property for 54 years.
Nardoo, via Burketown
In September 2020, tightly held Gulf of Carpentaria breeding and fattening country records were smashed when Nardoo sold for $35 million WIWO.
The 97,500ha Nardoo, 280km north-west of Cloncurry and 95km west of the Burke and Wills Roadhouse, sold on a walk-in walk-out basis with 5812 cattle and an extensive list of plant and machinery.
With properties in the Gulf rarely coming to market, agents described the result for the showpiece property as 'stellar'. Beef Central estimates the bare price was around $28 million or $287/ha.
At the time of sale, the country on Nardoo was described as an excellent balance of heavy black soil open downs, Mitchell grass plains and Leichhardt River frontage running back to open forest country.
During their ten year ownership, vendors Peter and Ann Woollett upgraded and improved Nardoo's infrastructure resulting in ease of management and minimising mustering and running costs.
The property was divided into 13 main paddocks and numerous holding paddocks. There were four sets of permanent steel cattle yards located around the property and one set of portable yards.
The fencing was of a high standard, with around 200km erected in the previous nine years. As well as abundant natural resources, water was also supplied by 10 equipped bores.
Mr Hill said for market condition of the time, Nardoo was a standout sale.
"The property presented very well to the market due to its land condition, its modern fencing and good water point distribution. These were complemented by well-appointed buildings and renovated dwellings. The market again rewarded the vendors."
Peronne Station, Hughenden
Just last week, a record $13.1 million (including 480 breeders) was paid for Hughenden's Peronne Station.
The 9788ha property, featuring sweet quick responding, dual purpose breeding, backgrounding and fattening country, exceeded expectations, setting a record for the region.
Beef Central's analysis of the sale price equates to around $11.6 million or $1185/ha on a bare basis, depending on the price of the cattle (which at the time were calving).
Tom Brodie from Brodie Agencies described Peronne's improvements (made by John and Ann-Marie Cowan during their 32 years of ownership) as first class in terms of fencing, laneways, cattle yards, waters, sheds and a renovated homestead.
The high kilogram producing country is low cost to manage, with little to no declared noxious weeds, plants or trees.
The pastures, which show the full benefits of rotational grazing and paddock spelling, can run 700 breeders plus progeny or background 1700 weaners.
Most of the property is exclusion fenced, is well watered by two equipped bores and four dams and growing a thick body of buffel, Mitchell, Flinders and native grass, as well as summer and winter herbages.