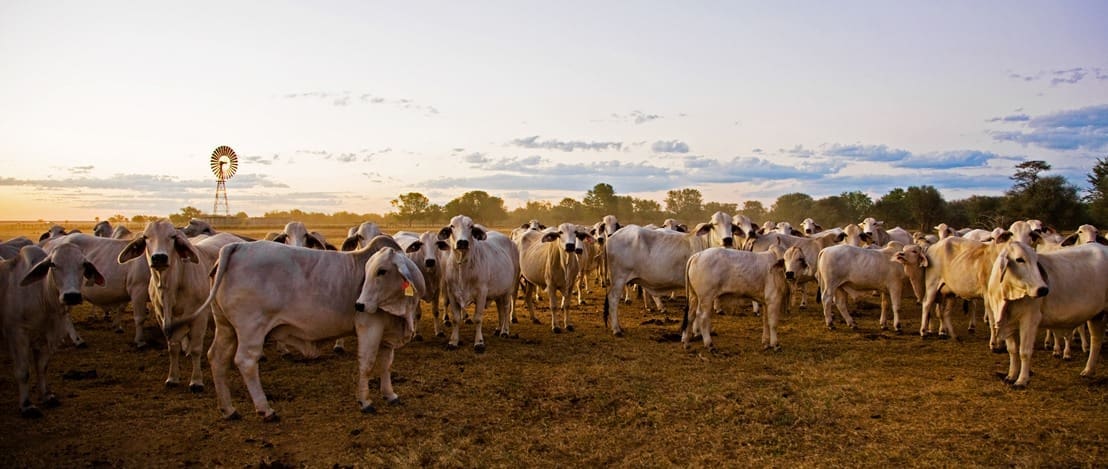 THE rural transaction space saw an increasing number of Australian farming families looking to expand in 2020. Many foreign-owned properties were returned to locals and cheap money and a scarcity of properties put upward pressure on land values.
In our final weekly property review for the year, industry experts reflect on the year that was and give their thoughts on what 2021 may bring.
Tim Lane, Herron Todd White
HTW national agribusiness director Tim Lane said 2020 was much stronger than was anticipated across most of the country.
"Initial thoughts were of some growth in values driven by low interest rates and limited supply of properties. What transpired is for significant double digit growth rates in many regions."
"A strong New South Wales and Victoria winter and spring weather, impacted with big crops, plenty of grass and reduced stock numbers, all factored to power the market ahead. Even though Queensland remains around 70 percent drought declared, the enthusiasm still flowed into sales," Mr Lane explained.
Highlights
Mr Lane said market sentiment was underpinned by the partial sell down of the CPC portfolio (although much of that was late in 2019), the Clark and Tait divestment and property sales like Nardoo.
"There weren't a lot of off-market sales outside family succession transfers. Openly advertised auction campaigns were very successful for vendors, with many assets being acquired by the local market."
Predictions
Mr Lane believes 2021 will be a continuation of the current market, but not with the same level of growth rates as experienced this year.
"The cattle market, and to a degree the sheep sector, will be underpinned if Queensland experiences good rain for an extended period of time. With interest rates now being quoted starting with 1.8 percent, the demand for capital will remain strong and this should support the market in 2021."
Rawdon Briggs, Colliers International
In terms of grazing property sales, there were numerous highlights for Rawdon Briggs and the Colliers International agribusiness transactions and valuation team.
The standout was the Northern Territory's largest transaction – the 560,000ha Tanumbirini and Forrest Hill Stations, near Daly Waters, purchased by Rallen Australia (the Langenhoven family) for $70m.
Mr Briggs identified three other sales as 2020 highlights.
5071ha Yaloak Estate at Ballan, 60km from Melbourne, set a regional record in Victoria. Operating as a highly productive cropping and grazing enterprise, the property was purchased by Chinese company Harvest Agriculture for around $60m (about $10m above expectations) bare or $11,832/ha.
27,701ha Tomoo Station, 85km south west of Mitchell, achieved 20 percent above the region's highest price on a per hectare basis. The neighbouring Warby family paid $9.35m bare ($337/ha) for the standout Maranoa holding.
2070ha Bangor South, 15km north of Mungallala, sold to a Central Queensland producer for $2.6m or $1256/ha – 25 percent above the previous region record on a per hectare basis.
Mr Briggs described 2020 as the strongest year ever.
He identified three ways the COVID-19 pandemic impacted the rural property space.
It brought into focus the consistent, counter-cyclical earnings that agribusiness supports compared to other property sectors in the Australian and New Zealand economy.
Deal progression experienced some lag due to the impacts the pandemic had on service providers, mainly in the finance and legal sectors. Disruption to staffing levels and other negative impacts meant some firms did not have any staff to progress deals as agreed – this slowed the competition of some transactions.
In response to the exceptional economic impacts of COVID-19, the Federal Treasurer announced changes to the FIRB framework and timelines. These changes impacted many deals, again slowing the progression of some transactions.
Predictions
Mr Briggs said if the La Nina event arrives in Queensland and the Northern Territory, 2021 may see total sales above $5m reach a new record.
"New South Wales will experience an increase in property trading in the grains and cotton sectors. There will be more pastoral and feedlot assets sold in Western Australia, and Tasmania remains exceptionally buoyant in dairy, horticulture and fine wool sectors, with significant deals already completed during COVID-19."
Mr Briggs said demand remains exceptionally high across most agribusiness sectors.
"Today's buyers are more prepared to sell on cash terms than any time in the last 10 years. The only property types in Queensland that are under any distress are sugarcane assets in areas where they cannot be converted to macadamias."
Mr Briggs foreshadowed some significant traditional sheep and wheat enterprises will transact before planting commences in spring 2021.
Tom Russo and Mark Barber, Elders
Two grazing property highlights for Elders' Tom Russo and Mark Barber were:
221,408ha Jubilee and Quanbun Downs, 90km from Fitzroy Crossing in Western Australia's Kimberly region, to Andrew and Nicola Forrest for more than $30m.
Central Queensland's 8490ha Yandina, Springsure. The diverse breeding fattening and large-scale fodder aggregation sold at auction for $31.5m.
Mr Russo said it was difficult to identify a standout region, as demand for property across regions and different enterprises was strong.
"Welcome rains on the east coast, and high rainfall regions in general were the highlights. Not only was it wonderful to see the end of the drought, followed by a terrific winter and spring, but the seasonal improvement also coincided with strong commodity markets."
Mr Russo said as the full effects of the drought were felt, there was strong inquiry for high rainfall properties in most regions of Australia from families and larger investors seeking to rebalance their portfolios and secure higher rainfall properties.
"This is also due to a strategy to establish dedicated finishing systems for vertically integrated livestock operations – a trend we are likely to see continue as larger operators brand their products."
COVID
While COVID-19 presented some operational issues, Mr Russo said it did not impact on demand materially.
"In the absence of any empirical evidence, COVID-19 has led to greater interest in investing in agricultural land by investors ranging from large family operations to sophisticated international institutions looking for capital secure yielding assets. Inquiry has increased particularly for larger scale assets in lower volatility climate regions."
2020
2020 finished off very well for Elders across all regions, according to Mr Russo and Mr Barber, who is responsible for Northern New South Wales, Queensland and the Northern Territory.
"It was particularly good to see our clients in Northern Victoria, New South Wales and Queensland emerge from the grip of the drought. Demand remained surprisingly strong for property, but owners were reluctant to sell until conditions improved."
Mr Russo and Mr Barber said improving conditions saw a return to a more normal property market, but not the excess of pent-up sales they anticipated might eventuate.
"This is testament to the resilience of farming in these regions (and Australia generally) and the confidence in the future of the sector."
"In other regions, particularly higher rainfall regions, there was strong demand, but for a range of reasons vendors looking to sell were hard to come by. This led to strong values in all areas again in 2020, and no sign of slowing demand," they said.
Predictions
Mr Russo and Mr Barber see no sign of a reduction in demand for property in Australia agriculture.
"In fact, demand may increase as the full effects of the drought wash through and other comparable asset classes around the world struggle to emerge from the economic impact of COVID-19."
The pair explained the current low interest rates are by now fully priced into the value of agricultural land and while this will not push land values higher as interest rates remain low, they will support current values.
Ultimately, Mr Russo and Mr Barber said the growth of output value will drive property values.
"The fundamentals of most commodities produced in Australia are sound which will continue to support the demand for land and support property values."
Stephen Nell, Ray White Rural
For Ray White Rural & Livestock managing director Stephen Nell, the highlight sale was Wollogorang and Wentworth Stations, straddling the Queensland / Northern Territory border.
Spanning 700,000ha, the aggregation was purchased by the McMillan Pastoral Company from Queensland on a walk-in walk-out basis for $53m including 27,000 head of cattle.
Mr Nell admitted 2020 shaped up as the complete opposite of what was anticipated at the start of the year.
"After the dry summer, this was a year where there was a huge uplift in seasonal conditions, stock prices and bumper prices across rural property sales. It is still very dry in Queensland, but in New South Wales there has been a lot of welcome rain."
Mr Nell said it has been a record year in terms of sales.
"The business has transacted more than $2.2b in the calendar year to November, compared to $1.3b in all of 2019. In November alone, the RWR trading result was $280m compared to $166m last November, up 135 percent."
Predictions
Mr Nell wouldn't speculate on what next year holds, saying the agency never claims to work in any space except for the now.
"Buyer sentiment is still very strong and underpinned by cheap credit which I cannot see changing anytime soon. So, if these fundamentals stay the same, they will underpin a strong market into 2021."
This is Beef Central's final weekly property review for 2020. I wish all readers and our property industry contacts across Australia, a Merry Christmas and a safe and happy New Year. Our weekly property reviews will return in January 2021. In the meantime, readers may be interested in perusing our "Properties for Sale" listings or our "Recent Property Sale Results" – both featuring easy-to-use search functions
– Linda Rowley, property editor.