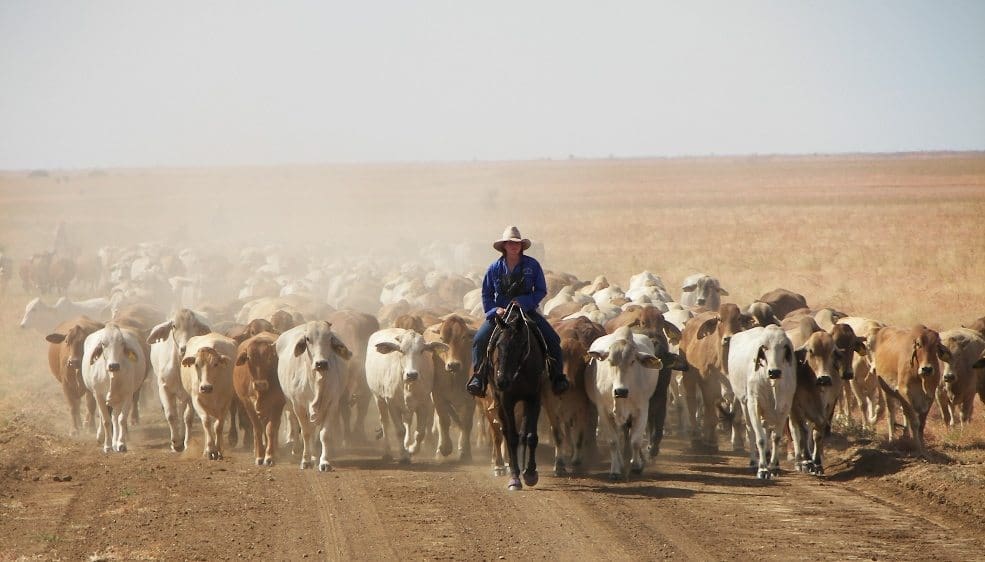 For most property agents across the country, cattle listings are far and few between – but that's about to change according to one industry player who believes the market is poised to experience something of a rush.
CBRE's regional director for agribusiness transactions, valuations and advisory, Danny Thomas, said while property markets remained very strong, the circumstances were somewhat unusual.
"The trend is against us in terms of what's happening with softening cattle prices, together with very dry conditions in many pockets of the country. But despite those factors, the market remains extremely buoyant," he said.
Mr Thomas attributes this to the amount of money made by producers over recent years.
"Now is an opportune time to build-up the farm while they are generating a good cash flow, and while there is a lot of liquidity in bank lending. There is a view – a sensible view – that the only drought that hasn't broken is the current one. Producers who follow than thinking are taking a long-term perspective and are setting themselves up for the future."
Geoff Warriner, a senior consultant in CBRE's agribusiness transactions team based in Brisbane, said current demand was almost exclusively from Australians looking to expand.
"They are going head-to-head with newcomers, locals, and new investors into the industry. These people see the 'ag factor' as a good place to park their money, and it is up to us to provide good management solutions for them," Mr Warriner said.
Northern Territory based agent Sue Brosnan, from Tanami Property agrees, saying when there is good cash flow to be made, the investment looks positive.
"It is a good time to get into the industry, particularly from a serviceability point of view. Most producers, particularly those committed to the industry, are investing further. Other than the case of Vermelha Station, all the vendors I have represented in recent times have re-invested back into the industry – not always in the North, but back into ag. Australia-wide, agriculture it is still an attractive investment," Ms Brosnan said.
She said while overseas investors were cautious, they were also looking at the long-term.
"They are investigating what they want to do, how they want to do it, and seeking good industry partnerships. Australian agriculture needs that investment for the future, because there is uncertainty surrounding cattle prices and live export relationships. Long-term relationships through the supply chain will secure the industry's longevity," Ms Brosnan said.
Northern Australia still a hot spot
Mr Warriner said there was plenty of inquiry still evident for Northern Australia.
"For properties in central and western Queensland and across into the Northern Territory, the prices paid for quality properties are still at the top – at 12 o'clock," he said.
Ms Brosnan said the Top End region remained attractive, for many reasons.
"They include reliable rainfall, location (in terms of access to live export cattle markets), scale, cost of production and the potential for improvement and growth."
She said there was a mix of inquiry for northern property – mainly internationals, but some locals waiting to see what the market does over Christmas.
"There is some uncertainty, presently, over where cattle prices are headed. There are very few cattle available, despite a good wet season last year. I suspect producers are hanging-on and restocking, waiting until prices strengthen over the wet, which they traditionally do every year."
Mr Thomas believes the cattle property market is about to experience something of a rush.
"It is going to look like a rush of transactions, because the perceived overhang of grazing properties – those listings that have been on the market for a long time, will disappear. It will be a case of demand catching up with supply."
Mr Thomas said this should put a floor in prices.
"I am predicting steady as she goes, price-wise. In fact, the market may go into a bit of a stalemate at some point and track along sideways."
He said there was still an extraordinary amount of outside capital that wanted to invest in the Australian cattle property market.
"As a result, there might be breakout prices and extraordinary results for some of the bigger grazing holdings. However, values might start to erode if the exchange rate continues to appreciate."
Off-market activity
Mr Thomas said there was as much happening in off-market transactions as there was on-market.
"From a vendor's perspective, I don't know why anyone would do that. If someone wants to do a deal off-market for what looks like good money, the question that needs to be asked is, 'If I am being given this money unsolicited off-market, what am I leaving on the table for not having put it on the market?'"
Mr Thomas said advertised properties were making the best money.
"My counsel to all vendors is to list with a competent agent, not necessarily us, but the best agent in their part of the world to run a process for them. Vendors will be surprised how strong the market is."
He said privacy was the major driver behind off-market transactions.
"Many rural people are very humble, very shy and don't like a lot of fanfare.  Those who have created a lot of wealth in one or two generations simply don't want the public exposure."
Ms Brosnan said the Territory had always been an environment for off-market transactions.
"People prefer to do that, rather than go all out on a marketing campaign. I'm fielding some genuine international interest, but it is in the initial stages. These investors aren't ready to move, and they aren't ready to buy, but they certainly have the capacity. They are just taking their time."
She said, 'officially', there was not a lot of listings on the market at present.
"However, I am always of the opinion that everything will sell at a price, it's just up to interested parties to pursue a property or identify a location."
Current property values shaking-out vendor interest
Mr Thomas believes buyers are getting ready to make their move for the right property, but it's not because of the traditional spring season cycle.
"The current property values are shaking out a lot of interest and the top motivating factor is succession. Norman Farming, one of Australia's largest irrigated and dryland cropping operations in southern Queensland, is a prime example. It is a $150m plus asset that will be sold purely for succession reasons."
"If you have an upside-down ownership structure, where many family members have a financial stake in a business, now may be the time to sell that down, cash it out, take an agnostic view about what the asset is, don't be in love with it and then take the capital and go and buy something else," he said.
Mr Thomas said it was a false economy for producers to hang onto their grazing properties because of strong commodity prices.
"This market has never been as strong, particularly for a property worth more than $15m or $20m. There has never ever been the amount of liquidity above that level as what there is currently."
Mr Thomas said he is happy to be criticised for 'talking up the market'.
"I don't care if people think I'm a real estate agent trying to pump the market. It is a cold hard reality as far as I'm concerned and if you miss this cycle, it could be a decade before you'll see it this high again."