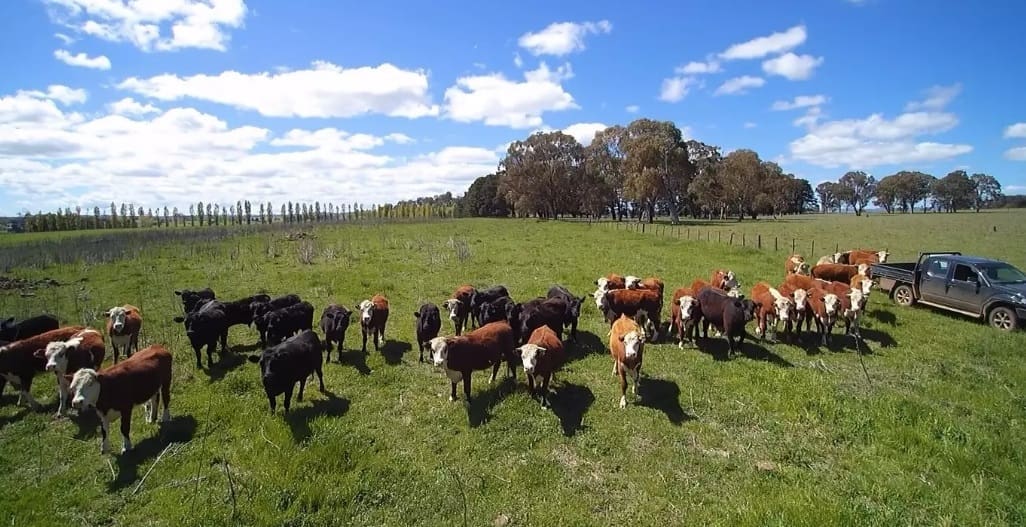 WHAT a difference three weeks and some rain has made to large expanses of Australia. While it has been patchy in parts, many districts have reported good falls and agents are increasingly optimistic about property market sentiment in 2020.
In this week's property review, a snapshot of what's happening in some key regions:
South West Queensland
Roma-based Darryl Langton from Landmark Harcourts said there had been a massive turnaround since the New Year and that country in bad shape had responded very well to rain.
"The rain has been patchy, but feed is coming," he said.
Mr Langton said there is strong buyer appetite, just like last year.
"Interest is dominated by the family farm unit – established local enterprises looking to expand and reinvest into the Warrego-Maranoa region of south west Queensland. Over the past five or six years, land values have risen tremendously making it difficult for entry level buyers."
Mr Langton said many producers were in a strong equity position, particularly those with cattle.
"The break in the season allows costly feeding programs to be scaled back, commodity prices are looking robust going forward, strong market fundamentals including low interest rates, a stable Aussie dollar and good borrowing conditions are all contributing towards tremendous market confidence."
He is confident there will be more supply this year than last year.
"When conditions are dry, potential vendors are reluctant to go to the market because their property doesn't present well – it may not have a good body of feed or available water."
"The rain that has fallen has been patchy and there is not yet enough pasture growth. However, as soon as the season fills in, we think properties will steadily come to market," he said.
Mr Langton said people who have been thinking of selling will certainly get an opportunity to go to the market now.
"Rain has fallen in many places and conditions are vastly improved. The property market is very strong. It will be a great opportunity for people seeking to exit the industry to do so in the first half of 2020."
"The extended period of dry weather caused a period of consolidation in the market as potential purchasers looked to rebuild equity and herd numbers. I am confident that good quality agricultural assets are going to be exceptionally well sought after this year," Mr Langton said.
Central Queensland
Matt Beard from Landmark Harcourts Emerald reports Central Queensland is now in very good shape.
"The odd pocket has missed out, but most people have had between 100mm and 150mm of rain, so it's great start."
When it was dry, many were focussed on how they were going to get through the next week, not the next 10 years, but Mr Beard said rain had given them a chance to take a breather and forward-plan.
"There aren't many properties on the market, so Clermont's Solferino will be a good test of the market when it is auctioned on March 6. Solferino is located in a tightly-held area where you can count on your hand the number of properties sold over the past 10 years. It is a good quality, well developed block."
Mr Beard believes the lack of country available could push price up this year.
"Potential buyers inspecting Solferino believe there may not be an opportunity to secure another property like this again, any time soon, given the low interest rates and record high cattle and grain prices."
Mr Beard said any time there is a red-hot cattle, grain or cotton market, country for sale dries up at a rapid rate of knots because producers are likely to trade out of trouble.
"Commodity prices are so solid that there will be very few properties you can put your hands on. When places come to the market, buyers will have to bend their backs to ensure they secure it."
Property listings have been tight in Central Queensland for a good few years. Mr Beard explained it was a reliable region and many family farms were simply changing hands from mums and dads down to their kids.
"There is plenty of buyer inquiry. Any time a place is listed, it generates huge interest. Most live within two to three hours of the listed property. In many cases, their debt has been reduced by strong commodity prices, meaning they are in a good position to expand."
Mr Beard said potential buyers were exploring more options these days because there's not much available on the market.
"Good country always sells well. With a lack of supply, farmers are now asking what area they can plough, on country that was traditionally hard-core grazing and conversely, graziers are considering whether that cultivation can be planted back into pasture."
Northern New South Wales
Bruce Birch is the co-director of Ray White Rural New South Wales, focusing on large scale rural sales and agribusiness transactions.
He said 12 to 18 months ago, there was tremendous inquiry for better rural property listings in the New England/Northern Tablelands region.
"The market is not what it was – the level of initial inquires has dropped. However, the potential buyers now are more genuine. The conversion from initial inquiry to actual inspections is better than what it was 12 months ago."
"Eighteen months ago, 30 phone calls would have led to 10 inspections. Today, there are 15 phone calls and 10 inspections. The people who are looking to purchase, given the frailty of the season up until a fortnight ago, are mostly genuine," he said.
Mr Birch has noted that inquiry is coming from locals and outsiders in equal proportions.
"From New South Wales, south-east Queensland, western Queensland, as well as locals looking for additional blocks. There are also inquiries for start-up blocks and others who are looking at selling or who have sold their existing places and are seeking to downsize or move closer to a regional hub."
Mr Birch said no matter what property is advertised, there will always be an element of demand for starter blocks.
"Fathers looking at blocks with their sons are still in the market.  It is surprising given the harshness of the last three to four (and in some cases five to six) years, but the market isn't showing any signs of waning interest. There is a genuine desire and as a result, underlying sentiment is bright."
"Buyers can see the potential return in big blocks that can run both cattle and sheep, especially with recent prices, and are confident they can make it work," Mr Birch said.
Central Western New South Wales
The Forbes region in New South Wales' Central West has received some good rain.
Gary Johnston from the Johnston Rural Group said buyers were seeing beyond the drought, with many gaining a better understanding of what's actually going on with a property during dry seasonal conditions.
"In the past, investors headed to the higher rainfall country, but some of that country hasn't had the rainfall they expected. The corporates are now turning their attention to the Forbes region, previously overlooked, subject to scale. They believe the area is value for money."
Mr Johnston said investment in rural property in the region had remained strong over the past 12 months and would most likely continue to do so into 2020.
"The market demonstrates resilience, with buyers (local, domestic and offshore) prepared to invest and pay a premium for the right land, despite the drought and a short-term reduction in on-farm productivity."
In his opinion, private and institutional investment interest within the greater Forbes area was a result of:
good soils
the areas mixed farming capacity
confidence in the versatility of the Lachlan Valley
the recently established cotton industry
record high livestock and commodity markets
access and proximity to the 'state of the art' Central West Livestock Exchange
the district's suitability to both family farming and corporate structured models
He believes the Lachlan Valley region is being recognised by investors as a versatile 'go to' area on a value-for-money basis when compared to other, more tightly-held and hotly-competed for regions across the state.
"While a large portion of buyers still have their sights on higher rainfall country, which as time goes on is proving harder to find, 2020 will see an elevated focus on rural property assets with a reliable water source and secure entitlement."
In January, the Johnston Rural Group sold two Lachlan Valley mixed farms to the Brisbane-based AAM Investment Group for more than $16 million.
The 4820ha Sunshine and 1640ha Round Cowal, located 70km and 55km south west of Forbes respectively, boast a strong history of livestock production and cropping. Underpinning the sales were water entitlements and two stock and domestic water schemes.
Mr Johnston said he has genuine ongoing interest from a number of separate private and institutional investors actively looking for high quality rural investments with or without irrigation water.