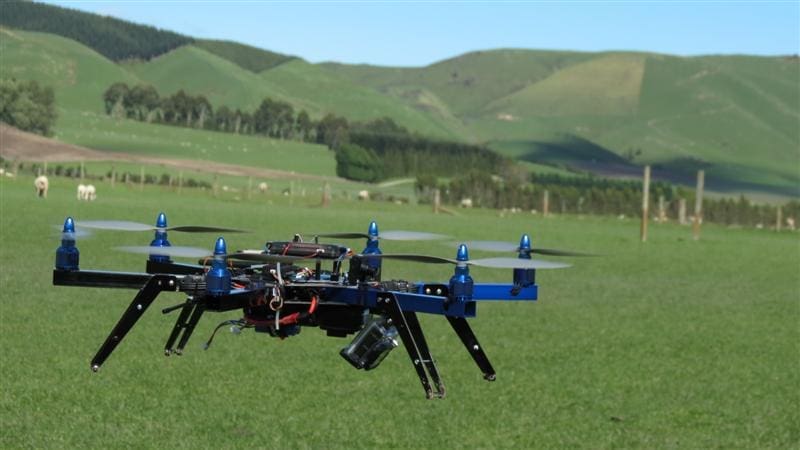 PRODUCING aerial videos to showcase rural properties is a practice most real estate agencies have embraced vigorously in recent years.
In fact, some could be described as 'mini movies' or 'visual works of art' that could be viewed in any cinema around the country, or aired on the epic US cowboy pay-TV drama Yellowstone.
Beef Central first wrote about the contribution drone photography (and videography) is making to rural property marketing in this 2016 article "Drones taking a bird's eye view of cattle property assets."    
This week's property review looks at the value of property videos, and showcases some excellent recent examples.
For more than 15 years, Inglis Rural Property has been using aerial technology as another way to differentiate itself in the rural property marketing business.
Sam Triggs, who was recently appointed CEO, said these days, agriculture is much more tech savvy than it once was.
"Many producers are using livestock management apps, online mapping platforms for pasture and feed budgets, as well as satellite imagery to monitor their crops, soil condition and more accurately determine the need for water."
Mr Triggs said initially, the company employed helicopters to display rural properties from the air.
"Aerial photographs were a powerful tool, but as technology improved the logical step was to go digital. Drones have become a more cost-effective way to create a powerful presentation tool for people to see the lay of the land."
Mr Triggs said the use of drone footage had become commonplace today.
"Many buyers carry out desktop assessments before they inspect a property. On their mobile devices they can see an immediate overview of a rural holding – scale, water, improvements and the general landscape."
"That is why the online presentation of rural properties is critical, because people are scrolling through the internet before they start their Toyota."
He said the cost of producing a video becomes part of the marketing budget, just like the cost of photography.
"The cost of producing a video is comparable to the cost of a half-page advertisement in a rural newspaper. However, marketing campaigns are not a one size fits all. Each marketing campaign is tailored to the client."
While most agencies use YouTube to upload their videos, Rural Inglis Property now uses another platform, Vimeo, which Mr Triggs said could handle and reproduce larger files with better quality.
Colliers Agribusiness
Colliers Agribusiness employs a third-party specialist to film and produce a range of videos for property clients.
Elizabeth Jones, the national marketing manager for Colliers Agribusiness, said this ensured the finished product was professional.
"It involves footage by videographers or drone operators, captions provided by the Colliers team and the expertise of the post-production studio. Several music choices are considered before the video is finally delivered."
Miss Jones said videos were one of Colliers' biggest selling points.
"Why produce a lengthy document when a video can portray the features that are really wanted in a couple of minutes? Investors do not have to physically inspect a property to see the vastness of it, land condition or improvements. They can tell by simply watching the video."
Rawdon Briggs, Colliers head of agribusiness and transaction services, is passionate about using videography to market properties.
"A good quality video has a longer shelf-life than a nice flash information memorandum. It also gives people the opportunity to conduct a virtual tour. In previous years, with COVID and border restrictions, it was a very important tool and will remain so," he said.
Here's a couple of good recent examples.
Mount Doreen
To date, the Mount Doreen Station video has had 3618 views, which Elizabeth Jones describes as a really good result with inquiries to match.
"Colliers has had so many compliments about this video. It one of the best created by our production team. The emotiveness captures the audience. We are trying to sell the story of the property, not just its current features."
Miss Jones said helicopters were sometimes used to film larger properties.
"What you are seeing in the Mt Doreen and Walhallow and Cresswell videos is footage taken from choppers. It captures the vastness of the Walhallow aggregation which spans more than a million hectares and Mount Doreen – the size of a small European nation."
"Other material taken over (smaller) irrigated properties and intensive livestock operations is carried out by drones," she said.
Cost
Colliers Agribusiness head Rawdon Briggs wouldn't be drawn on the cost of producing a video.
"I can't give an exact figure because the price varies a great deal, but it is certainly more expensive these days. For instance, a 1600km round trip to Walhallow including car hire (which has recently tripled), fuel and accommodation came in at $6000."
However, Mr Briggs questioned what "one bid was worth."
"It is pretty simple math for me. We don't use as much paper as we used to and digital marketing (in various forms) is delivering a better response by increasing inquiry, which drives the bids and the price upward."
When it comes to marketing options, Elizabeth Jones said potential sellers had a choice.
"Videography is our number one marketing tool. However, we understand it may not be important to some clients and if that's the case then we will find other ways to sell their properties."
She said most vendors went ahead with the videos due to their quality and marketing results.
"For the price of two print advertisements, clients can get a high-quality video that works across all digital platforms. The link is uploaded to the Colliers website and YouTube channel, and distributed to larger audiences via digital media and marketing outlets such as Beef Central."
"These videos provide a lifelong marketing tool for both Colliers and their clients. Once it is uploaded to YouTube, the video remains there and the views keep growing," Miss Jones said.
For example, in 2016 Colliers posted a video for South Australia's Wanderribby Feedlot which now has more than 62,000 views.
Miss Jones believes the videos are value-for-money because they feed inquiry and get sales across the line.
"These external platforms increase the number of views, with the average amount during a sales campaign between 1500 and 2000."
Nutrien Harcourts
Jason Michelmore is Nutrien Harcourts' north-east region real estate manager for Queensland and New South Wales.
He said the agency sold a wide variety of properties from low-end $150,000 blocks of land to $100 million rural properties.
"Nine times out of ten, videos are produced for higher-end enterprises seeking to attract the attention of buyers. Conversely, there is a push-back from smaller operators who believe their properties will sell to locals or neighbours."
Mr Michelmore said local agents sourced their own videographers and advertised their marketing offers to vendors, with the final decision solely landing on vendors' choice.
"As agents gain examples of drone and video footage and create rapport with their videographers, the offers will no doubt continue to grow and be a sought-after marketing offer for vendors."
Mr Michelmore believes Nutrien has more agribusiness video and drone footage on the internet (especially on social media) purely because of the volume of properties it transacts nationally.
A website called Drones for Hire  claims to be Australia's largest drone operator directory.