THIS week's property review offers a mid-year score card on the northern rural property market.
This follows a parallel mid-year property market report on the southern Australian  published a few weeks ago – click here to view.
Market 'running late'
Herron Todd White north and north-west Queensland director Roger Hill offered his thoughts on the factors presently at play in the north.
Mr Hill said the strongest transactions in the northern rural property market typically occurred from April to June.
"This year's market is running late. Solid businesses in need of expansion remain active in the marketplace, with values achieving levels equal to those reached in 2022."
Mr Hill said the halving of cattle market values, combined with an effective doubling of the interest rates had reduced the buyer pool by up to three quarters.
"The 'fear of missing out' (FOMO) buyers have dissipated and the remaining buyers are genuine and are in the market to expand their businesses," he said.
"Currently, there are a small number of off-market negotiations and transactions underway that will achieve comparable value rates to last year."
Vendors, buyers testing the market
Mr Hill said these people are currently undertaking due diligence.
"The style of buyer who purchased country just for the sake of expansion left the market 12 months ago. The emotional buying or the FOMO is no longer active."
He said both vendors and buyers are currently testing the market.
"Most vendors are sticking to last year's values and while they are hoping to achieve more, they are also willing to give that hope up. No surprises – the common ground is within a reasonable fraction of last year's pricing."
Last week, a rainfall band which stretched across north-west into south-eastern Australia brought high weekly rainfall totals, with many daily and weekly records in northern and central Australia and western Queensland.
Mr Hill said as a result, the cattle market has kicked back up since bottoming out in June.
"Over recent months, there has been a substantial number of cattle trades, particularly from New South Wales into north-west Queensland."
"Following widespread rain, producers can now hold these cattle over for another five or six months which will tighten market numbers and serve to hold property values."
Interest rates
Last week, the Reserve Bank of Australia took a break and rates remained on hold.
Ray White chief economist Nerida Conisbee recently said it was likely that slowing inflation was a key factor, in addition to the slowing economy. Despite this, rate rises may not be over, with markets continuing to price in more increases for the year.
Mr Hill said the RBA's hold on interest rates was good news for rural property buyers.
"In terms of prices, the current macro signs aren't signalling doom and gloom, and many sensible businesspeople who want to expand are still in the buying pool. Their due diligence is being done on the new interest rates and cattle prices."
Despite a more positive outlook, he said the FOMO buyers are unlikely to return to the market in the near future.
"Many have chosen to pull up and run their businesses instead of expanding because margins are tight."
Mr Hill said property values will be impacted if the buyer pool shrinks too much more.
"It takes one buyer and one seller to build a deal. If there are two buyers to one seller, the power of negotiation is in the seller's court. If there are two sellers to one buyer, the game lies with the buyer."
He said property sales presently are attracting more than one bidder, which is healthy and upholding current values.
Some agents have told Beef Central that their 'dance card' is already full for the coming spring, and to expect a flood of property listings.
Mr Hill is aware of some good quality country (in north and north-west Queensland) that will be offered to the market this spring.
"Each of those places will transact because they will appeal to businesses who are ready to expand or can afford to expand," he said.
"As I continue to say, quality properties (well presented, good land condition, good fencing, good water and good buildings) will always sell well."
He believes the 2023 rural property market will continue to show a stable trend.
"It is going to be a busy six months until Christmas, with the buyer pool remaining at current levels for the coming 12 months."
Rural Bank
This week, the Rural Bank released its Australian agriculture mid-year outlook.
According to Queensland senior agribusiness relationship manager Mark Pain, cattle prices are likely to remain softer in the coming months as market supply remains constant given the tough season being experienced in some areas.
"Seasonal conditions will be the key influence on supply as producers weigh up whether to hold on to cattle or sell given the current drier outlook for the remainder of the year," he said.
Two months ago, Rural Bank found the national median price for Australian farmland values increased by 20 percent to $8506 per hectare in 2022.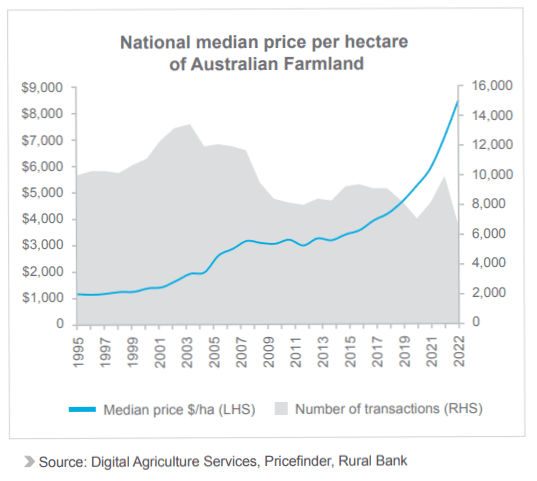 The lender believes the key drivers of northern farmland values are set to remain in favour of demand exceeding supply in 2023, driving a tenth consecutive year of growth in the national median price per hectare.
Key findings from the Outlook:
Supply and demand are likely to come into closer alignment as a softening of demand is expected on the back of lower agricultural commodity prices, a drier rainfall outlook and relatively high interest rates.
There is still appetite and ability to continue expansion and acquisition following strong farm incomes in 2022, however some buyers are expected to return to consolidation and take some competition out of the market.
Recent high farmland values, lower commodity prices and a drier seasonal outlook may also prompt some additional supply on the market as these conditions will for some, indicate a prime opportunity to exit the industry.
Further growth in farmland values is anticipated for the remainder of the year, but the rate of growth will likely be much lower than the previous two years as key drivers of growth have shifted to less favourable settings.