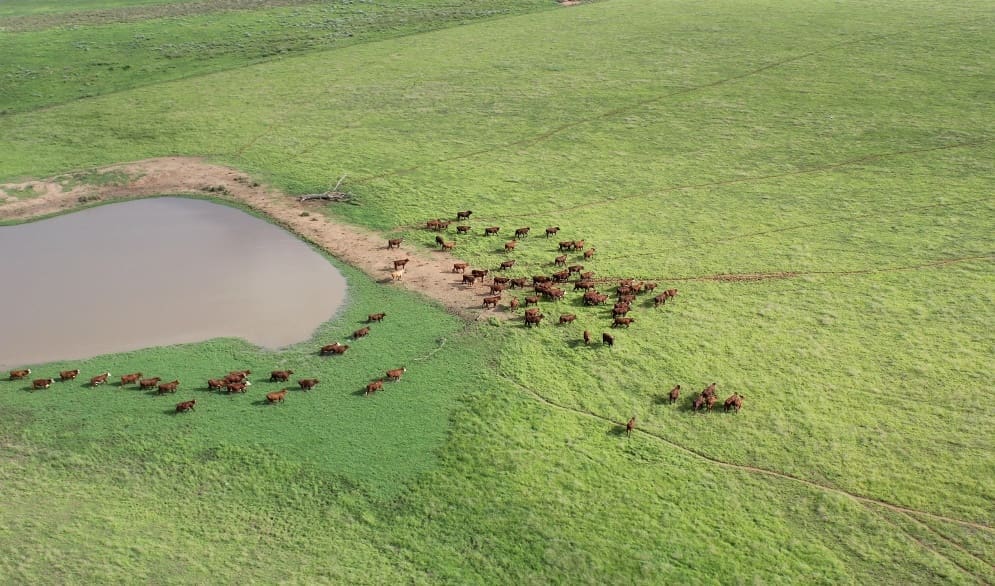 THE investment landscape in Australian agriculture has been evolving over the last five years, with leasing now commonplace from corporate level through to family farms.
This change, predicted earlier by a leading valuation agency, is creating significant room for external investment into the future.
Five years ago, Herron Todd White forecast that interest in leasing would increase in livestock and other agricultural land assets.
National rural director for HTW, Tim Lane, believes the rural market will continue to evolve as a more legitimate class for investment for many professional investors and global funds managers.
"For a period of time, the agricultural market didn't appeal to investors, but now it is increasingly attracting interest. Investors now understand it is just another asset – it may have a different profile, but there are good returns and it is a bit more stable."
Other reasons include lower bond prices, non-correlated asset mix to traditional shares, commercial property investment performance -and the "feed the world" story also comes into play, he said.
Bentleys Queensland managing partner Ben Cameron heads up the firm's team of specialist agribusiness advisors. He agrees the international attraction is feeding the world and food security.
"Many investors, particularly those from the United Kingdom and the United States, do their homework by carrying out 'desktop studies' over several years before deploying capital. Conversely, Asian investors, who are ultimately seeking supply or the end product, don't always understand the risks involved in production."
Mr Cameron believes Australian agriculture needs the capital to continue to progress.
"We have an aging generation in the bush that needs funds for succession or exiting the industry. Foreign capital (that is institutional money) is often happy to inject millions of dollars into a property and receive a flat rental, and let someone else take the risk of day-to-day operations. To actively invest, the required returns are far higher in terms of risk and are often out of reach," Mr Cameron said. Leasing could provide an answer in these cases.
Appetite for leasing is growing
HTW's Tim Lane identified two main types of interest groups seeking lease country:
Existing operators – where leasing gives some operators (the lessee) the ability to expand their footprint, reduce bank debt and assist a succession strategy without having to deploy the capital. For example, for a producer with a current herd of 1000 head wanting to run 2000 head, if they can find lease country, the return on that component is positive compared to the overhead and fixed costs.
Investors – those looking to acquire agricultural assets, but who do not want to be operators.
Mr Cameron said there was certainly a lot of enquiry from foreign capital for buy and leaseback arrangements.
"The difficulty sometimes is getting it into what we call 'investable structure' given we are talking about families with a complex ownership structure that has evolved over three or four generations," he said.
"Generally, foreign investors like to split the land ownership with the operating entity (that normally owns the cattle and manages the employees) and maintain local involvement and expertise to manage the land asset effectively."
Mr Cameron said previously, most Australians took on more debt to purchase their own grazing property, but the Global Financial Crisis (GFC) had changed that.
"While most producers are keen to expand, they would now prefer that someone else takes on that equity because debt finance can be difficult to secure. The trend is for smarter operators, who own their core property, to partner-up with foreign capital to effectively 'buy' land by renting the neighbouring property and expanding in that way."
HTW's Tim Lane said leasing provided an alternative source of capital in the agricultural sector, as opposed to traditionally debt.
"For many producers, owning land has been the main driver of wealth creation, but it now seems there is an increased focus on sustainable profits and expansion of a footprint," he said.
"Obtaining alternate cash flow solutions helps retain a higher percentage of free cash which can be used to expand the enterprise, upgrade technology and increase livestock numbers."
Mr Cameron agrees.
"For a rental payment, producers can get more scale, more livestock and spread their machinery costs across a bigger area.
"However, it can be difficult to get it right. Everyone sets out with a 'you beaut' plan in mind, but finding the capital can be difficult. It takes time and it takes patience. That said, there are some producers who are doing it and have the early runs on the board. It is certainly setting them up, as well as the next generation."
Entry by leasing
Mr Lane said leasing was also an avenue for entry to the grazing sector by young people.
"Some young players don't have $3m or $4m to buy a property, but they do have enough capital to lease, as well as own livestock and plant. Leasing is a much more efficient and cheaper entry-point into a property footprint."
When it comes to negotiating leasing terms, Mr Lane said there was no set rule of thumb.
"The structure of every lease is different and the overarching yield outcomes are quite varied and range across the country. The old agricultural broadacre rule of thumb of five percent no longer applies, because what is five percent relative to?"
The HTW report found asset yields ranging from the high two percent into the more intense eight percent.
Mr Lane cautioned that an asset's capacity to yield must be considered on its merits.
"It has to be from a lessee's perspective. If you do your numbers poorly you can still take on a lease and lose money – it is as simple as that.  Producers are getting better at understanding what sustainable long-term returns look like and what they can afford to pay."
Mr Lane said asset owners must ask, 'what does someone need to deliver to me?'
"The market is still maturing in that space. At present there is a wide range of yields, but over time that will compress into a more defined range. Ultimately, every producer has a different outlook on their sector, their region, their commodity, their climate and their position on what they think an asset can deliver."
Demand outstripping supply
Mr Lane said there was almost more interest to lease, than assets available to lease in the current market.
"A small additional scale can make a big difference to an overall performance of a farm operation. While there are various levels of supply, demand is certainly outstripping supply currently."
Mr Cameron admitted leasing can be difficult, particularly for cattle country.
"In Queensland, the further out you go, the more difficult it becomes to separate the land and the cattle value, because in many cases without the cattle, the land is not worth anything."
"In Central Queensland, where the price of the country is high, if you outlaid four or five percent as a lease payment the tenant would not be able to ride out the first big drought, as there is simply not enough profit," he said.
He said every region was different and the profitability of leasing over ownership depended on the industry or sector involved, and the location.