A NUMBER of strong cattle property sales have occurred in Central Queensland over recent months, with buyers attracted to the region's highly-fertile country with improved pastures, more reliable rainfall and superior weightgain finishing performance.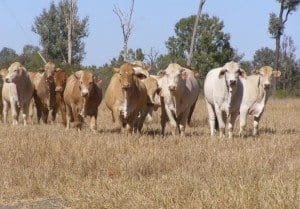 Last month, the showcase 11,200ha Rolleston district property Struan sold for $15.9m. Also at Rolleston, the noted 4574ha property Wildhorse sold for $9m and Seloh Nolem, the 6815ha Valkyrie property was purchased for $10.25m.
All three properties were purchased by people with existing grazing holdings in Central Queensland.
Clermont's Sam and Jane Barton outbid six other parties to purchase Struan, which will be run as a backgrounding and finishing property in conjunction with the home property Huntly Droughtmasters.
Wildhorse was bought by established Springsure cattle producers Graeme and Sue McDonald from Albeni and Seloh Nolem was purchased by Brisbane-based mining industry identity Jim Gorman who already has existing interests in Central Queensland's cattle industry.
Chris Todd, property specialist MAA Livestock and Property, believes Central Qld is the dearest 'extensive' cattle country in the state for growing a kilo of beef.
"Currently we're seeing land in the area selling for $3500 to $4500 per beast area," Mr Todd said.
This is certainly the case for Seloh Nelom. The sale price equates to about $1190/ha and it has been suggested the result is equal to about $4500/beast area.
Mr Todd partly attributes the area's recent high property prices to the impact of coal mining – where landholders bought-out for mine development at attractive rates are re-investing in quality, and in some cases larger-scale finishing country.
"While we are now not far off the price peaks of 2007 and early 2008, the value of the market in Central Queensland buffel country has been driven by coal mining money," Mr Todd said.
"That's why it is among the dearest country in the state to put a kilo of beef on an animal. It's well above most other areas."
Will McLay, Central Queensland director for rural valuers, Herron Todd White, believes the region's property prices are still at least 15 to 20pc below previous 2007 highs. He attributes property demand to a combination of factors – rising commodity prices, low interest rates and demand for grass.
"They have been adding fuel to the fire, along with a relatively small market offering for really good quality properties," Mr McLay said.
"It all comes down to supply and demand. The supply of premium properties is shortening-up and demand is improving. In the three recent sales, two buyers have gone head-to-head – people being competitive against each other in a market that has relatively limited supply."
Nebo grazier Geoff Bethel from Willunga was outbid for Seloh Nelom by Jim Gorman and David Kane from Mirtna Station, Charters Towers, was the under-bidder for Struan.
Cattle market sentiment is now very positive and optimistic, according to Mr McLay.
"The future hasn't looked this bright for a long time. The reality of improved beef commodity prices is here – it's actually happening, so that's having an effect on profitability and cash flows."
Chris Todd agrees. "It is good to see the cattle market rising. People are finally being paid for what they are producing. It's been too low for too long. And the reflection is coming from demand for more protein worldwide. Australia only eats 30pc of what it produces and it exports 70pc. Overseas beef demand is driving cattle prices, and its beginning to taking property values with it."
Mr Todd said up until six months ago, cattle property turnover in the region's buffel grass country had been quiet.
"There hadn't been a lot of properties selling, but now there is overseas demand for more protein, especially from Asia's prosperous middle class. There is a beef shortage in America due to the drought and declining cattle numbers. Right now, there's a great demand for our cow beef and prices are being pushed up because of supply difficulties. With the Australian dollar sitting around US73c, it is generating more interest in rural land."
Are land values beginning to follow cattle market trend?
So, are better cattle prices being reflected in property values? Will McLay believes good quality assets are moving upwards, but they are yet to be realised for second and third-tier assets.
"At this point we are seeing more transactions and a greater volume of sales, more so than a significant increase in values. The best demand has been for the best classes of property," he said.
Mr McLay said if property owners were thinking about selling, they would certainly be giving it more consideration now than they would have 12 months ago.
In terms of cattle property turnover, Mr McLay said the Central Queensland market was seeing increased activity in the $5m-$10m price range. "Between 2009 and 2013, the $4m to $10m price range was traditionally occupied by family operators. During that period, the combined effect of weak commodity prices, dry conditions and a change in lending credit policies put pressure on that buying group."
"This year, a few of those factors have changed, commodity prices have improved dramatically and interest rates have come down. So those who do have good equity are now in a position to take action."
Mr Todd said property prices were relative to what the land could produce. "People have to take the emotion out of buying a property and make sure it's firstly for the business, not the lifestyle."
He said increased cattle prices, sales, activity and values were being seen right across Australia. "It has been seven years of hell. It's great to see graziers are getting paid for what they are producing and rain would definitely make things even better."
Click this link to access the new "Beef Central – Property" section, including searchable databases of new property listings, recent sales, and weekly property industry analysis. Click this link to contact business development manager Rod Hibberd, over opportunities to include listings or advertise your property marketing business on this exciting new platform.